Visit Tampa Bay Lends A Hand to Help Fight Hunger
March 25, 2020 by PR@VisitTampaBay.com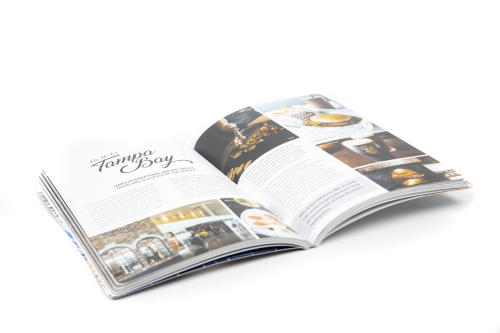 Sales of culinary journal, cocktail guide will benefit Feeding Tampa Bay
TAMPA, Fla., (March 25, 2020) – With many people out of work or working reduced hours during the COVID-19 crisis, Tampa Bay has reached a crucial time for food insecurity in the community. Visit Tampa Bay is stepping up to help.
Beginning this week, Visit Tampa Bay is uniting in the fight against hunger with Feeding Tampa Bay by giving 100 percent of the proceeds from sales of its twin culinary journals – Tampa's Table and Tampa With A Twist – to assist local families in need of food aid. The limited-time #TourismStrong bundle is $20 (plus $3 shipping), which is a saving of $18. It's available at Visit Tampa Bay's online store: shop.visittampabay.com.
"Both journals were developed with the help of dozens of Tampa Bay's most creative chefs and bartenders. Due to social distancing restrictions, many of those same people are now finding themselves out of work or working shortened hours through no fault of their own," said Santiago C. Corrada, President and CEO of Visit Tampa Bay. "These beautiful books are a way for the community to offer them and others our support – and enjoy their wonderful food in our own kitchens until they can get back into theirs."
Tampa's Table was developed in conjunction with 50 local chefs and includes 60 recipes for everything from appetizers to desserts. It also includes stories exploring Tampa Bay's unique culinary history, including the origins of the Cuban sandwich and the guava pastry.
Tampa With A Twist carries that idea behind the bar, documenting the city's rich history in Prohibition as well as the top-shelf bartenders who are leading the evolution of Tampa Bay's thriving cocktail culture. Its pages are filled with Florida-inspired cocktail recipes, wine and beer discoveries, and bar bite recipes.
#
About Visit Tampa Bay
The hip, urban heart of Florida's Gulf coast beats in Tampa Bay. Visit Tampa Bay encourages adventurous travelers to unlock our trove of unique treasures. We are a not-for-profit corporation that works with more than 800 partners to tell the world the story of Florida's most diverse destination. Treasure awaits.