Visit Tampa Bay Launches "Measure the Treasure"
June 1, 2022 by PR@VisitTampaBay.com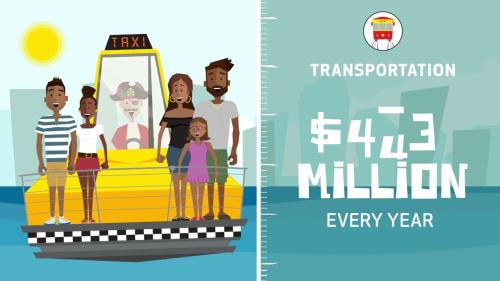 Tampa, FL (June 1, 2022) – Visit Tampa Bay launches its Measure the Treasure animated video showcasing the significance of the tourism industry in Hillsborough County. The video, which made its debut at Visit Tampa Bay's National Travel and Tourism (NTTW) Luncheon earlier this month, has been carefully curated to educate stakeholders, front-line staff, partners and the community on the economic impact that different groups have in Tampa and how the funds are directed throughout the county.
As part of a strategic initiative to be a destination leader and marketer for the benefit of the entire community, Visit Tampa Bay partnered with Applebox and Tourism Economics to create Measure the Treasure. Viewers follow three groups specifically selected to highlight the diverse nature of tourism visitation whose impact on the community is not always obvious to the public or even within the hospitality industry. From the Fenway Family to the Chicago Sun Dazzlers and finally the Roaming Rooster Society from Lexington, Kentucky, each group is a vital piece of the tourism puzzle.
"Along with our partners, Visit Tampa Bay's role in promoting and developing our community assets and growth is at the heart of all our efforts. Whether continuing to lead in our competitive set, bringing in major groups, marketing our assets, or even developing new programs such as the Riverwalk Attraction Pass, we are setting new benchmarks and creating opportunity," says Santiago C. Corrada, President and CEO of Visit Tampa Bay. "Our Measure the Treasure video showcases the economic importance of tourism to a destination and illustrates how tourism extends far beyond hospitality and the transportation sectors."
The video will be used by Visit Tampa Bay to help build awareness of the Tampa community and educate individuals and groups on the positive impact the hospitality and tourism industry has on the destination.
---
ABOUT VISIT TAMPA BAY
The heart of Florida's Gulf Coast beats in Tampa Bay. Visit Tampa Bay encourages adventurous travelers to unlock sun, fun and culture in Florida's most diverse travel destination. As a not-for-profit corporation certified by Destinations International's Destination Marketing Accreditation Program (DMAP), we work with hundreds of partners to tell the world the story of Tampa Bay. Treasure awaits.