TAMPA BAY RESTAURANTS STARSTRUCK AT 2023 MICHELIN GUIDE CEREMONY
The heart of Florida's Gulf Coast received its first-ever MICHELIN-Star distinctions and added new Bib Gourmands and recommended restaurants
---
Tampa, FL (May 19, 2023) – Tampa Bay's culinary scene is on fire! After two years reviewing Tampa Bay's brightest restaurants, the anonymous MICHELIN Guide inspectors have awarded Koya, Lilac, and Rocca their first-ever MICHELIN-Star distinction. Additionally, the destination received new Bib Gourmands and recommended restaurants, bringing the total number of restaurants included in the prestigious MICHELIN Guide to Florida to 24.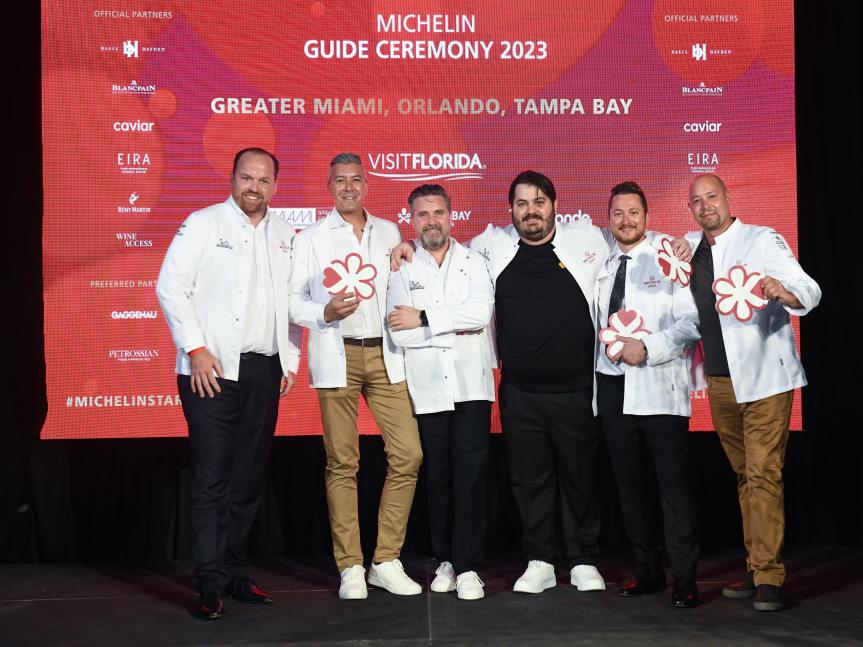 From left to right: Tristan Brandt (Miami), Eric Fralick (Koya), John Fraser (Lilac), Bryce Bonsack (Rocca), Joshua Werksman (Lilac), Timo Steubing (Miami)
Koya, Lilac at the Tampa EDITION, and Rocca, the guide's 2022 Bib Gourmand recipient, have officially joined the exclusive group of MICHELIN-Starred eateries in Florida and across the globe. To earn a MICHELIN-Star, restaurants must showcase a mastery of flavors and cooking techniques within their cuisine, utilizing quality ingredients and more to receive the esteemed award.
"For the destination to receive its first three MICHELIN-Stars is a tremendous accomplishment to our growing food scene and further secures Tampa Bay's spot on the map as the top culinary destination in Florida," says Santiago C. Corrada, President and CEO of Visit Tampa Bay. "As one of country's leading destinations, we are dedicated to providing visitors with top-notch service that's consistently displayed in our restaurants and throughout the community."
Tampa Bay continued to stay front and center when the MICHELIN Guide awarded Psomi and Gorkhali Kitchen Bib Gourmands. Ponte and Flaming Mountain were also added to the guide's recommended restaurant list. In addition, the guide awarded Christina Theofilos of Psomi the MICHELIN Young Chef Award and Matthew Braden of Lilac the MICHELIN Outstanding Service Award.
MICHELIN-Star Recipients:
MICHELIN Bib Gourmand Awardees:
Psomi
Gorkhali Kitchen
Rooster and the Till
MICHELIN Guide Restaurant Recommendations:
Ponte 
Flaming Kitchen
Bern's Steak House 
Bistro BT
Cena
Columbia Restaurant 
Élevage SoHo Kitchen & Bar
Haven
Oak & Ola
Olivia 
On Swann
Restaurant BT
Steelbach
Mise en Place 
Timpano 
Ulele
Yummy House 
Noble Rice
Tampa Bay's fast-growing food scene will continue to have the MICHELIN Guide visit and closely review the destination's excellent chefs and restaurants. To view Tampa Bay's MICHELIN-Star, Bib Gourmand and recommended restaurants with inspector notes, visit the MICHELIN Guide website.
---
ABOUT VISIT TAMPA BAY
The heart of Florida's Gulf Coast beats in Tampa Bay. Visit Tampa Bay encourages adventurous travelers to unlock sun, fun and culture in Florida's most diverse travel destination. As a not-for-profit corporation certified by Destinations International's Destination Marketing Accreditation Program (DMAP), we work with hundreds of partners to tell the world the story of Tampa Bay. Treasure awaits.