Tampa Bay Hits the Streets with Sunshine
February 24, 2020 by PR@VisitTampaBay.com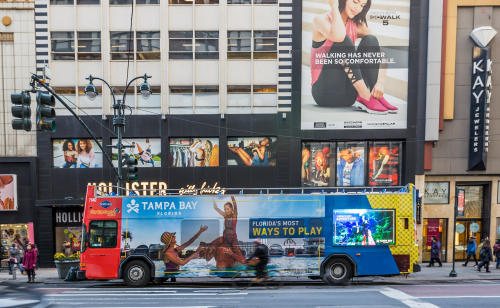 Out-of-State campaign brings blue skies & warmth to shivering cities
TAMPA | When commuters rise from the No. 7 subway train into Manhattan's trendy Hudson Yards development riders, they'll find themselves inspired to pack their bags for Tampa Bay's blue skies and warm Gulf breezes.
Hudson Yards' digital banners are part of Visit Tampa Bay's 2020 Out-of-State marketing campaign designed by Clearwater-based FKQ Advertising + Marketing. The campaign includes an always-on digital component, but the bulk of advertising runs from January to May, targeting residents of Tampa Bay's top markets for visitation: New York, Boston, Chicago, Dallas, Philadelphia and Toronto. Visit Tampa Bay's deep blues and bright yellows are attention-grabbing against slate-gray skies and wintry temperatures.
Visit Tampa Bay is the first destination to advertise in Hudson Yards and has saturated commuter-heavy Penn Station with its message of sunshine and blue skies. Riders of New York's popular double-decker buses will also find themselves dreaming of Tampa Bay as they board buses configured with video screens playing Visit Tampa Bay videos and branded wrapping. Visit Tampa Bay is also reaching potential visitors for the first time through sponsored wi-fi networks in key parts of the city. Visit Tampa Bay returns to the LinkNYC system of device-charging stations after last year's success as the first destination to advertise there.
 "This is the time of year when folks up north are dreaming of somewhere they can get a break from winter, and we are there for them," said Santiago C. Corrada, president and CEO of Visit Tampa Bay. "Our out-of-state campaign targets residents of these key markets where they live and commute – on the ride-shares, buses, and trains as well as billboards along key highways. When they get home, we're there on their Roku or smart TVs to remind them that the travel treasures they're dreaming of are a short plane ride away -- here in the hip, urban heart of Florida's west coast."
Visit Tampa Bay is again featured on wrapped Uber and Lyft vehicles in key markets in the Northeast, Midwest and Southwest through its partnership with Carvertize. In November and December, Visit Tampa Bay was the first destination promoted as Carvertize began operating in Canada's largest city. The vehicles also carry destination guides and other material about visiting Tampa Bay. The partnership with Carvertize, includes wrapped vehicles in New York, Chicago, Boston, and Dallas, and a commitment that the drivers will travel a set number of miles each month. 
In all targeted U.S. markets, Visit Tampa Bay is running 30-second commercials on connected TV systems, putting the destination in front of more than 6.5 million viewers. Visit Tampa Bay's strategy in other markets include:
In Philadelphia, newsstands in City Center are wrapped in Visit Tampa Bay's advertising and carry free destination guides. Philadelphia also includes wrapped buses, trains, and prominently placed billboards.
In Chicago, the out-of-state campaign includes the city's "L" stations and trains, as well as a popular major wallscape in the River North neighborhood off trendy Michigan Avenue.
In Dallas, in addition to billboards, buses and trolley wraps, sports fans will encounter Visit Tampa Bay's messaging on the way to games at Victory Park.
In Boston, Visit Tampa Bay has claimed the city's system of solar-powered recycling kiosks, providing 100 opportunities to share the destination's message with environmentally conscious residents. Visit Tampa Bay is also featured prominently in Boston Logan International Airport with extra attention given to the Delta Airlines terminal where travelers can board nonstop flights to Tampa Bay.
#
About Visit Tampa Bay
The hip, urban heart of Florida's Gulf coast beats in Tampa Bay. Visit Tampa Bay encourages adventurous travelers to unlock sun, fun and culture in Florida's most diverse travel destination. We are a not-for-profit corporation that works with 800 partners to tell the world the story of Tampa Bay. Treasure awaits.