Record January Kicks Off Peak Season in Tampa Bay
February 10, 2020 by PR@VisitTampaBay.com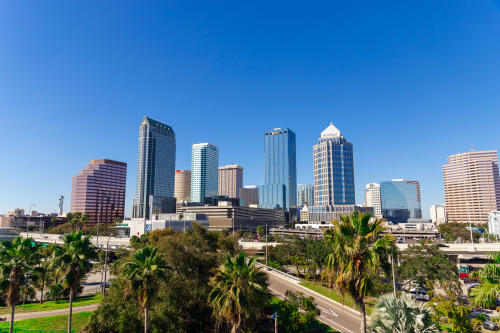 Annual events, large conventions & warm weather bring historic visitation
TAMPA (February 10, 2020) | Tourism revenues for the month of January reached historic highs, as Hillsborough County recorded the strongest January on record for Tampa Bay tourism. A record-breaking $3.38 million in Tourist Development funds were collected by Hillsborough County – the first ever $3 million revenue month of January ever reported.
These results, which are based on December hotel stays and supported by industry analyst STR Inc., represent a 27.7% increase over the previous record for January collections, set in 2018. Taxable revenues collected by the county for the month of January totaled $56.4 million, a 6.52% increase over the previous record for January, set in 2019. The recent string of record-breaking months of visitation and tourism revenues includes Visit Tampa Bay's most recent fiscal year 2018-19, where nine of the twelve months of the organization's budget year (Oct. 1 – Sept. 30), produced records for Tourist Development funding.
The reported total includes an additional $564,134 generated by the one cent increase in the Tourist Development levy from 5 percent to 6 percent as of August 1, 2019. Without the additional revenue, January's collections were still a new benchmark for the month. The strength of Hillsborough County's tourism helped the county become Florida's ninth High Impact Tourism county in 2018 after Tourism Development funds exceeded $600 million in Calendar Years 2017 and 2018.
"January isn't just the start of the year, it's the beginning of Tampa Bay's peak visitation months," said Santiago C. Corrada, President and CEO of Visit Tampa Bay. "Annual events like the Outback Bowl, Gasparilla season, and large conventions including the Florida Music Education Association Annual Conference, kick off the year bringing in tens of thousands of visitors every January," Corrada said. "Our out-of-area advertising campaigns are also now in full swing in the Northeast, Midwest and U.K. markets.  Along with Online Travel Agencies reporting massive growth in demand from Holland and the United Kingdom, these January results highlight the ability of Visit Tampa Bay to effectively market to targeted consumers."
Tourist Development funds collected during the first four months of Visit Tampa Bay's current fiscal year total $12,334,931, a 24.7% increase over the same four-month period the previous year. Both month and fiscal year-to-date collected amounts are records for their respective periods.
"With 1,000 new hotels rooms recently completed, and another 2,000 on the horizon, 2020 is looking to be another strong year for tourism and visitation in Tampa Bay," Corrada said. "The multibillion-dollar developments taking place throughout the county will transform the area and ensure we are prepared to host larger national events like NCAA National Championships, Wrestlemania, and the Super Bowl for years to come."
#
About Visit Tampa Bay
The hip, urban heart of Florida's Gulf coast beats in Tampa Bay. Visit Tampa Bay encourages adventurous travelers to unlock sun, fun and culture in Florida's most diverse travel destination. We are a not-for-profit corporation that works with 800 partners to tell the world the story of Tampa Bay. Treasure awaits.