New Tampa Bay Campaign Inspires Open Air Adventures
June 18, 2020 by PR@VisitTampaBay.com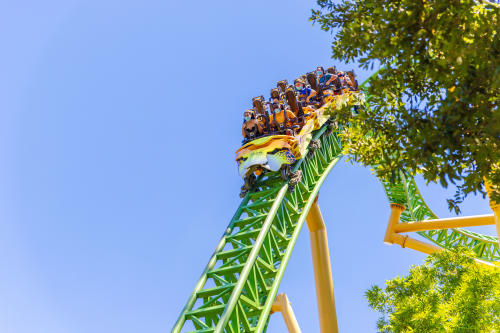 Tampa, FL (June 18, 2020) – As Florida's tourism industry reopens, Visit Tampa Bay is inspiring travelers to hit the road and step into the sun. Its newly launched Florida's Most Campaign welcomes back visitors to Tampa Bay and showcases the area's array of open-air adventures to encourage summer travel and breathe new life into the local hospitality community and county economy. The recovery campaign runs through September 30 in the hyper-competitive drive market. 
Visit Tampa Bay utilizes data from multiple industry-leading research companies that shows the vast majority of Americans miss traveling and can't wait to get out again. According to US Travel, as of June 8, road travel continued to increase and was at its highest level since the week ending March 7. Motivating factors include needing a change of scenery and wanting to reconnect with friends and family. 
"Tourism is at the forefront of Hillsborough County's economic recovery and this campaign will help lift up our community and the local businesses – the bread and butter of our hospitality industry," said Santiago C. Corrada, president and CEO of Visit Tampa Bay. "We are encouraged to see research that shows an increase in travel intent and we are committed to taking the right precautions to keep people safe while allowing them to get some much-needed fresh air and adventure."
The digital campaign, designed in partnership with Clearwater-based FKQ Advertising + Marketing and Madden Media, strategically targets those actively searching for travel to Florida. Visit Tampa Bay is leveraging strategic partnerships and platforms with data-driven travel leaders Expedia, Adara, Sojern, Conversant, Kayak and others to ensure the campaign reaches the right audience at the right time. 
This strategy provides the flexibility needed to continually optimize targeting, flighting and messaging. Ads and messages will automatically adapt to a traveler's market, desired travel dates, browsing habits and more, all while guiding the traveler to book their trip to Tampa Bay. 
Having this complete view of a traveler's journey enables Visit Tampa Bay to directly attribute hotel bookings to the campaign while gauging its success. And it provides a more efficient way to fight for the smaller share of travelers in today's hyper-competitive market. 
"The goal of the campaign will move away from brand awareness and higher funnel long-term conversions and focus on immediate and short-term conversions to impact hotel occupancy, ADR, revenue and sales tax revenue growth," said Patrick Harrison, chief marketing officer of Visit Tampa Bay. "Tourism is a leading economic driver in Hillsborough County, so the intention is to secure a quicker return on investment by focusing our efforts regionally." 
To instill travel confidence, this award-winning "Florida's Most" campaign is taking even more of an emphasis on open-air adventures. This updated creative showcases Tampa Bay's bright blue skies, sparkling waters and wide-open landscapes. These captivating scenes show people engaged in outdoor activities such as standup paddle boarding, kayaking and dining alfresco at Sparkman Wharf. Tying it all together, headlines encourage travelers to experience "Florida's Most Fresh-Air Fun" and "Florida's Most Room to Explore." The campaign is supported by a new "Welcome Back to Tampa Bay" video produced by Madbear Productions highlighting the destination's offerings and new landing pages for click throughs and retargeting.
Historically, tourism has added nearly $7 billion to Hillsborough County's economic bottom line and supports nearly 60,000 jobs, according to a report by analyst Tourism Economics. With tourism playing such a large role in the local economy, Visit Tampa Bay is excited to launch this campaign and help reignite the local tourism industry's recovery. 
---
About Visit Tampa Bay
Unlock Tampa Bay, the heart of Florida's Gulf coast. Discover blue skies and sunshine, a sparkling waterfront, world-class chefs, family fun, and a century of Cuban culture. Visit Tampa Bay is a not-for-profit corporation that works with more than 800 partners to tell the world the story of Florida's most diverse destination. Treasure awaits.