Lace up and loosen up: running season is afoot in Tampa Bay. From here until next spring runners of all abilities will find plenty of ways to challenge themselves while helping a variety of good causes, including charities sponsored by the Tampa Bay Buccaneers and Tampa Bay Lightning. One 5K at a time, build your way to the big daddy of Tampa Bay races -- the immensely popular Gasparilla Distance Classic -- and strut your stuff between the bay and the mansions along Bayshore Boulevard. 
Hillsborough County Sheriff's Office Ranch Run Luau
What: Yes, Florida, we do have hills -- and you'll find some of them under your feet during the Hillsborough County Sheriff's Office Ranch Run Luau. Participants could either walk the 1-mile fun run or take on the 5K, 10K and 15K.
Where: Temple Terrace Elementary School, 124 Flotto Avenue, Temple Terrace
When: September 14, 2019
Who benefits: All proceeds will go towards the Florida Sheriff's Youth Ranch and Hillsborough County Sheriff's Office Charities Inc.
---
Tampa Police Memorial Run
What:   This 5K & 1 Mile Run/Walk honors the fallen officers of the Tampa Police Department and provides funding for the monument Memorial Project.
Where: Lykes Gaslight Square Park, 241 East Madison Street, Tampa
When: October 12, 2019
Who Benefits: The Tampa Police Memorial Fund Committee to honor fallen officers and their families.
---
Bolt Run
What: A 5-mile, 5K and Family Fun Run/Walk sponsored by the Tampa Bay Lightning. Ford Thunder Alley will offer activities for the whole family, too. 
Where: Amalie Arena, 401 Channelside Drive, Tampa
When: October 27, 2019
Who Benefits: Advent Health Care 360° Transportation Care Program, which helps patients relocate from the hospital to a home.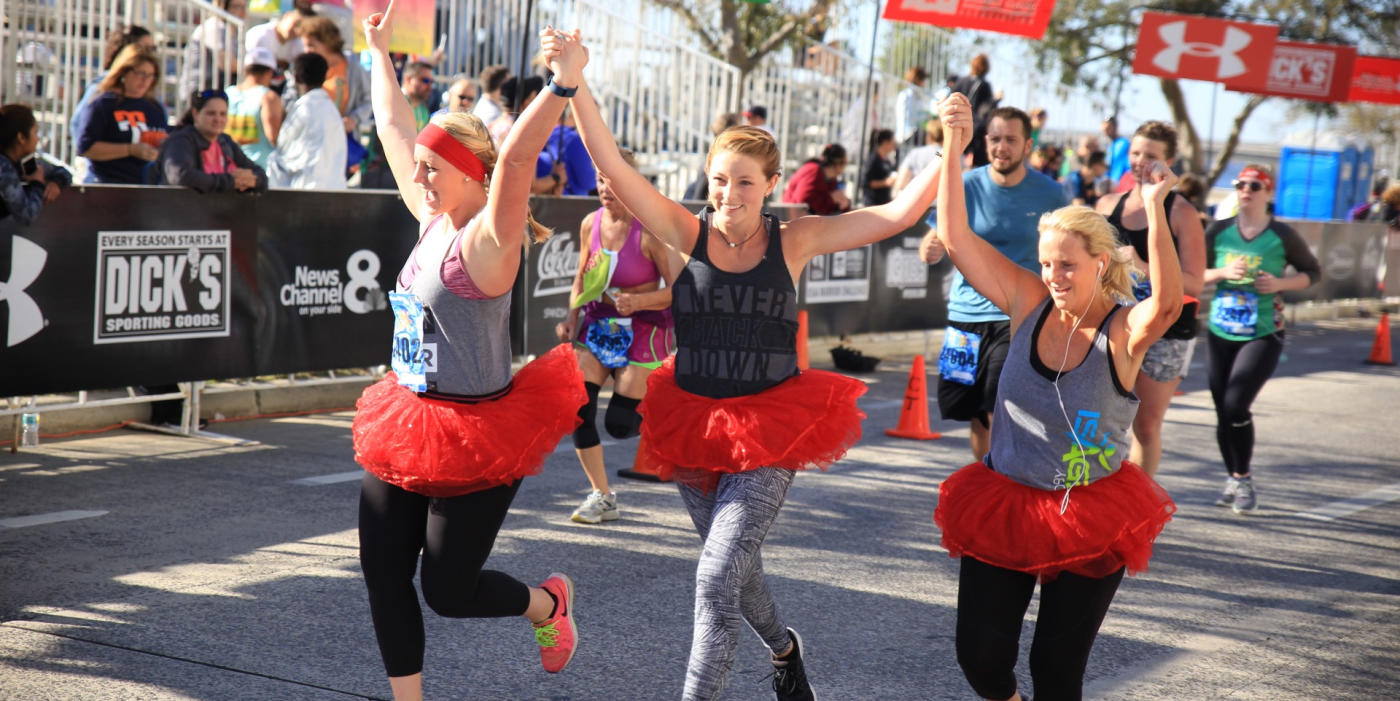 Richard's Run for Life
What: Columbia Restaurant owner and avid runner Richard Gonzmart and his family host this 5K run through the streets of historic Ybor City. Afterward, refuel with Florida's oldest restaurant during the post-race party and awards distribution.
Where: Centennial Park, 1800 East 8th Avenue, Tampa
When: November 1, 2019
Who Benefits: This will help fund the development of Moffitt Cancer Center's Brachytherapy suite treating cervical, prostate and other cancers.
---
Tampa Bay Buccaneers Treasure Chests 
What: Unlock hidden gems as you race toward the finish line for the 5K & Fun Run. Top winners will receive two luxury suite tickets to the Tampa Bay Buccaneers football game against the Arizona Cardinals, along with having the privilege to be coin toss captains during this breast cancer awareness event.
Where: AdventHealth Training Center, 1 Buccaneer Place, Tampa
When: November 10, 2019
Who Benefits: The American Cancer Society, Advent Health Foundation, Moffitt Cancer Center and Florida Cancer Specialists Foundation.