VISIT TAMPA BAY HONORS LOCAL TOURISM CHAMPIONS AT NATIONAL TOURISM LUNCHEON
Fourteen hospitality front-liners were awarded esteemed travel and tourism industry awards
---
Tampa, FL (May 11, 2023) – Visit Tampa Bay and 500 of its partners and stakeholders gathered to celebrate the 40th anniversary of National Travel and Tourism Week at its annual tourism luncheon on Wednesday, May 10th. At the luncheon, Visit Tampa Bay shined a light on the community's arts programs and presented local tourism champions with the Bern Laxer Hospitality Hero Awards for Excellence and the Gonzmart Family Tourism Ambassador of the Year Award.
Eleven local hospitality champions were honored with the Bern Laxer Hospitality Hero Awards for Excellence for their dedication and commitment to ensuring visitors have a memorable experience. The organization also presented the Gonzmart Family Tourism Ambassador of the Year Award to Jim Bartholomay, the newly retired General Manager of the Renaissance Tampa Hotel International Plaza. As a true renaissance man, Jim Bartholomay started in Tampa Bay's tourism industry as a chef and continued his journey to upper management within the Marriott family. Over the years, Jim served as the chair of Visit Tampa Bay's Board of Directors and as a dedicated Visit Tampa Bay board member.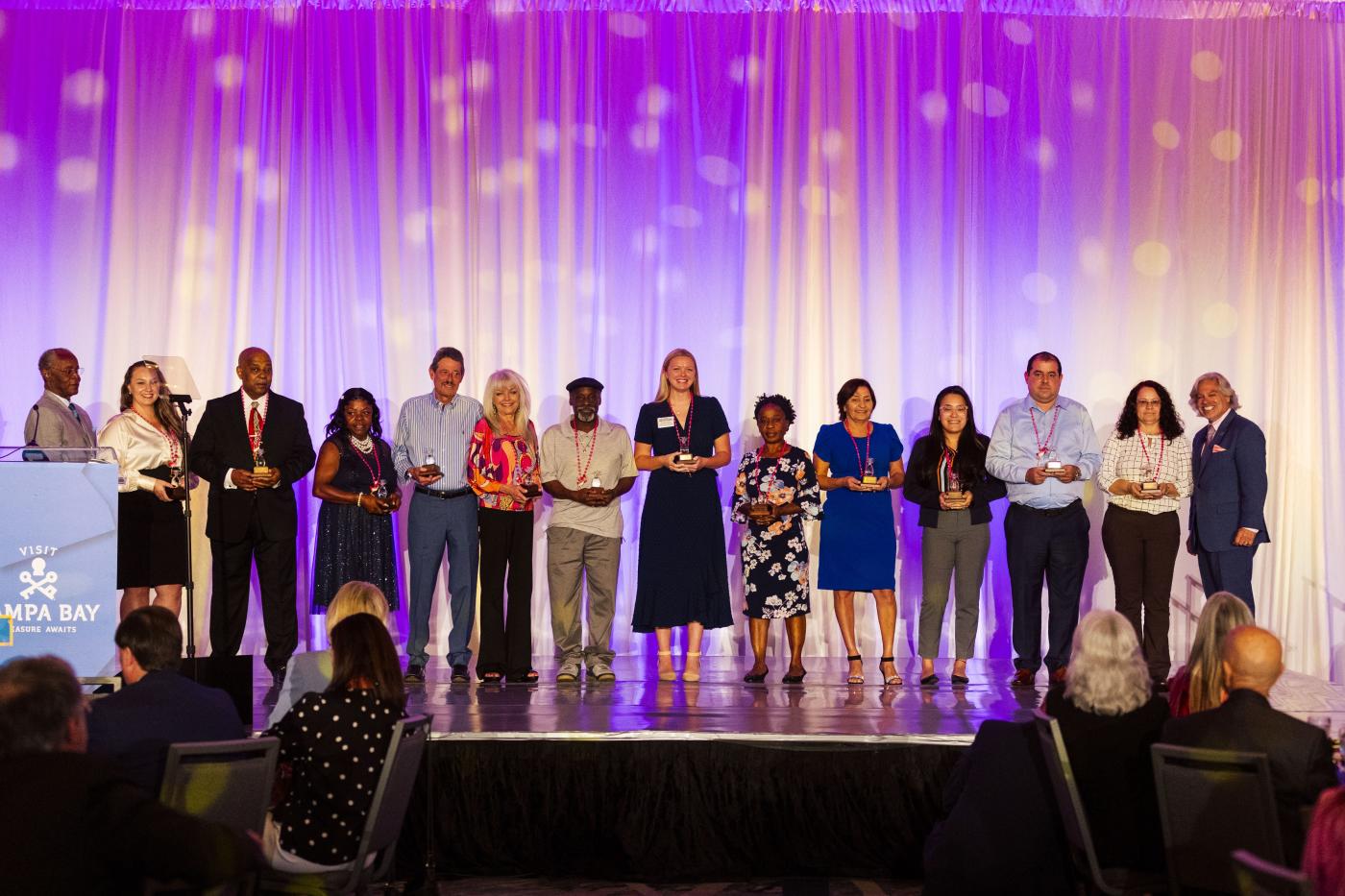 The Talk Up Tampa Bay Awards honored three local stakeholders. The three recipients (below) are local business leaders who are drivers in securing impactful events and conferences that bring major economic impact to the region and employ hundreds of local people.
"It is an honor to live and work in a community that is dedicated to providing exceptional service to the visitors of Tampa Bay. Industry leaders like our Talk Up Tampa Bay awardees, our incredible Bern Laxer recipients and Jim Bartholomay are why our vibrant community has become a world-class destination," says Santiago C. Corrada, President and CEO of Visit Tampa Bay.  "As a true hospitality champion, Jim Bartholomay's commitment to the Tampa tourism industry is showcased through the many roles he has played, and numerous contributions made to this hard-working industry."
The Bern Laxer Award Hospitality Hero Awards Recipients:
Sarah Harris, Affari Transportation
Robert Dorsey, Bern's Steak House 
Delphine McKay, Busch Gardens Tampa Bay 
Barry Strauss, Columbia Restaurant 
Gigi Miglio, Columbia Restaurant 
Willie Green, Embassy Suites by Hilton Tampa Downtown
Danielle Dwyer, The Florida Aquarium 
Marie Simeon, Hilton Tampa Downtown
Lugarda Aguero, Homewood Suites Tampa Airport Westshore, McKibbon Hospitality 
Ariel Gonzalez Franceda, JW Marriott Tampa Water Street
Migdalia Santiago, Saddlebrook Resort
Talk Up Tampa Bay Award Recipients:
James Ransom, National Minority Community Reinvestment Cooperative 
Darren Richards, The Propeller Club – Port of Tampa 
Roger German, CEO of The Florida Aquarium 
Visit Tampa Bay works closely with its 750+ partners across the region to drive more than $7 billion a year in economic development and more than 51,000 local jobs are directly sustained by the destination's tourism industry.

Visit Tampa Bay's National Travel and Tourism Luncheon was sponsored by Busch Gardens Tampa Bay, Seminole Hard Rock Hotel and Casino, The 1905 Family of Restaurants, The Florida Aquarium, Celebrity Cruises, the Florida State Fair, Hillsborough County Community College, Hyatt Place/Hyatt House Tampa Downtown, Shumaker, Loop and Kendrick, LLP, the Straz Center for the Performing Arts, Tampa Bay Business and Wealth Magazine, Tampa International Airport and Tampa Steel Erecting Company. 
 
---
ABOUT VISIT TAMPA BAY
The heart of Florida's Gulf Coast beats in Tampa Bay. Visit Tampa Bay encourages adventurous travelers to unlock sun, fun and culture in Florida's most diverse travel destination. As a not-for-profit corporation certified by Destinations International's Destination Marketing Accreditation Program (DMAP), we work with hundreds of partners to tell the world the story of Tampa Bay. Treasure awaits.