Visit Tampa Bay Encourages Vacation Seekers to Discover The "Tampa Bay Effect" in New Campaign
May 23, 2022 by PR@VisitTampaBay.com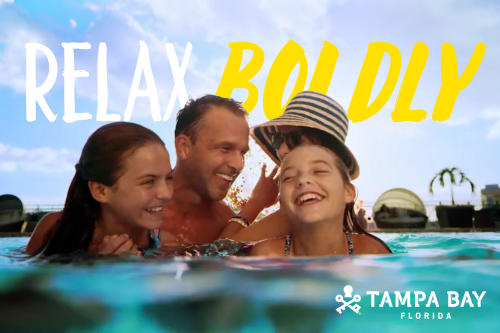 Tampa, FL [May 23, 2022]- Following record-breaking visitation and six years of extensive marketing campaigns in domestic and international markets, Visit Tampa Bay is launching a new campaign to raise awareness and conversions to all target audiences. The new brand platform called the "Tampa Bay Effect" describes how the destination juxtaposes active adventures with a relaxing vibe to create a vacation experience that is authentically Tampa Bay. 
The fully integrated campaign launches in domestic drive markets for the summer months, as well as trade shows, activations and international markets, captures the "Tampa Bay Effect" by calling visitors to "Relax Boldly," "Delight Effortlessly" and "Meet Confidently." 
Visit Tampa Bay's creative agency of record, FKQ Advertising + Marketing, conducted a custom research study, fielded by Downs & St. Germain Research, to understand if the Tampa Bay brand and location were reaching its targets successfully. The research insights showed Tampa Bay's brand personality combines both relaxation and adventure in equal parts, unlike any other Florida destination. Research also proved that Tampa Bay now has the brand recognition to stand under its banner rather than leading with Florida.
"Fueled by record-breaking visitation numbers, the growing interest in the destination and Tampa Bay's visibility on a global scale, it was the right time to take our summer campaigns to the next level," said Santiago C. Corrada, President and CEO of Visit Tampa Bay. "Everything we undertake is based on research and ROI. That research, plus consumer sentiment, shows the new "Tampa Bay Effect" campaign truly represents Tampa Bay's unique personality; peaceful and adventurous at the same time."
The campaign showcases water activities, sunny skies, bright colors, and dynamic points of interest, such as thrilling attractions, new luxury hotels and world-class restaurants that have led the launch of the first Michelin Guide to Florida. The creative aims to draw in audiences with its lively, full-frame photography with up-close talent experiencing the destination and its bold color palette with hyper-vibrant images. 
Consumers will be able to see the new campaign this summer across the state of Florida and in Atlanta, on streaming video platforms like Hulu, contextual digital ads, gas station TV and rideshare car wraps. The high-profile outdoor advertisements will showcase attraction partners in both English and Spanish. Outdoor placements will be in high-traffic areas like Atlanta's Buckhead and Brickell, as well as Coconut Grove in South Florida and along the Orlando I-4 corridor heading west.
---
ABOUT VISIT TAMPA BAY
The heart of Florida's Gulf Coast beats in Tampa Bay. Visit Tampa Bay encourages adventurous travelers to unlock sun, fun and culture in Florida's most diverse travel destination. As a not-for-profit corporation certified by Destinations International's Destination Marketing Accreditation Program (DMAP), we work with hundreds of partners to tell the world the story of Tampa Bay. Treasure awaits.