The new Splash Pad playground, part of The Florida Aquarium
THE FLORIDA AQUARIUM
20,000 sea creatures, river otters and ring-tailed lemurs call this Tampa Bay institution home. Touch stingrays, ponder the coral reef tank or splash in the water park. Take the Bay Spirit II into the bay for a dolphin-spotting expedition.
This modern museum houses 12,000 years of Tampa Bay history, starting with the Native Americans who first found settled on the shores of the sparkling bay. Interactive exhibits tell of Spanish and American settlers, cowboys, Cuban cigar makers and the region's role in nearly two centuries U.S. military history. The in-house Columbia Café replicates the experience of dining at Ybor City's Columbia Restaurant -- Florida's oldest restaurant and a Tampa Bay landmark.
A 360-degree bar makes a great place to watch the sunset. It shares space with Tampa Bay Water Bikes, Urban Kai Stand-up Paddleboarding, and e-Boats Tampa for those who want to get out onto the water. A bike repair station stands at the ready to help cyclists needing air or a quick repair.
Well-known restaurants (Hooters) and local favorites (Hablo Taco) make this entertain complex a place to stop. Not hungry? Bowl a few frames at Splitsville.
On Garrison Channel, this park is named for the 1840s U.S. military encampment that became the City of Tampa. The park has a children's playground and great views of the Tampa Bay International Dragon Boat races each spring.
With stations throughout downtown – including near the Sail Pavilion and in MacDill Park – Tampa Bay's bike-share system lets anyone with a credit card and a smartphone register and ride in a matter of minutes. Rent a bike for a few minutes or a few hours. It's up to you.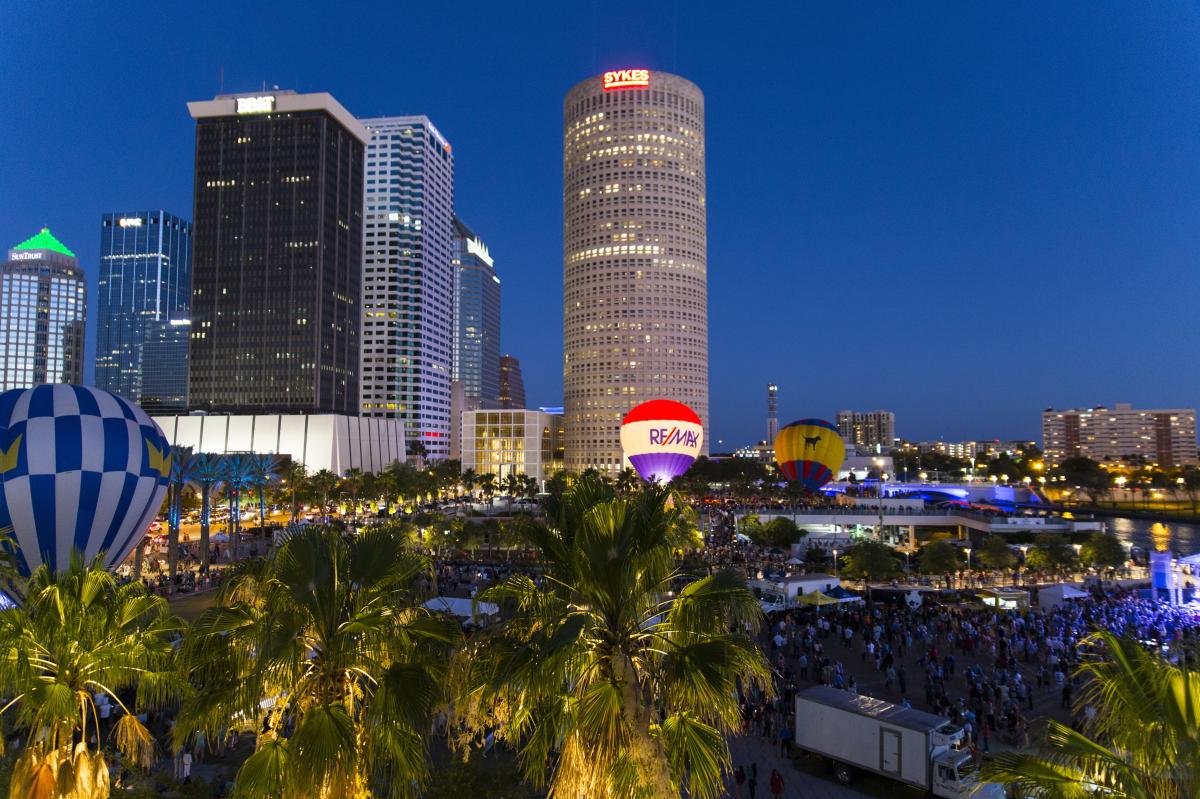 A view of Riverfest at Curtis Hixon Waterfront Park from the Glazer Children's Museum
USF PARK
In the shadow of the Tampa Convention Center, this park celebrates Tampa Bay's hometown University of South Florida, which stands as a national center of education and research.
KENNEDY BOULEVARD PLAZA
The last major segment of the Riverwalk opened in early 2015. The quarter-mile span skims the surface of the Hillsborough River and includes shade canopies, seating and dramatic lighting for evening adventures.
MACDILL PARK
Tampa Bay's hometown military institution, MacDill Air Force Base -- home to Special Operations Forces and U.S. Central Command -- is commemorated with monuments that trace its history from World War II.
KILEY GARDENS
Named for its designer, architect Dan Kiley, this 4.5-acre plaza's grid is based on the mathematical Fibonacci sequence. It includes an amphitheater and is a popular place for festivals.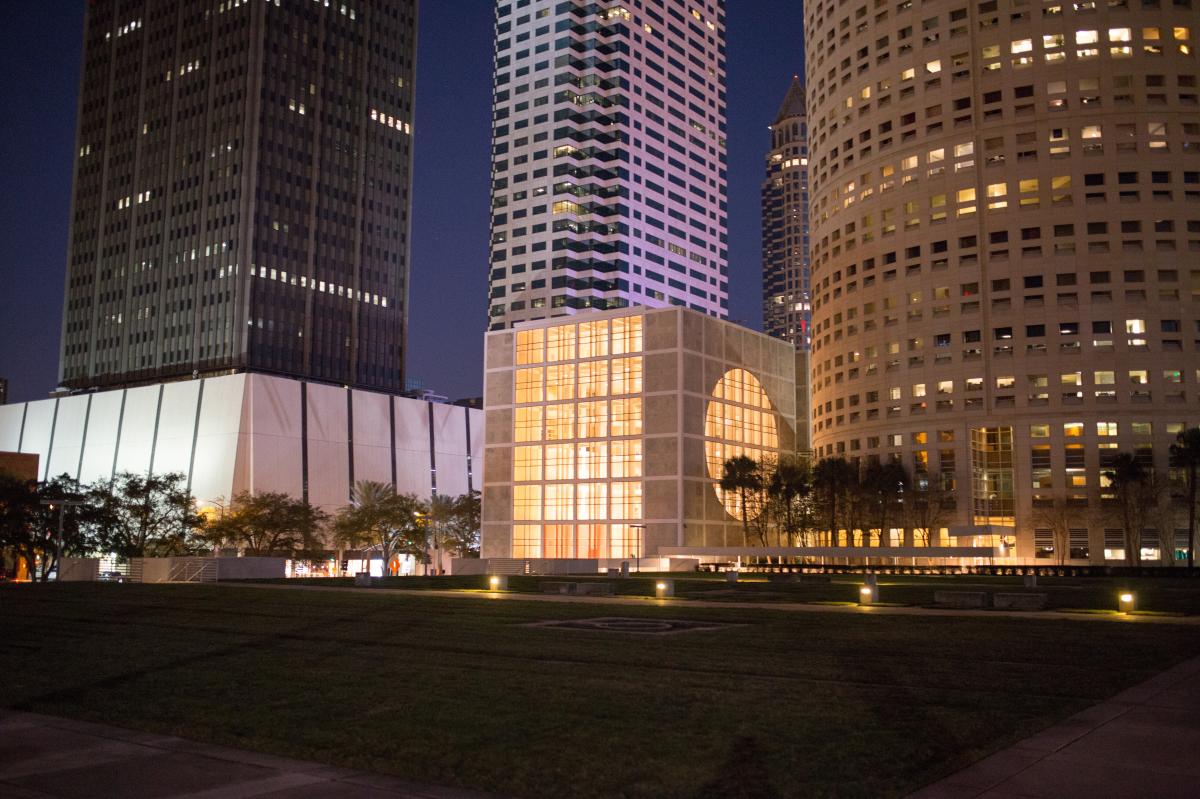 Florida Museum of Photographic Arts
Tampa Bay's riverfront festival grounds, the 8-acre park has splash fountains, a playground and dog park – all with city skyline as a backdrop. Stop in Sundays for yoga.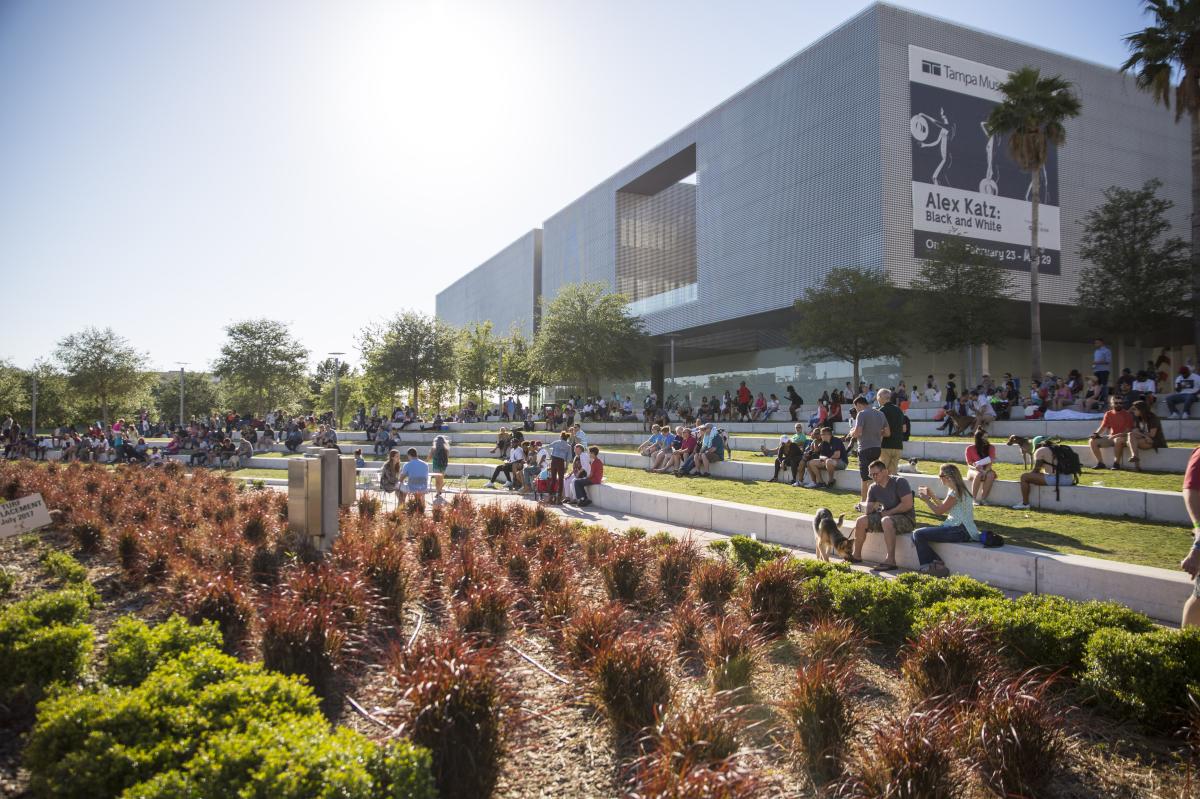 Riverfest at Curtis Hixon Waterfront Park (Museum of Art in background)
A work of art itself, the museum's collection runs from ancient to modern. It frequently hosts traveling shows. At night, the shimmering colors of "Sky (Tampa)" by New York artist Leo Villareal light the facade. Visit the museum's Sono Café for a quick bite before or after your visit.
AMERICA, AMERICA
A towering steel sculpture by Barbara Neijna stands entwined by the spiral staircase leading to John F. Germany Central Library. It's part of the City of Tampa's public art collection.
WATER WORKS PARK
The northern end of the Tampa Riverwalk, this part includes a concert shell, splash pad and waterfront views of the Hillsborough River and restored Ulele spring.
Children up to 12 explore all facets of life in Tampa Bay at this hands-on museum. They study the working of water, engineer paper airplanes and create works of art.
STRAZ CENTER FOR THE PERFORMING ARTS
The largest theater complex in the Southeast hosts a Broadway series fall through spring, homegrown theater troupes, and the Florida Orchestra.
Among Open Table users' Top 100 U.S. restaurants, Ulele ("You-Lay-Lee") serves meals inspired by foods used by Florida's original natives. Housed in the city's restored former pump house, it has its own brewery. The restaurant takes its name from a local Native American princess of saved the life of a Spanish explorer nearly 500 years ago.