As the urban heart of Florida's West Coast, we are known for our rich culture, incredible waterfront views, and now for becoming a city of champions with a Super Bowl and Stanley Cup win. What may be a surprise is that Tampa Bay is home to some of Florida's most successful agricultural crops, festivals, farmers markets and produce providers. From the Winter Strawberry Capital of the World's  annual Strawberry Festival in Plant City to artisanal heirloom fruits and vegetables at urban farms, Tampa Bay has become a great local food source.
---
FLORIDA STRAWBERRY FESTIVAL
A sweet kick off to the spring is the Florida Strawberry Festival in Plant City, the winter strawberry capital of the world. Having started back in 1930, this festival has been a continued celebration of the bountiful harvest of strawberries. At the festival, you can get a chance to meet the local farmers who work on the 10,000 plus acres of strawberries and how they bring them to the market. But that's not even the best part! Get your stomachs ready because you get to try these magnificent strawberries in all kinds of wonderful treats. From the world-famous strawberry shortcake, to strawberry milkshakes, and even strawberry brisket tacos. There's no shortage of strawberries at this local staple.
Dakin Dairy Farms
Dakin Dairy Farms entertain and educate the community on the process of creating different dairy products from the cow to the bottle. This 1000-acre multigenerational family farm prides themselves on using sustainable farming practices and the importance of a healthy diet for their cows.
Dakin Dairy Farm is a great interactive experience that the entire family can enjoy. On the Dakin Farm tours, you will be able to explore the dairy farm and learn all about their state-of-the-art practices. You can even witness the milking of a cow in their Dakin Dairy Milk Parlor. After your tour, relax in the market and café and enjoy a great meal from their chef for breakfast or lunch. Don't forget to pick up their amazing ice cream on your way out!
Ybor City Saturday Market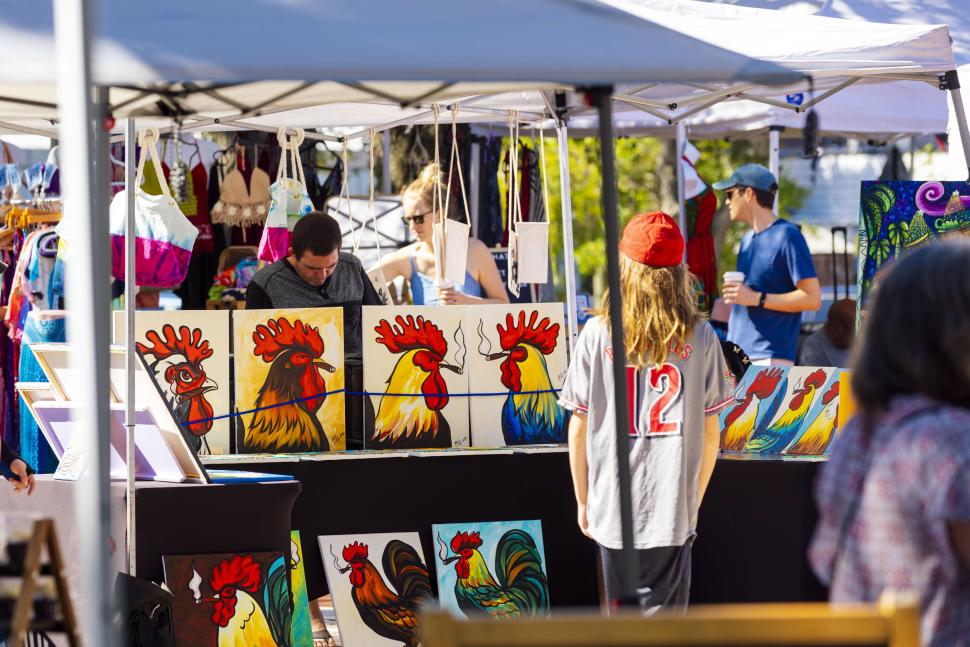 When we think of Ybor City, we think of the rich history, great nightlife, and the home of the Cigar City. But did you know that Ybor City had a green thumb? Calling all you health nuts to the Ybor City Saturday Market. This is your one-stop-shop to pick up all things local while drinking your café con leche. The market provides nutritious, affordable, and locally sourced produce. Not only can you get your green on, but you can do some retail therapy too and shop from local artists as well.
Honorable Mentions
Other notable mentions include the new Meachum Urban farm, located in Downtown Tampa, which offers a direct farmer-to-consumer approach with a great selection of hand-picked produce in the middle of a 2-acre urban setting. Keel Farms, originally a blueberry farm, now dedicates their time to creating a unique selections of wines and beers. For those that like to get their hands dirty, there are a few places where you can pick your own food. Head over to 5K Organic Farm or Strawberry Passion Organic Farm and pick from our famous winter-strawberries.
Coming full circle from nature to table, some of Tampa Bay's incredible restaurants like Ulele use locally grown fruits, vegetables, and proteins. Steelbach provides their guests with premium beef from Kenansville, a local farm in Central Florida. No matter if you pick, purchase, or eat it, Tampa Bay is here to supply you with the best locally sourced produce and the unique experiences that come with it.