THEY SAY THERE'S NO SUCH THING
WAYS TO PLAY FOR FREE
They say the best things in life are free. Well, sensational sunsets, waterfront views, a scenic drive, a picnic in the park with perfect weather are all things that come at no extra charge when you're in Tampa Bay. There's plenty of ways to play without breaking the bank. Here's some of our favorite free things to do right now.
Catch a Florida sunset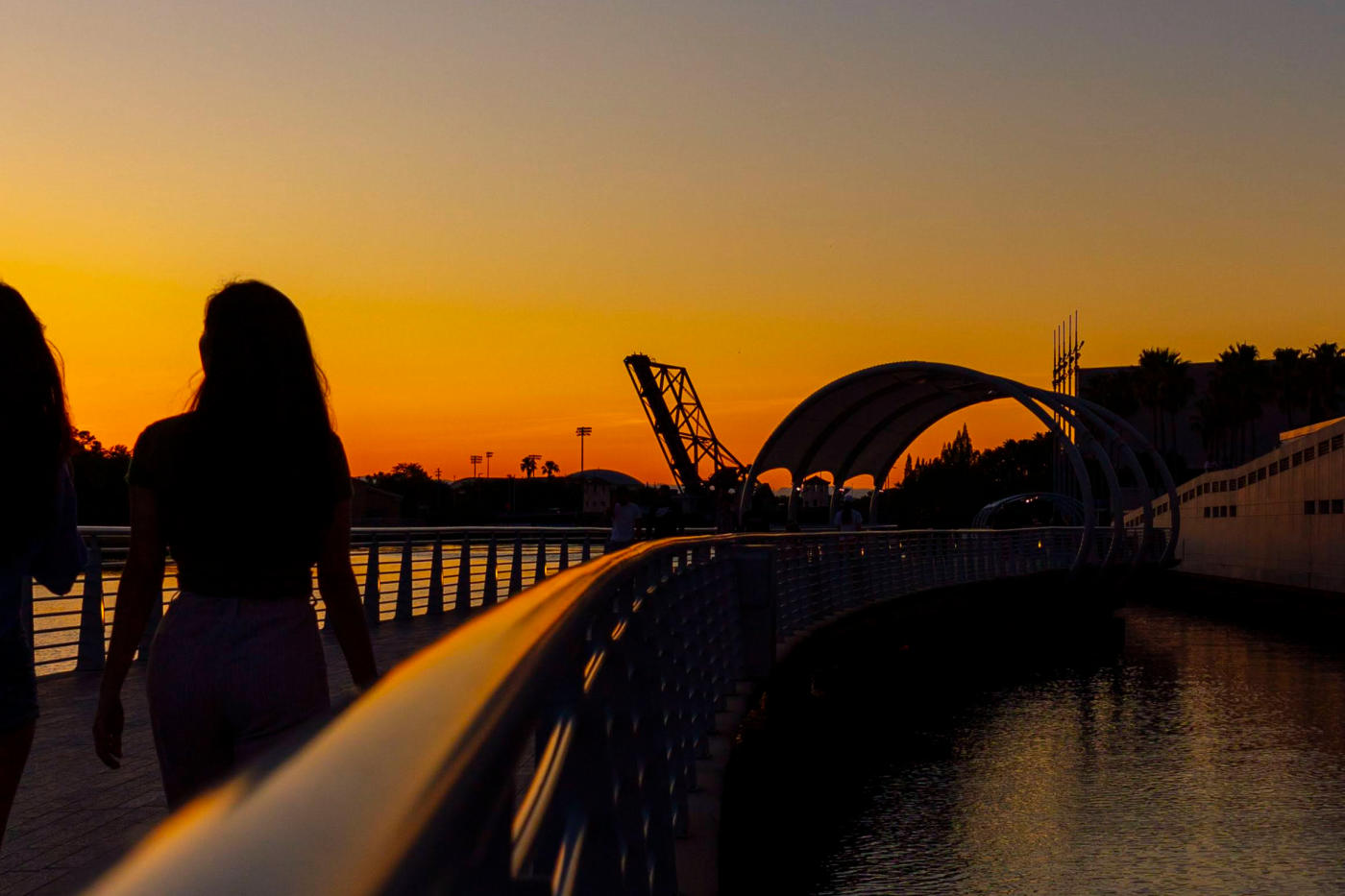 Sometimes the best things in life really are free. Located where the Hillsborough River meets Tampa Bay waters, downtown offers incredible sunset views all year long. Watch from the rooftops of Heights Public Market at M. Bird or from SIX at the JW Marriott Tampa Water Street. Across the river from downtown, American Social and Jackson's Bistro offer stunning views of the sunset and waterfront skyline. Head over to Rocky Point and visit Rox, located atop the CURRENT Hotel, or watch from the shores at Whiskey Joe's, Ben T. Davis Beach, or the Courtney Campbell Trail.
Take The TECO Streetcar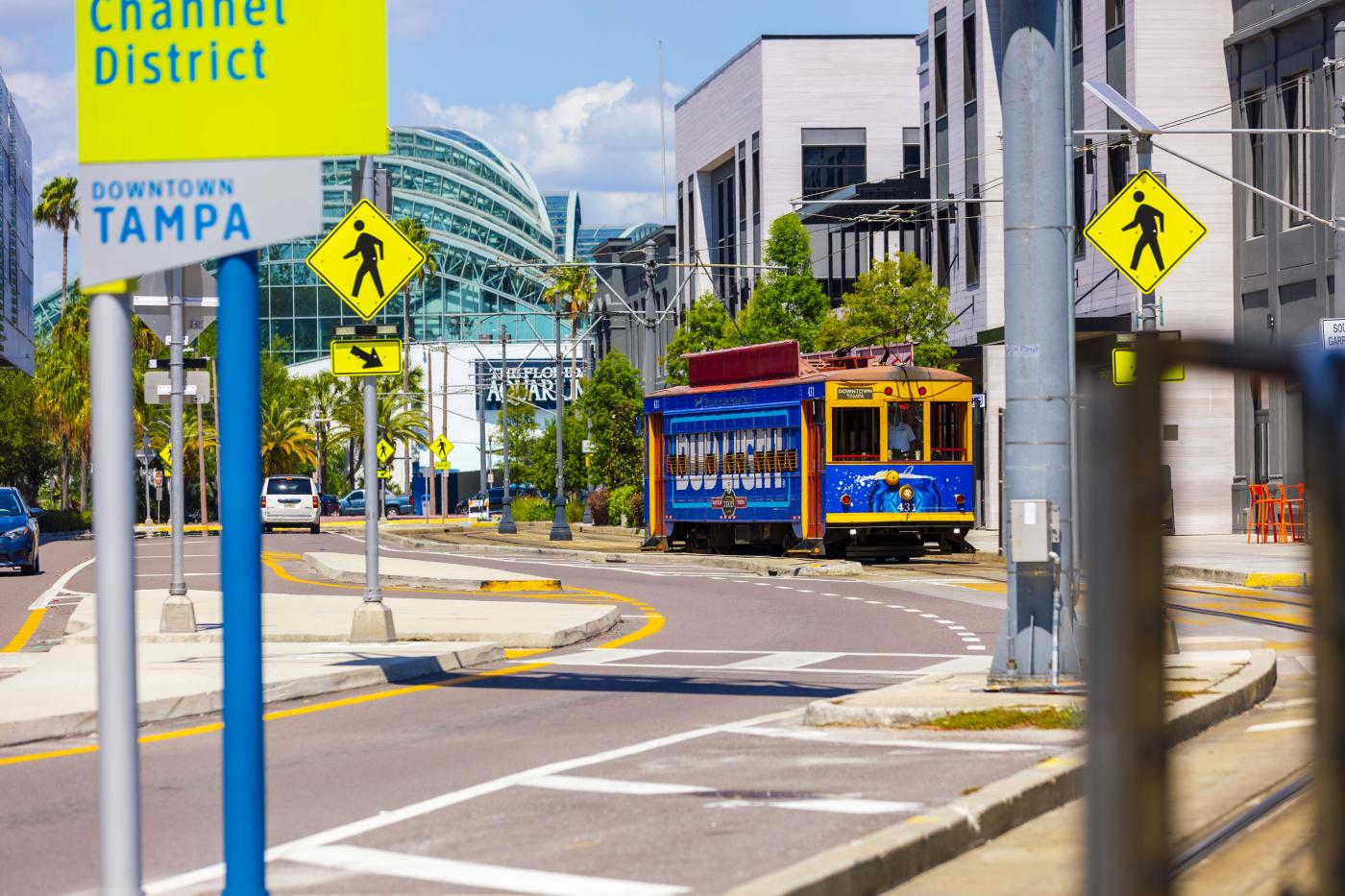 Free, convenient, and available 7 days a week. Easily maneuver from downtown to the Channel District, to historic Ybor City on the popular TECO Line Streetcar! With stops at 11 covered, wheelchair-accessible stations every 15-minutes, the streetcar system is a unique, free attraction that replicates the early streetcar line that was an essential part of everyday life in Tampa Bay.
Take a Stroll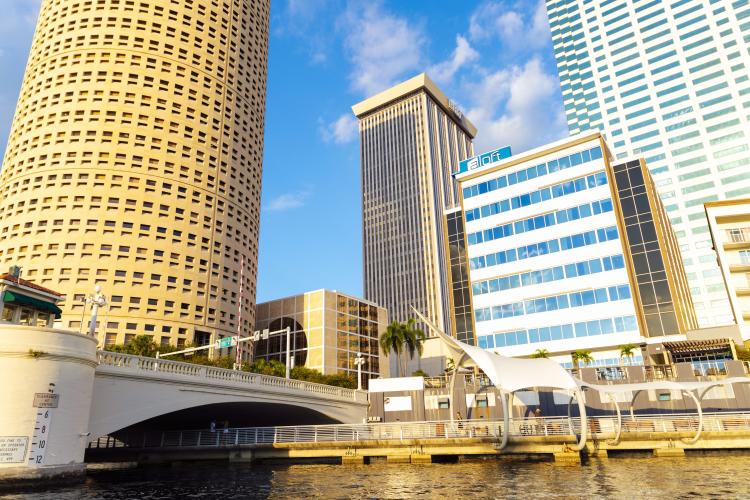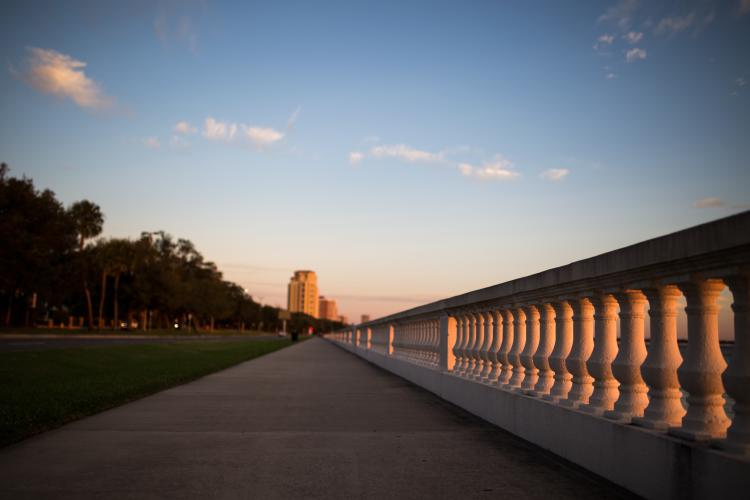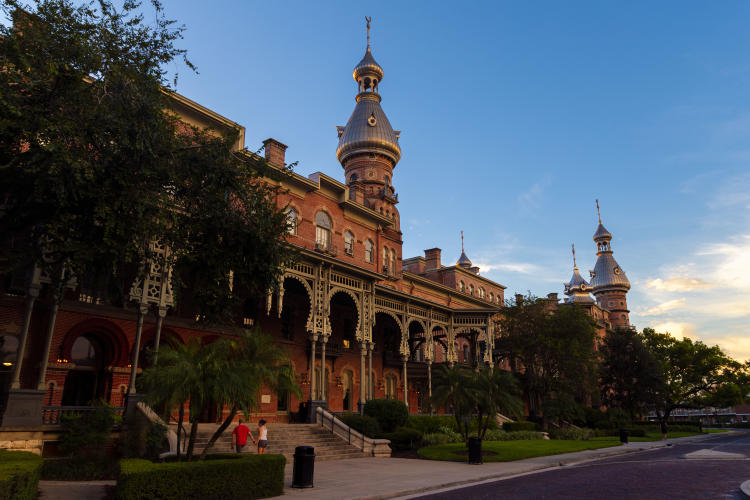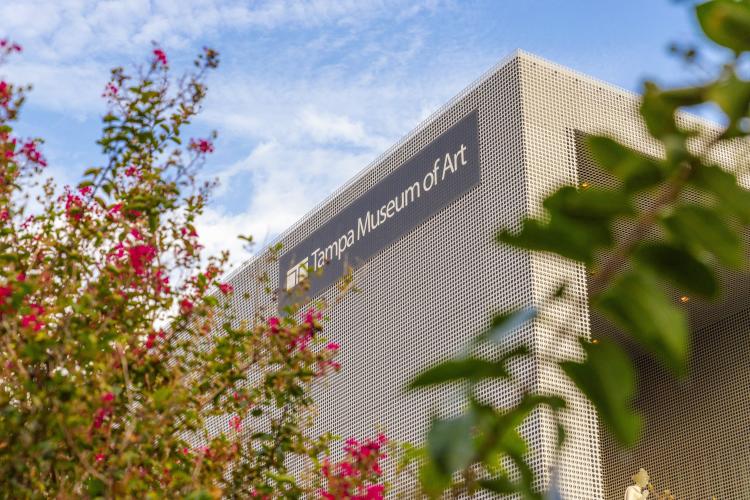 Learn Something New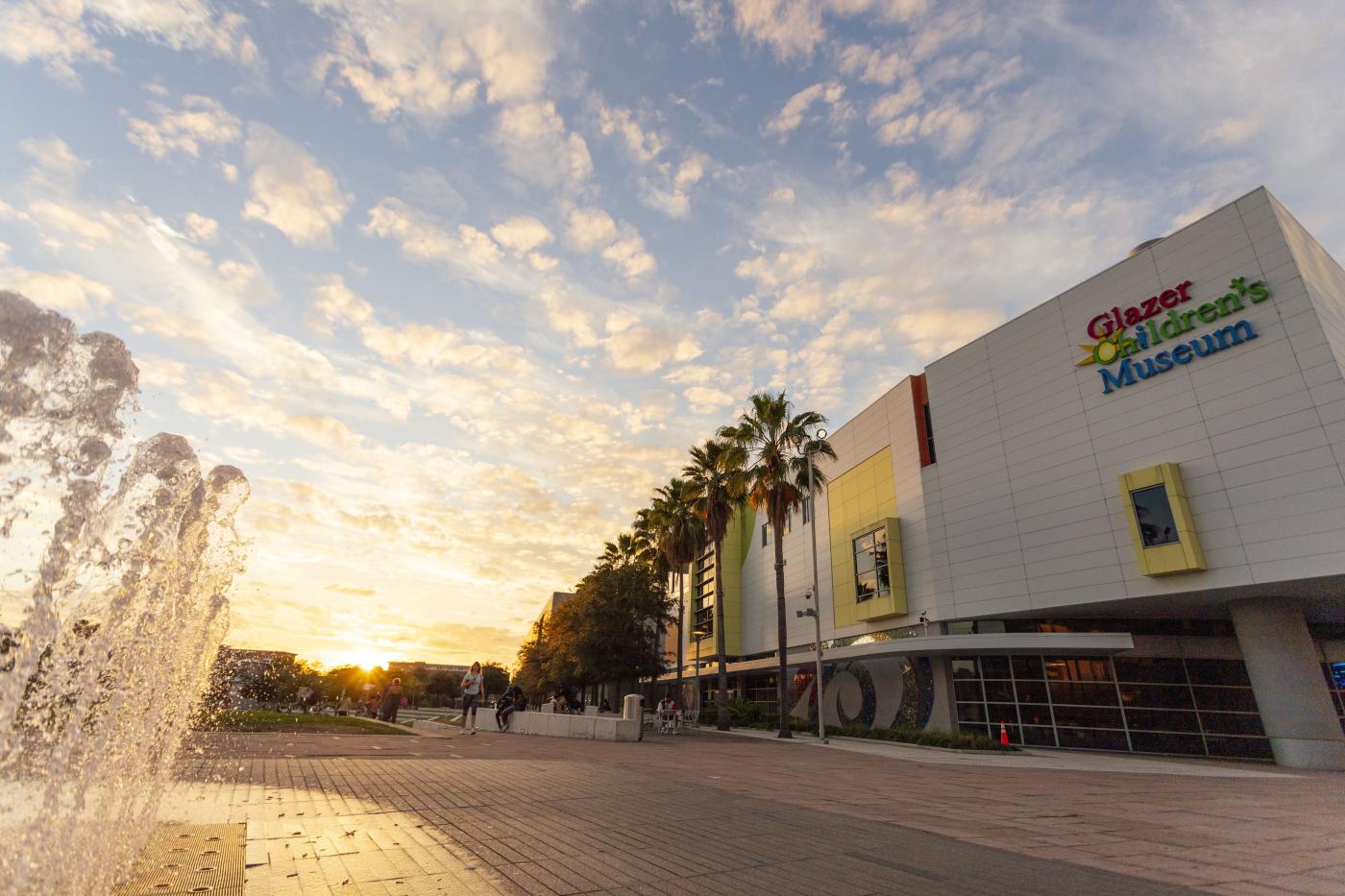 Learn something new and test your knowledge with these free educational outings in Tampa Bay. Take a tour of the Tampa Firefighters Museum. This local historic landmark is free to tour when you book an appointment and offers exhibits displaying the history and usage of the former firehouse along with an interactive children's area. Free admission is offered at The Glazer Children's Museum every first Tuesday of every month, offering children a place to explore and learn with rotating interactive exhibits and workshops.
Put your knowledge to the test with Trivia at Sparkman Wharf and Hyde Park Village. Every second and fourth Tuesday of the month, Sparkman Wharf hosts a free Trivia Night on the lawn. Play for the chance to win prizes and for discounted drinks at Fermented Reality Biergarten. Irish 31, located within Hyde Park Village, also hosts a Trivia every Tuesday night. It's free to play, and you might even walk away with some cash prizes. 
Take in the Florida sun and play like a kid again when you visit one of Tampa Bay's award-winning parks. See a free concert with the free 'Rock the Park' series at Curtis Hixon Waterfront Park. Located in the heart of downtown next to the Glazer Children's Museum, this park is also a hub for seasonal events like the annual Winter Village.
Just across the Hillsborough River, the stunning 25-acre Julian B. Lane Riverfront Park has everything you need for a perfect day in the park from splashpads and playgrounds, to tons of green space, and even a floating dock for kayaks and paddleboarders. Julian B. Lane is also the home to a number of annual festivals like the Tampa Bay Margarita Festival and Pig Jig.
You won't have to look far to find other great parks to enjoy the fresh air in Tampa Bay. Next to the popular restaurant, Ulele, find the NEW Water Works Riverfront Park, complete with dog park, covered and shaded picnic areas, and playground with splash pads for the kids. Even receive a free history lesson when you visit Veterans Memorial Park, Centennial Park in Historic Ybor City, or Perry Harvey Sr. Park near downtown – which highlights the lasting contributions of the African American community in Tampa.
For a real outdoor adventure, check out two amazing Florida State Parks located in Hillsborough County. Take on over 20-miles of high speed single-track and miles of other terrain for mountain biking at Alafia River State Park. And at Hillsborough River State Park, trek the 5.8-mile trail system or take on the class-II rapids, which are a rarity in Florida.
Armature Works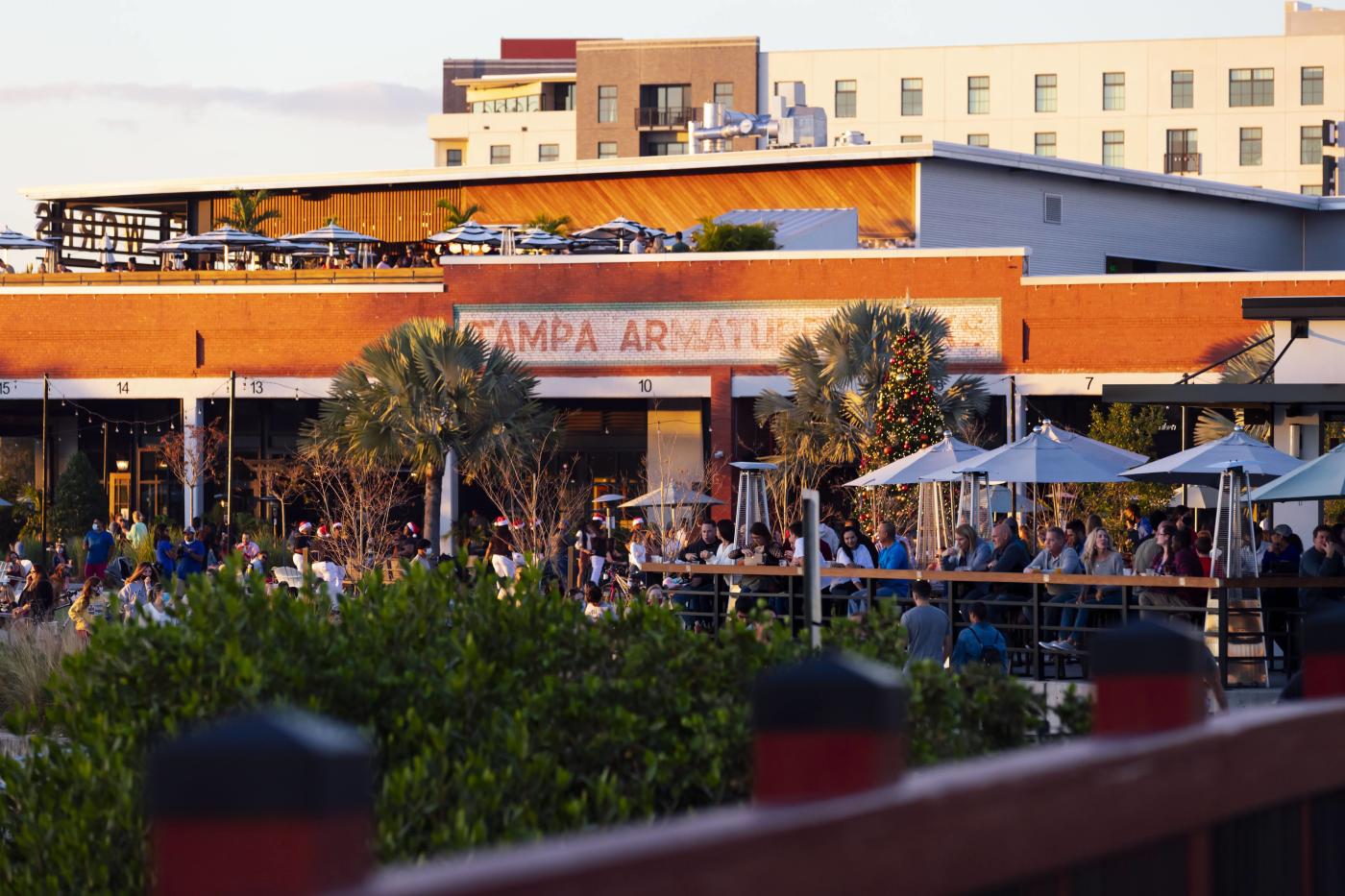 Located at the North end of the Tampa Riverwalk is Armature Works at the Heights Public Market. With a large, waterfront lawn and multitude of restaurants and bars, Armature Works has become one of the most popular places to go in Tampa Bay. Whether you sip on sunset drinks at M.Bird, or relax on their lawn, you will have unobstructed views of paddleboarders, kayakers, and sunsets on the Hillsborough River. At Armature you can relax with family and friends and even partake in a game of chess their giant outdoor chess board. Not only do they offer free weekly yoga classes and host local markets, but they also hold a free run club every 1st Wednesday of the week.
Visit a Local Market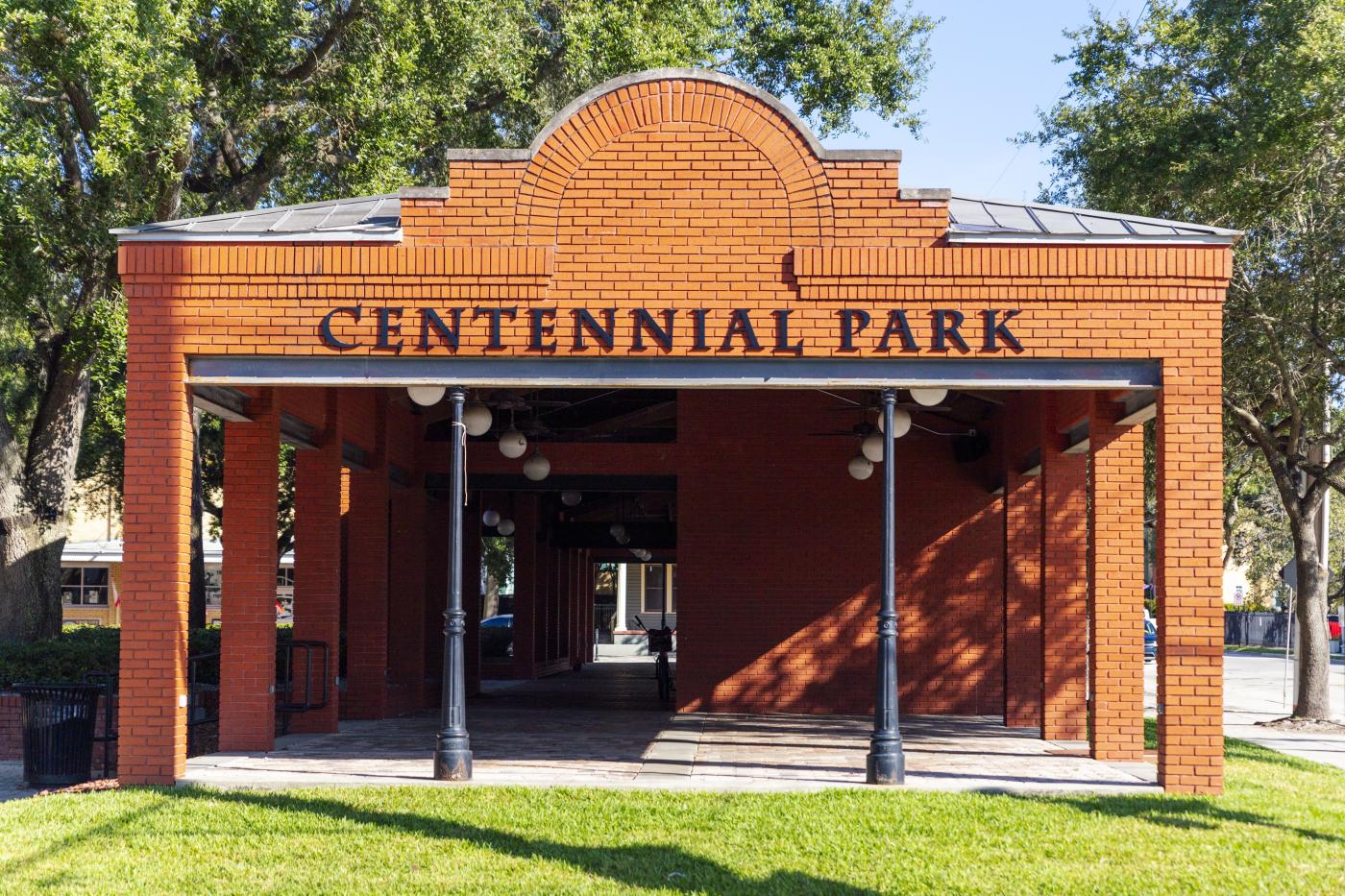 Check out a local market to get a taste of Tampa Bay inspired goods and to connect with community vendors and artisans. The Ybor City Saturday Market takes place every Saturday at the Centennial Park. This market is the largest outdoor market in Tampa Bay and offers only locally produced products. You can find fruits, vegetables, baked goods, handmade crafts, candles and more on Saturdays in Ybor City.
Hyde Park Village is six city-blocks of beautiful shops and restaurants, perfect for a day of window shopping, hanging out by the courtyard fountain or enjoying the free Essentials Market, another popular market held once every month. Find a variety of local vendors here and enjoy live entertainment as you walk through the outdoor market.
Every second Sunday of the month, Armature Works at the Heights Public Market hosts their Second Sunday Art Walk + Vendor Fair, and every second Wednesday of every month they host Heights Night Market. These markets are filled with artisanal handmade goods from jewelry to woodwork and artwork from local and regional artists. These markets are family-friendly, free to attend, and have live music for you to enjoy as you browse.