Back
Ugly Sweater Bar Crawl-Downtown Tampa
Dates: December 11, 2021
Time: 4:00 PM - 11:30 PM

Park & Rec

290 S. Meridian Avenue, Tampa, FL 33602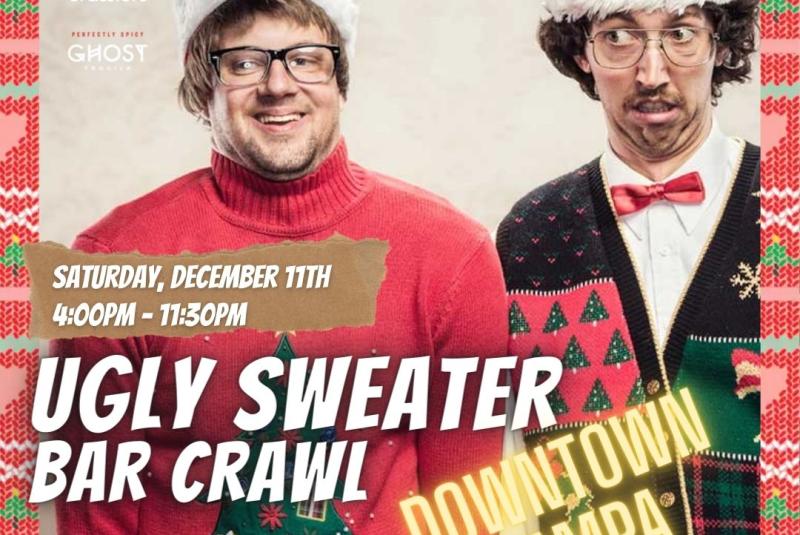 About this event
It's the holiday season and that means one thing.....Time to get your Best Ugly Sweater out and come crawl around town with us.

We will have 10+ amazing bars in Downtown Tampa and South Tampa for you to crawl too. Full details coming soon.

Participating Bars: (Downtown Tampa)

🔵 Park & Rec TPA

🔵 American Social

🔵 District Tavern

🔵 Maloney's Irish Pub

🔵 Yeoman's Cask & Lion

🔵 Harpoon Harry's

🔵 More Bars to be announced shortly...

Participating Bars: (SoHo Tampa)

🔵 Soho Saloon

🔵 MacDintons

🔵 Corner Bar

🔵 Bar Hwrd

🔵 The Patio

🔵 More Bars to be announced shortly...

You'll be able to check-in at 2 different locations between 4pm-7pm. (You must check-in during these times to be able to get your wristband and be able to participate in the crawl)From there you will go visit each participating bar. Be sure to wear your Ugly Sweater for everyone to see how festive you are.

Check-In Location: Downtown Tampa

1 - Park & Rec (290 S Meridian Ave)(4-7pm)

Check-In Location: SoHo Tampa

1 - MacDintons (405 S Howard Ave) (4-7pm)

___

WHAT YOU'LL GET!

🔵 Includes 5 welcome shots at 5 participating bars of your choice!

🔵 Exclusive Food and Drink Specials in EVERY BAR!

🔵 Free cover to all venues

🔵 Best Ugly Sweater Contest

🔵 Free Fun - Stock up on happiness for the month ahead!

WHAT TO DO NEXT?

Get your ticket. Share with your friends. Bring your crew and wear your best Holiday Ugly Sweater.

Press the "It's finally Holiday Season Again" button and let the good times crawl.

____

***Covid-19 Disclaimer: you will have to follow each bars guidelines on Covid-19 precautions and rules. If a bar is to crowded you might be ask to come back at a later time. There is no guarantee that you'll get into every bar if they're at capacity at the time you're there. Thanks for your understanding ***

Let us take care of your weekend entertainment needs.

See you there!

Your Crawler Team

Follow the action on our social channels Facebook, Instagram, Twitter to see what else we're up to.

Corporate Events and Special Occasions:

Let us organize your next corporate outing or special event.

Contact us for details.