Trailer Park Boys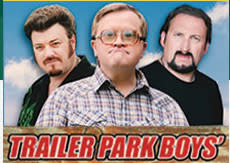 Description
AEG Live presents the  STILL DRUNK, HIGH AND UNEMPLOYED TOUR Featuring Ricky, Julian and Bubbles  Ricky, Julian and Bubbles are back and they're "STILL DRUNK, HIGH and UNEMPLOYED!" But not for long if Bubbles has his way!
Having answered to the law in the "Community Service Variety Show" by preaching the dangers of substance abuse to avoid jail time, the crew are now on the road without parole officers. Spend an evening with the boys as Bubbles tries to create a new career for himself in the movie industry, Julian puts his latest money-making scams into action and Ricky has an idea that can "change the world!" 
Trailer Park Boys are Canada's most beloved miscreants from a small town in Nova Scotia, Canada. Robb Wells (Ricky), John Paul Tremblay (Julian) and Bubbles (Mike Smith) have created loyal and loveable characters on their television series, and their message has spread globally. Over the past 14 years "The Boys" have garnered much press and gained a hardcore following of fans. They began as a short film starring John Paul Tremblay and Robb Wells, which debuted to rave reviews at the 1999 Atlantic Film Festival. The premise: a camera crew chronicles the boys' adventures living in the Sunnyvale Trailer Park in Dartmouth, Nova Scotia. The camera crew continues to follow Bubbles, Ricky and Julian.
MATURE CONTENT WARNING: Please be advised that this show contains a #@&%-load of profanity!
More Information
Date(s): October 27, 2016
Hours: 7:30 PM - 9:00 PM

Location:
711 N Franklin St
Tampa, FL 33602
http://www.tampatheatre.org