Third Annual Arabic Festival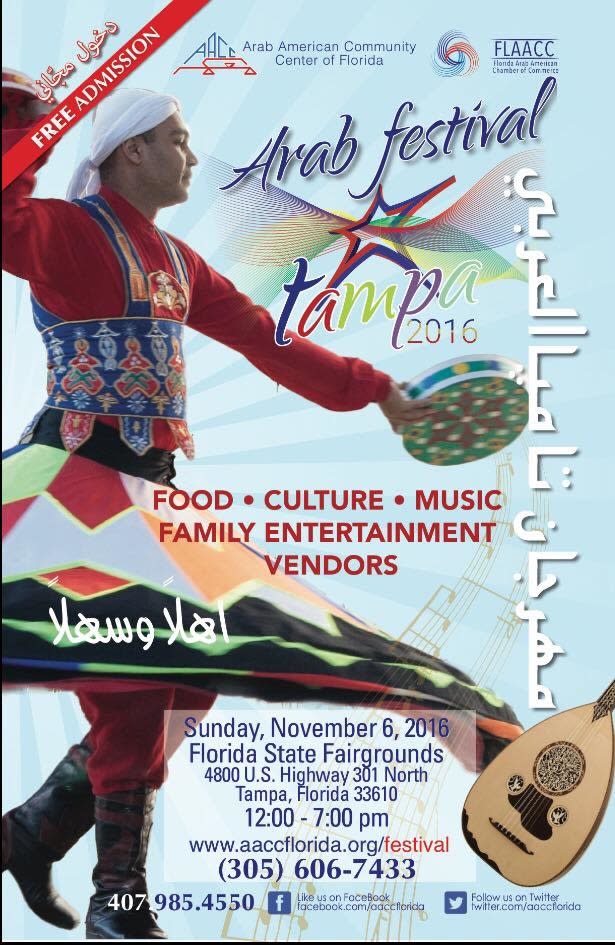 Description
CONTACT:
Salman Shalan
(305) 606-7433 or Sshalan2004@aol.com
Twitter: @AACCFlorida
Facebook: aaccflorida
The Third Annual Arabic Festival Expected to Draw Over 15,000 Attendees
TAMPA – The third annual Arab festival will be taking place on Nov. 6 2016, in Tampa, and is expected
to welcome over 15,000 people with a mixture of Mediterranean food, clothes, and live
music and dancing.
The Arab American Community Center of Florida, AACC, is hosting the event that has notable
success with events similar to this one in the past.
The festival will take place at the Florida State Fairgrounds.
This event is an ethnic heritage festival that celebrates the different cultures of the Middle East.
Live music, folk dancing and Arabic pop music will be on stage from noon to seven p.m.
The atmosphere is family friendly with kid's activities, and arts and crafts.
AACC has been at assisting the community since 1990 offering educational, immigration, social,
employment, and health services.
The non-profit organization has been active in the local area by participating in events and extending
services to anyone that requests it.
For more information about AACC, their community involvement, services or their events please
visit our website at www.aaccflorida.org.
About Arab American Community Center:
Since its establishment in 1990, the Arab American Community Center (AACC) has been a source
of community empowerment in Central Florida. In the last several years the AACC has experienced
tremendous growth and has become recognized as a leader in the local community and
state. For more information, please visit us at www.aaccflorida.org.
More Information
Date(s): November 6, 2016
Hours: 12:00 PM - 7:00 PM

Location:
4800 US 301 North
Tampa, FL
http://www.aaccflorida.org