Streetcar Live Powered by Gasparilla Music Festival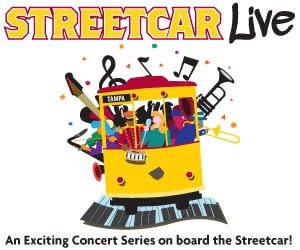 Description
Streetcar Live is BACK! The monthly concert series on board the TECO Line Streetcar takes place the 1st Saturday of each month (with a summer break) from 5:00 - 7:00 p.m.

With a capacity of just 74, the historic Streetcar provides an intimate and unique musical experience unmatched in Tampa Bay.

The musical act will board the Streetcar leaving Centennial Park Station at 5:00 p.m.

The rolling concert series is all ages and included in the TECO Line Streetcar System fare, just $2.50 for a one-way ride or $5.00 for an all-day pass.

Use #StreetcarLive to share event photos and videos!
More Information
Date(s):
Hours: 5:00 PM - 7:00 PM

Location:
1800 E 8th Ave, Tampa, FL 33605
Tampa, FL 33605
http://www.tecolinestreetcar.org