Back
Por Todas Partes | Exhibition
Dates: October 4, 2021 - November 10, 2021
Time: 9:00 AM - 4:00 PM

Gallery 114@HCC Ybor City Campus

Ybor City Performing Arts Building, Tampa, FL 33605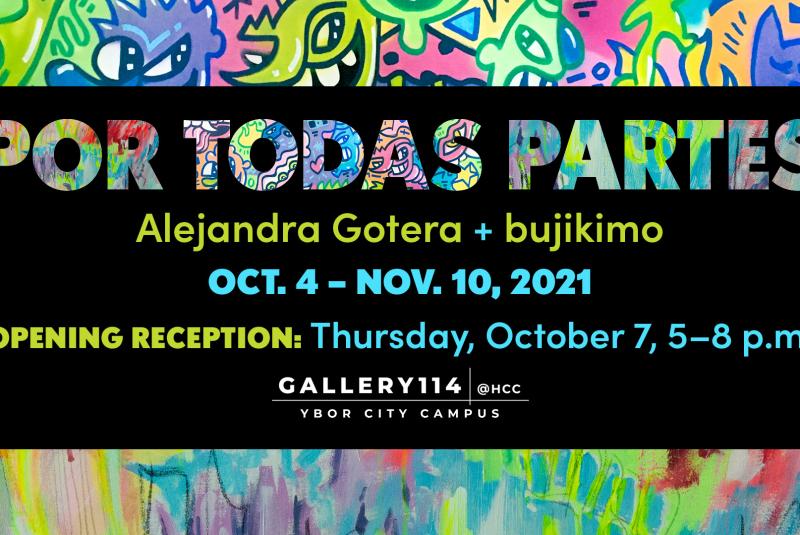 Gallery 114@HCC Ybor City Campus presents Por Todas Partes, an exhibition of work by by bujikimo (Cesar Garcia) and Alejandra Gotera. This exhibition will be on display October 4 to November 10, 2021. An opening reception is scheduled for Thursday, October 7, 2021 from 5-8pm, an artist panel discussion begins at 6pm.

United by a common freneticism, chromatic intensity, and an all-over approach to painting, Gotera and bujikimo place their two distinct, yet complementary, artistic practices in conversation for their exhibition with Gallery114@HCC Ybor City Campus. Often combining Japanese hannya mask-inspired avatars with tropical imagery, bujikimo organizes iconography to pay equal attention to all areas of his compositions. In contrast, Gotera builds fully abstract compositions out of a frenzy of marks and bright fields of color, an exercise in finding stability amidst chaos that reflects her experiences as a Venezuelan living and working in the United States. bujikimo is an artist living and working in Tampa Bay, FL. Alejandra Gotera is an artist and educator living and working in Miami, FL.

Follow all of HCC's galleries on Facebook, Instagram, and Twitter @gallery221hcc.

HCC Art Galleries are free and open to the public. Programs are made possible in part by the support of HCC Student Activities/Service Fees and the HCC Dale Mabry Campus Student Government Association.

Gallery114@HCC is located on the first floor of the Performing Arts building, HCC Ybor City Campus. Gallery hours are Monday–Wednesday 9 a.m.–4 p.m., Thursday 9 a.m.–7:00 p.m., Friday 9 a.m.–2 p.m., closed Saturday–Sunday and major holidays. Street parking can be found around the HCC Ybor City Campus, or there are the following parking garages close by: Palm Garage (2012 N 13th St) and Centro Ybor Garage (1500 E 5th Ave).