MDA- Muscle Team Tampa Bay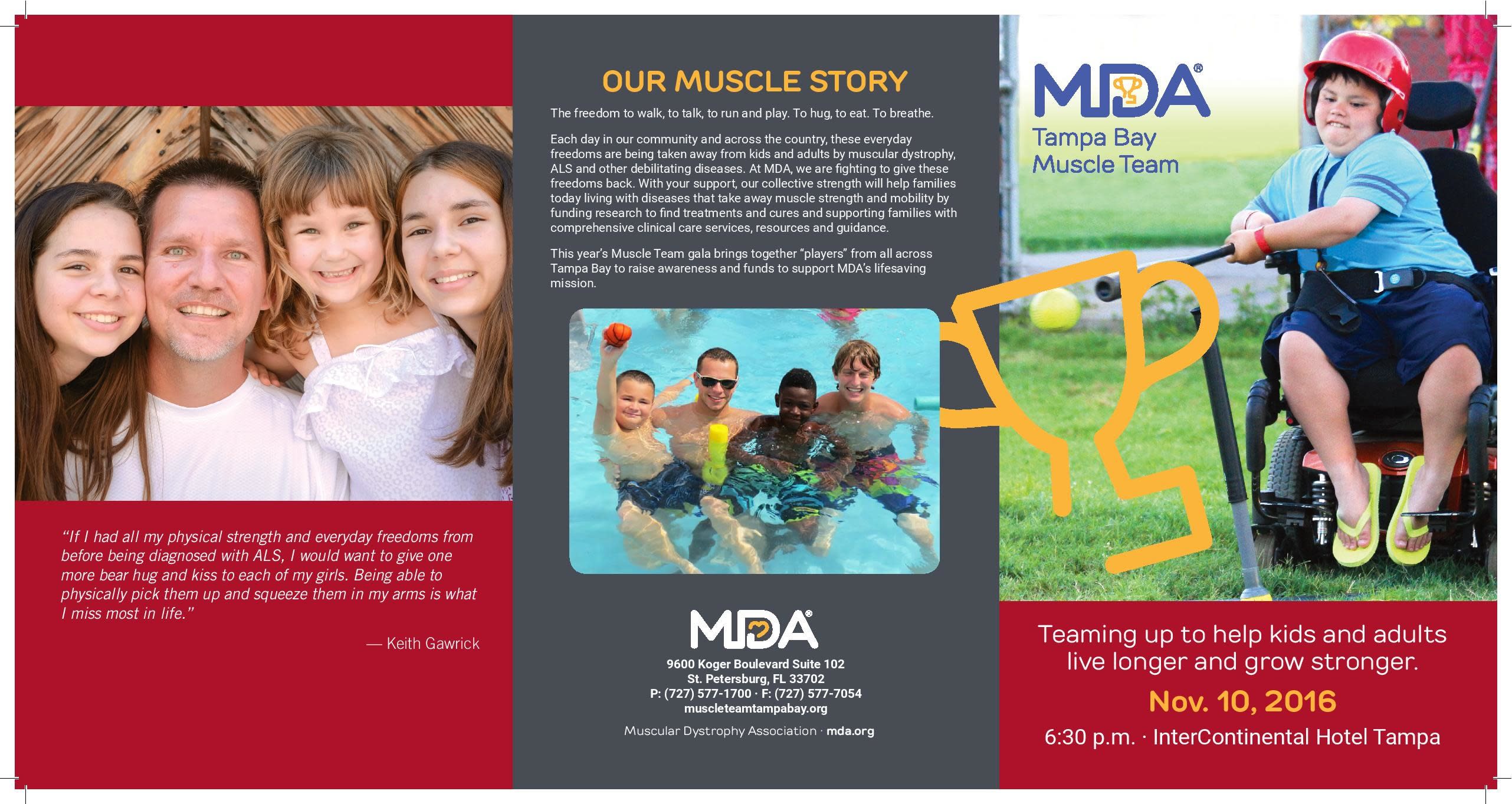 Description
Muscle Team is about strength- the strength of a community united to end muscular dystrophy, the strength it takes to battle a muscle disease, particularly as a child, and the strength that happens when athletes, sponsors, and MDA families come together to fight back. One team, one dream, a cure.

Muscle Team is a sports-oriented fundraising dinner event. Over 200 guests are expected to attend this year's event, representing Tampa Bay's legal, financial, and business communities. The event includes a VIP reception with athletes and military heroes, a cocktail reception with live & silent auctions, a seated dinner program that features an on-stage awards ceremony for MDA's Muscle Team and a live camp sponsorship auction.

Past auction items have included custom motorcycle, autographed sports memorabilia, tickets to sporting events, high-end gift baskets, and restaurant gift certificates. See the auction page for a listing of this year's highlights!

Muscle Team each year honors a group of exceptional children, a diverse representation of MDA families across Tampa Bay who have been nominated for recognition at the event by fellow families and MDA staff members. These children serve as buddies, and are always excited to be recognized at the event for the extraordinary work they do with year-round and advocating for MDA.

Last year's event raised over $100,000 for MDA's local programs and services. Monies raised support hospital clinics, research teams, public health education, equipment loan closets, and summer camps for kids. Participating in the event gives you the opportunity to inspire and give hope to a child fighting a difficult diagnosis of muscular dystrophy or another form of muscle disease.
More Information
Date(s): November 10, 2016
Hours: 6:30 PM - 10:00 PM

Location:
4860 W Kennedy Blvd
Tampa, FL 33609
http://www.muscleteamtampabay.org