Fourth Friday Downtown Tampa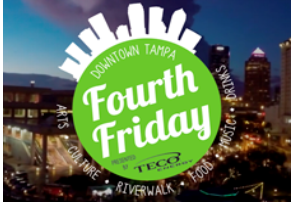 Description
Celebrate this Fourth Friday with Specials and Activities Offered Throughout Tampa
When the sun goes down, the streets of Downtown Tampa light up with music, laughter, art, friends and FREE fun the Fourth Friday of every month.
A monthly celebration of Tampa's rich arts and culture scene! An evening of special offerings and programs by cultural venues, restaurants & more! Many restaurant and bar offerings extend beyond 9 pm.
Live local music at multiple locations.
Free admission, discounts or special offers at participating arts and cultural partners.
Special food and drink deals from participating downtown restaurants and bars.
Sip & Stroll the Riverwalk. Sip & Stroll allows consumption of alcoholic beverages in specially vendor-approved cups while along The Riverwalk.
Get your Fourth Friday wristband pass at participating cultural venues.
More Information
Date(s): January 25, 2019 - December 27, 2019
Hours: 4:00 PM - 10:00 PM

Location:
Downtown Tampa
Tampa, FL 33602
https://www.fourthfridaytpa.com/