Coton Colors Tampa Warehouse Sale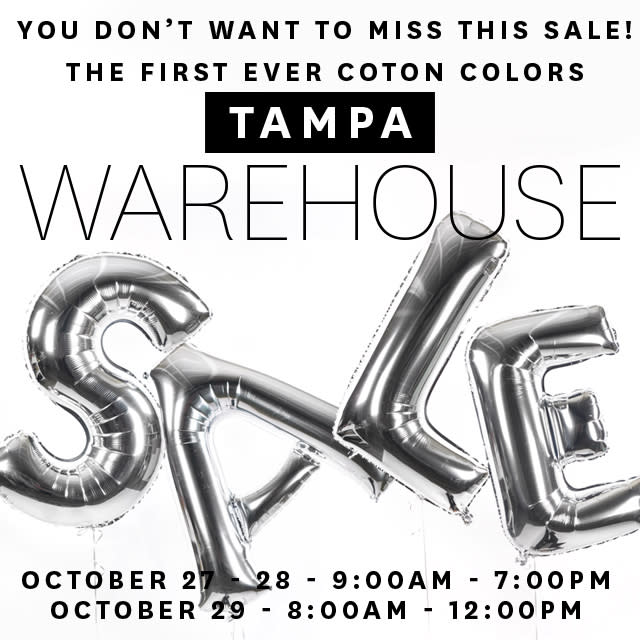 Description
Heard about the famous Coton Colors Annual Warehouse Sale in Tallahassee but couldn't make the trip? Don't worry, we're bringing it to you in Tampa for our first-ever Tampa Warehouse Sale. With deals and steals up to 75% Coton Colors merchandise, you won't want to miss this inaugural Tampa sale.

A local Tampa business, and national lifestyle brand, Coton Colors is bringing its annual warehouse sale to Tampa after holding the much-anticipated event in Tallahassee for years. You'll find anything from gifts, to tableware, dishes, textiles and select Happy Everything! merchandise when shopping the sale. Talk about a deal! With hourly specials, incredible prices, giveaways, happy bombs and more (what's a happy bomb you ask? You'll just have to stop by and see.) everyone gets happy when visiting the highly-anticipated Coton Colors Tampa Warehouse Sale.

Want to be at the front of the line to shop the incredible Coton Colors Tampa Annual Warehouse Sale? Then get tickets to the highly-anticipated Preview Party! The Preview Party will be held October 26, 2016, from 6-9 p.m. Head to coton-colors.com to get your tickets today.
More Information
Date(s): October 27, 2016 - October 29, 2016
Hours: 9:00 AM

Location:
3421 West Green Street
Tampa, FL 33607
http://coton-colors.com/warehousesale