Back
Black History Month Reception
Presented By: Tampa Bay History Center
Dates: February 4, 2022
Time: 6:30 PM

Tampa Bay History Center

801 Water St, Tampa, FL 33602
Price: $50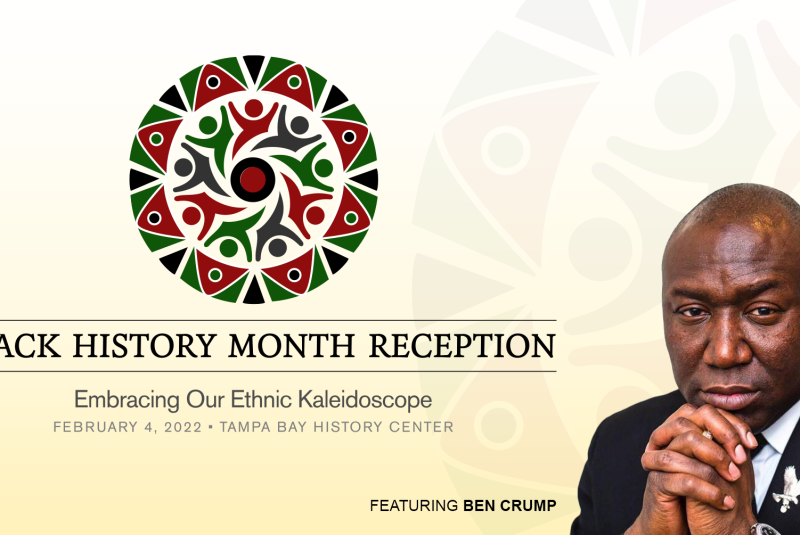 Throughout his career, attorney Ben Crump has remained steadfast in serving those without a voice and seeking justice in some of the most contentious legal cases of our time, including his role in the Trayvon Martin case. The Tampa Bay History Center is pleased to welcome this eyewitness to history to the first annual Black History Month Reception on Friday, Feb. 4, 2022.

Embracing Our Ethnic Kaleidoscope is the inspiration for the inaugural Black History Month Reception, launching a month of special programming and the start of expanding gallery exhibit space at the History Center focused on local Black history.

In addition to Crump's keynote address, the Feb. 4 reception will honor Civil Rights Movement leader Dr. Bernard LaFayette, Jr. This will also mark the first annual presentation of the Dr. Bernard LaFayette, Jr. Award for the Preservation of Black History and Heritage. This annual award recognizes an individual or group whose work and contributions have significantly enhanced the understanding and awareness of the Tampa Bay area's rich Black history.

LaFayette, who was born in Tampa, Fla., co-founded the Student Nonviolent Coordinating Committee in 1960 and has spent the decades since as a Civil Rights Movement activist, minister, educator and lecturer on strategy and nonviolent social change.