An Artist's Cosmopolitan Weekend
By Emmy Wildwood
Splurge on shops and culture in Tampa Bay, Florida
Although I'm a musician by trade, I found myself in the fashion world after making an impact on my audience with the outfits I wore on stage. Touring with my band had taken me many places, but never to Tampa Bay. After booking my trip, I was excited to enjoy the water, but couldn't imagine what the city would be like. I had no idea about the cultural, artistic and cosmopolitan experience that I would have.
I went prepared with a long to-do list of places all over town to experience, explore and shop. I jumped right in to discover what Tampa Bay had in store for people like me who love beautiful architecture, deep history and have a passion for art and fashion.
Local grandeur
On my first day, I headed over to Oxford Exchange. I could tell that the locals were proud of this downtown landmark because on the ride from my hotel, my cab driver enthusiastically told me about the unique community marketplace. It may have started as a horse stable—horseshoes were found under the floors during the renovation—and once belonged to the adjacent Tampa Bay Hotel, which was built in 1891 and became the University of Tampa in 1933.
I followed the stylized tile floors in the Oxford Exchange's entryway through The Shop and The Bookstore toward a space that felt like a great room in a manor. The gathering area offered a coffee and tea shop and was bright and cheerful because of the expansive skylight overhead. This skylight is not your typical flat plane of glass—it's cut multi-dimensionally just like a diamond. The great room is flanked by a grand wall with wood molding and a staircase adorned with portraiture leading to private meeting rooms on one side and its greenhouse-inspired gourmet restaurant on the other.
---
"I followed the stylized tile floors in the Oxford Exchange's entryway through The Shop and The Bookstore toward a space that felt like a great room in a manor."
---
The Shop was curated with the utmost care and it was easy to lose all sense of time as I strolled from table to table. I couldn't choose between handmade soap imported from Portugal, honey from Brooklyn or an out-of-the-ordinary greeting card, so naturally I bought all three. Ultimately, I appreciated the incredible customer service I received, specifically from one gentleman who seemed like the mayor of Oxford Exchange, Jimmie Marshall. I enjoyed hearing Jimmie enlighten me about the historic figures on the wall above the staircase. I also received great directions from him about how to get to Ybor City and he kindly held the door for me when I left.
Historic Ybor City
I had read about the easy commuting through Tampa Bay by way of the streetcar and decided to take it from the Unlock Tampa Bay Visitors Center to its last stop in historic Ybor City. It was a charming way to see Tampa Bay and cinematically delivered me into this historic part of town. Two-storied shops with upper deck porches lined the streets. I felt like I was in a different country, in another era. I visited Tabanero Cigars, where I watched an expert hand-roll magnificent wands of tobacco, and its coffee shop, Taba Brew, where I tasted my first real Cuban coffee: two shots of espresso and sugar.
---
"It was clear to me that she had an eye for precious things and treated her collection with care"
---
Exploring another local treasure, I stopped at La France Vintage Clothing, just a few doors down. The owner, Jill Wax, opened the shop 40 years ago and still comes in every day. It was clear to me that she had an eye for precious things and treated her collection with care, as evident by many items displayed in protective dust covers. Dahlia, a personal shopper there, kindly let me indulge as I tried on an exquisite derby hat, stacked tall with tulle and feathers.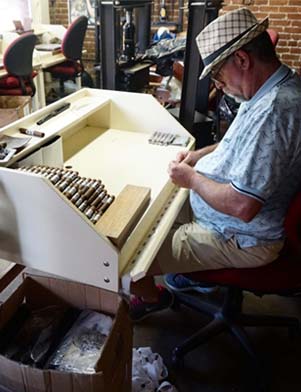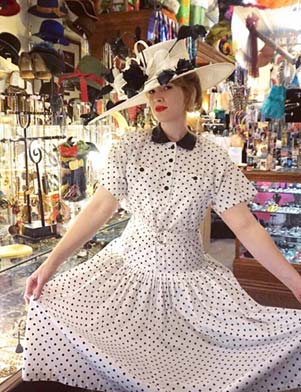 Latin flavors
I wrapped up my visit to Ybor City by dining at Colombia, the oldest restaurant in all of Florida. In operation for more than 100 years, the restaurant is still run by the founding family, now in its fourth and fifth generation. The outside boasts ornate hand-painted historical scenes on ceramic tile. A local had tipped me off about the paella, so though there were many tempting Latin dishes on the menu, I knew what I wanted right away. The seafood was fresh, the dish was savory and my beverage was never empty thanks to my expert server who looked great in his full tuxedo. As I was leaving, I stopped in their gift shop next door, which sells—among other things—dishware echoing the restaurant's exterior tile art.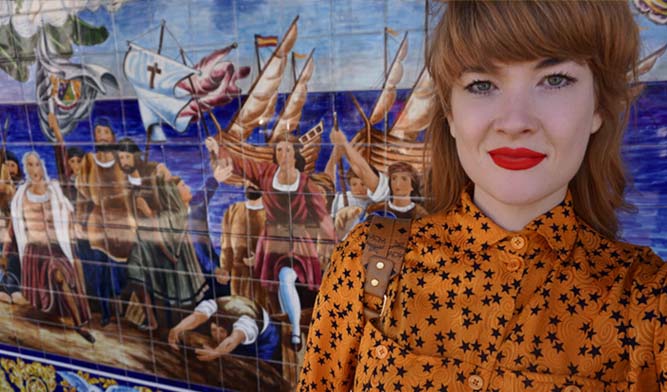 Vintage goodies
On my second day in Tampa Bay, I made my way to Seminole Heights, an up-and-coming area for artisan food and shopping. I passed a record store and a coffee shop housed in a restored trailer and then walked into Yesterdaze Vintage Clothing & Antiques. This Easter egg colored building was as eclectic on the inside as it was on the outside and sold a mix of throwback home goods and clothing divided by style and era. Both the selection and the shop owner, Rebecca, who was the best sales person I had ever met, impressed me. Like a true stylist, she took one look at me and knew what would fit me. I told her what I usually like and she pulled a silk, Pucci-inspired dress that could have come straight from my dreams.
---
"This Easter egg colored building was as eclectic on the inside as it was on the outside"
---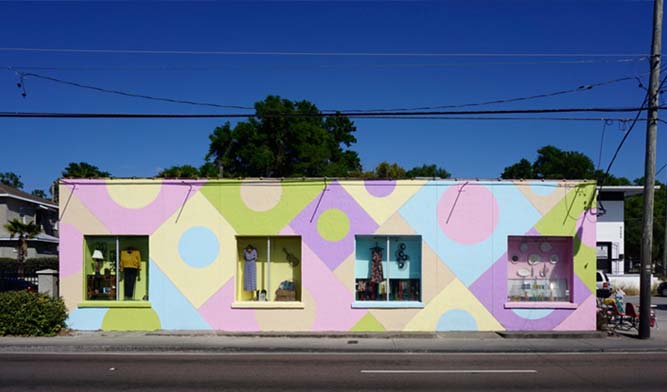 Shopping for a cause
Next stop was Hyde Park Village. The well-kept area housed name-brand stores but as I passed its park with a bubbling three-tier fountain, I found Snow Circle, a boomerang shaped street with smaller boutiques. Connected to Snow Avenue, Snow Circle led me to another local fashion gem, Boho Hunter. Two of the four owners of the curated boutique, Geoff and Blanca, were in the store and explained their vision for a business model that empowers female Latin American designers by carrying ONLY female Latin American designers. This focus provides an unusual elevated platform for their work to be seen.
From the colorful oversized earrings, to the embroidered straw handbags, there was a distinct, exotic perspective unlike anything I had seen yet in Tampa Bay. The ruffled blouses called my name, and enormous dyed goose feather earrings were showstoppers, but I ended up leaving with a blue crystal "evil eye" bracelet. Common in many cultures, the evil eye is believed to ward off bad luck, and its design inspired a graphic that's present in the Boho Hunter logo and appears often in their inventory of jewelry, clutches and stickers.
My final shopping stop was International Plaza and Bay Street. I entered through a cute cluster of brightly colored restaurants into a traditional mall setting. The choice of shops seemed endless but easy to navigate thanks to easy-to-read directories. It was peppered with not only high-end designer boutiques including Gucci and the legendary Henri Bendel but also many other well known designer brands that aren't too hard on the pocketbook. After a long day of shopping I was able to find myself a comfortable yet stylish mint colored sweat shirt with big ruffled sleeves from H & M for the plane ride home. There really is something for everyone in this family plaza.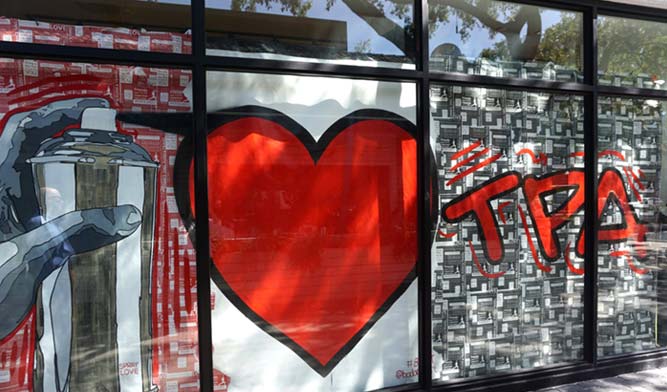 Grand dining
On the last evening of my journey, I had dinner in the Crystal Dining Room at The Floridan Palace, and exquisitely restored 1920s-era hotel. Looking out over the mezzanine balcony, I noticed the majestic ceiling of intricately colored moldings, cherub paintings and glittering crystal chandeliers.
I enjoyed talking with the bartender as I savored my meal while I sat at the bar. He had grown up in Tampa Bay and chatted with me as I reflected on my experience. I told him what affection I had for the Tampa Bay area, the wonderful people, the local businesses and the history. I told him about my favorite stops and he mentioned some places I hadn't explored, such as Market Hall and the Meridian Hotel. I knew I would have to plan a return trip.
Before I left I asked him, "If you could communicate to someone who had never been here what makes this area so special, what would you say?"
His answer summed up my experience. He said, "Tradition. Tampa Bay is built on tradition. We celebrate with parades, we support our local business and we continue to nurture what is so special about our heritage."
It's true. Tampa Bay's shops were unique because they were locally owned, curated and supported by the community. The style and variety was cutting edge and modern yet influenced by its Latin heritage. This is an area that makes a lot of space for old and new fashion, art and culture. Though the city feels much more cosmopolitan than I could have ever imagined, I was romanced by its appreciation for the past and for what has always made Tampa Bay a special city… its history.