Visitors pump $6 billion into Tampa Bay economy in 2016
September 14, 2017 by PR@VisitTampaBay.com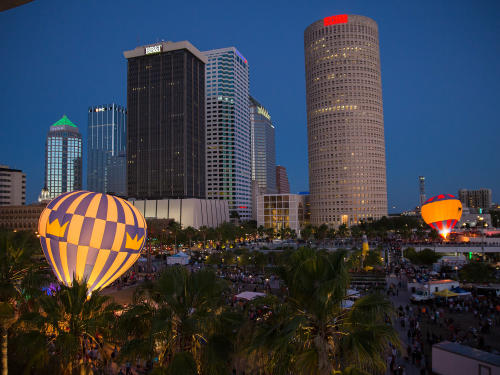 Overnight, international trips drive seventh annual rise in tourism impacts
TAMPA (September 14, 2017) –  Visitors pumped nearly $6 billion into Tampa Bay's economy in 2016, helping to support nearly 50,000 jobs and reduce the tax burden on local residents in the process, according to an analysis of tourism data commissioned by Visit Tampa Bay.
The study by leading industry researcher Tourism Economics showed a record 22.6 million people visited Tampa and Hillsborough County in Calendar Year 2016, including nearly 500,000 international visitors from Europe, Latin America and beyond. Collectively, they created a $5.9 billion economic impact in the region -- $3.8 billion in direct spending (up 5.5 percent from 2015) and another $2.1 billion in induced spending, so-called "ripple effects."
The Tourism Economic study was part of Visit Tampa Bay's annual examination of tourism's impact on the local economy. Visit Tampa Bay's mission is to create vibrant economic development for its community by collaboratively increasing visitation to Tampa Bay.
"Tourism is an economic engine that runs 24 hours a day," said Santiago Corrada, president and CEO of Visit Tampa Bay. "This report shows clearly the sizable benefit our community receives from visitors, whether they come for leisure, meetings or business. Overnight visitors – and international visitors, in particular – have an especially large economic impact on the region."
Nearly 9 million overnight visitors came to Tampa Bay in 2016 staying, on average 2.9 days. Of those, domestic overnight visitors spent an average of $236 per day while in the area (for a total of $2 billion). International visitors, while the smallest portion of overall visitors, spent the most – an average of $1,327 per person per trip (totaling $640.8 million).
Other key details from the Tourism Economics study:
Visitors paid $369 million in state and local taxes – equal to nearly $760 for every Hillsborough County household.
Tourism-related jobs are the fastest-growing segment of the local job market and one of the fastest-growing in terms of income.
In all, 5.7 million hotel rooms were booked in 2016. Occupancy rose for the seventh year in a row, averaging a record 74 percent in 2016. Average daily room rates ($113) was up for the fourth year in a row, and revenue per available room -- RevPAR, a key indicator of profitability – ($83 in 2016) continued its seven-year climb from 2009's low point.
Visit Tampa Bay also generated new visitors through a joint campaign with online travel agency Expedia, booked more than 487,000 room nights for conventions, such as the Prince Hall Shriners Imperial Session, and (working with the Tampa Bay Sports Commission) sporting events such as the NCAA Men's Frozen Four hockey tournament.
#
About Visit Tampa Bay
The hip, urban heart of Florida's Gulf coast beats in Tampa Bay. Visit Tampa Bay encourages adventurous travelers to unlock sun, fun and culture in Florida's most diverse travel destination. We are a not-for-profit corporation that works with 800 partners to tell the world the story of Tampa Bay. Treasure awaits.