Visit Tampa Bay Wins Big for Creativity, Advocacy
September 14, 2018 by PR@VisitTampaBay.com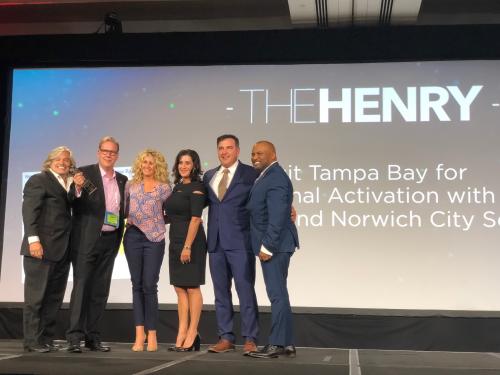 Partnership with Norwich City FC earns "Henry" for PR
TAMPA | Visit Tampa Bay has won Florida's top award for creativity in public relations for its international marketing campaign with the UK-based Norwich City Football Club.
Visit Tampa Bay received its "Henry" during this year's Florida Governor's Conference on Tourism. The bronze statuette is the top award in each category of Visit Florida's Flagler Awards for tourism marketing. The awards are named for 19th Century railroad owner Henry Flagler, who helped turn Florida into the world's top tourism destination.
Visit Tampa Bay also won a Silver Award for Tourism Advocacy for its "Memory Makers" project, which spotlights the front-line tourism industry professionals who make sure visitors have the best experience while they are in the destination.
This year's Henry Award specifically relates to the PR campaign and international activation of the Visit Tampa Bay partnership with Norwich City FC for the 2017-18 season.
From a quirky half-time challenge, a full-stadium takeover through to City legends Grant Holt and Adam Drury facing off at Tampa Time, it's been such an enjoyable and fulfilling association with Visit Tampa Bay, the partnership involved a multi-channeled strategy focusing on regional, national and international tactics across above and below the line activity, outdoor, broadcast, digital and print.
Tactics include advertising, extensive activation targeting fans, competitions to win a trip to Tampa Bay, ambassador program, regional travel offers and initiatives, comprehensive media relations and social activity. The partnership, which has been extended into this season.
"We are thrilled to receive this great honor from our colleagues in Florida tourism," said Santiago C. Corrada, President and CEO of Visit Tampa Bay. "I could not be prouder of our great Public Relations team. This award has scored a major victory for Visit Tampa Bay and our valued partners at Norwich City Football Club. It truly shows the power of successful partnerships in promoting travel and the economic growth that comes with it."
Sam Jeffery, Head of Partnership Activation at Norwich City Football Club added: "We're extremely proud that our partnership with Visit Tampa Bay has been recognised at these prestigious awards.
We see the partnership only strengthening over time and our warm weather training camp in November will give our players, Directors and biggest sponsors the chance to experience everything Tampa Bay has to offer."
#
About Visit Tampa Bay
The hip, urban heart of Florida's Gulf coast beats in Tampa Bay. Visit Tampa Bay encourages adventurous travelers to unlock sun, fun and culture in Florida's most diverse travel destination. We are a not-for-profit corporation that works with 800 partners to tell the world the story of Tampa Bay. Treasure awaits.