Visit Tampa Bay Wins 3 Henry Awards
November 21, 2019 by PR@VisitTampaBay.com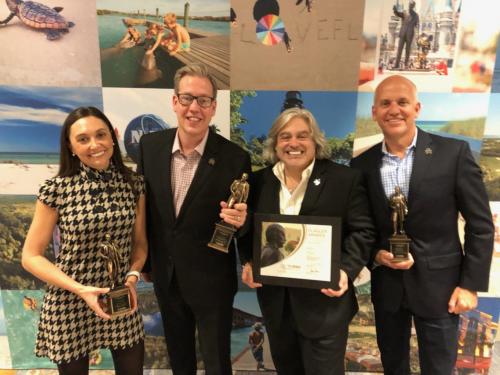 Visit Florida ceremony honors the state's best tourism marketing
TAMPA (November 21) | Continuing its record-breaking run on behalf of local tourism, Visit Tampa Bay took home its largest-ever collection of Henrys during Visit Florida's Flagler Awards this week.
The awards honor Florida Destination Marketing Organizations for their work marketing their destinations – and, by extension, the Sunshine State – to visitors from across the U.S. and abroad. The top award, the Henry, is a bronze statuette in the likeness of Florida tourism pioneer Henry Flagler, whose Florida East Coast Railway opened the state to visitors a century ago.
Visit Tampa Bay won its Henry's in three categories:
Resource/Promotional Material (Trade) for its convention sales planner designed to help drive meeting and convention business at the Tampa Convention Center.
Radio Advertising for its "Make It Tampa Bay" radio spots developed in conjunction with the Tampa Bay Economic Development Corp.
Visit Tampa Bay also won a Bronze award in Tourism Advocacy for its 2018 National Travel & Tourism Week lunch event in May.
"I could not be prouder of the crew at Visit Tampa Bay," said Visit Tampa Bay President and CEO Santiago C. Corrada. "They continue to break new marketing ground and blaze new trails in promoting tourism in the region and across the state. Their put tremendous creativity and ingenuity into telling the story of this great destination. Their work improves the lives of more than 50,000 of their friends and neighbors every day. It's wonderful to see their dedication recognized by their peers in the industry."
#
About Visit Tampa Bay
The hip, urban heart of Florida's Gulf coast beats in Tampa Bay. Visit Tampa Bay encourages adventurous travelers to unlock sun, fun and culture in Florida's most diverse travel destination. We are a not-for-profit corporation that works with 800 partners to tell the world the story of Tampa Bay. Treasure awaits.