Visit Tampa Bay Pirates Invade New York
September 19, 2016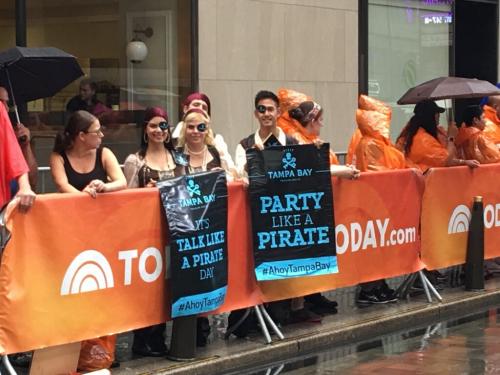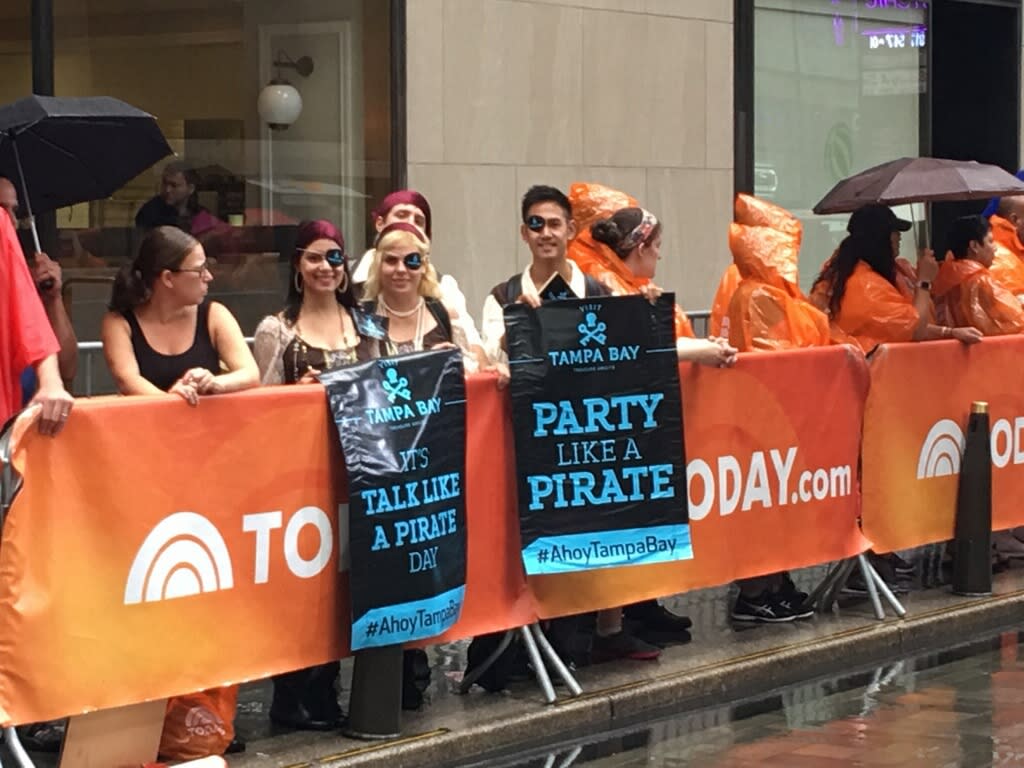 TAMPA – José Gaspar's annual invasion started in New York this morning, when scores of Visit Tampa Bay representatives braved rainy streets to recruit mateys and spread Tampa Bay sunshine in celebration of Talk Like a Pirate Day, held on September 19.
The New York pirate takeover included stops at popular, live morning TV programs "The Today Show" and "Good Morning America." Pirate-garbed street teams carrying Visit Tampa Bay signs, eye patches and destination flags spread the word about Tampa Bay's historic Gasparilla Pirate Invasion and instructed crowds on the proper delivery of such popular sayings as "Ahoy, me hearty!" and the evergreen "Arrrr! Avast! And Aye!"
"Today was the perfect day to bring Tampa Bay sunshine and fun to New York and tell the story of the largest pirate festival in the world" said Santiago Corrada, President and CEO of Visit Tampa Bay.
Talk Like a Pirate Day started in 1995 and gained national recognition in 2002, thanks to a humorous nod from syndicated columnist Dave Barry.
Meanwhile, Tampa Bay's legendary pirate José Gaspar and his Mystic Krewe of Gasparilla have invaded downtown with cannons booming and cutlasses unsheathed, bent on plunder since 1905. On Jan. 28, the tri-masted pirate ship José Gasparilla, joined by a flotilla of pirate wannabes, will sail into town spoiling for some fun.
Proud of its pirate mythology, Visit Tampa Bay recently loaded the canons and launched a national meetings, group and association campaign featuring its very own scalawag Greybeard the Business Pirate. The campaign features Kevin T. Greybeard, aka Greybeard the Business Pirate, a brash and humorous bearded braggart who stars in a novel set of video vignettes and has his own LinkedIn page. As a full member of the Visit Tampa Bay staff, Greybeard has his own desk, voice mail and email address.