Visit Tampa Bay Pioneers Regional London Campaign
February 1, 2019 by PR@VisitTampaBay.com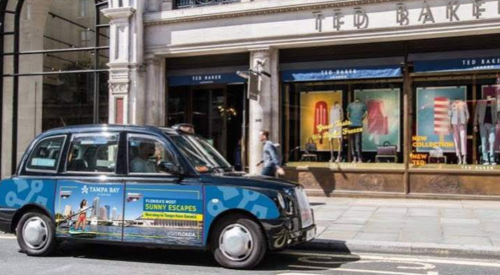 Pioneering VISIT FLORIDA International Regional Co-op campaign led and inspired by Visit Tampa Bay/Bradenton Area CVB launches February 2019 in London, UK
TAMPA, FL. (January 30, 2019) – Bringing Florida joy and sunshine to a chilly London winter, Visit Tampa Bay and the Bradenton Area Convention and Visitors Bureau (CVB) will launch a month long advertising campaign in February supported by VISIT FLORIDA's regional marketing co-op program – a first-of-its-kind international partnership effort that guarantees 27.7 million impressions.
While VISIT FLORIDA, Visit Tampa Bay, Bradenton Area CVB and many other Florida-based DMOs run campaigns domestically and in the UK (including VISIT FLORIDA's current January campaign) this is the first time that two independent DMOs have worked as an integrated team to expand brand awareness and customer loyalty, and then also able to have VISIT FLORIDA marketing support for their efforts.
"We are excited to pioneer a DMO-led campaign with the Bradenton Area CVB in our top European market for the Tampa Bay region," said Santiago C. Corrada, President and CEO of Visit Tampa Bay, "All credit is due to the innovativeness of the marketing departments, creative agencies and VISIT FLORIDA, to set a new bar for advertising campaigns for the top vacation destination in the US. Getting creative with our marketing dollars was key and VISIT FLORIDA's matching program was an integral part of activating this campaign to its fullest potential."
"We have worked cooperatively with Visit Tampa Bay for several years and the synergy between the two destinations is one that has great appeal for our international audiences. For the two brands to work hand-in-glove and promote our region will provide great benefits to vacationers plus our hospitality industry and residents," stated Elliott Falcione, Executive Director of Bradenton Area Convention and Visitors Bureau.
Beginning Feb. 4, the campaign launches at an ideal time as Tampa International Airport continues to link cities across Europe directly into Tampa, including the recently added non-stop flights to London Gatwick via Norwegian Airlines and the highly anticipated non-stop flights into Amsterdam via Delta Airlines beginning in May.
Tagged "Non-stop to Tampa from Gatwick", the trendsetting campaign was developed by Tampa Bay-based FKQ Advertising + Marketing. Dubbed Florida's Most, it provides a striking contrast to London's dreary winter with large-scale, inviting visuals of the region's blue skies, warm water and engaging adventures – showing why Tampa Bay and the Bradenton area are the best destinations for UK visitors.
The campaign will make Visit Tampa Bay and the Bradenton Area CVB the first DMOs to be featured on LDN Drive, London's biggest and newest network of digital outdoor screens blanketing 29 of London's 33 boroughs including all major roads. The multi-layered campaign also includes a fleet of over 60 wrapped taxi cars and massive digital exposure throughout London Victoria station – not only one of the busiest rail depots in the world, but also the home of the Gatwick Express service which connects both Norwegian Air and British Airways with direct flights to Tampa.  Public relations campaigns, social media activations and specific OTA and Tour Operator outreach will supplement what is the largest UK campaign in the history of both DMOs. 
"With nearly 1.5 million U.K. travelers who visited the Sunshine State in 2017, the U.K. is Florida's number one overseas market," said Dana Young, VISIT FLORIDA President and CEO. "The timing of this campaign with Visit Tampa Bay and Bradenton Area CVB could not be better. By taking advantage of this new VISIT FLORIDA regional co-op program while our U.K. winter campaign is in full swing, Tampa Bay and Bradenton are able to have a greater impact and further amplify Florida's message to British travelers."  
#
About Visit Tampa Bay
The hip, urban heart of Florida's Gulf coast beats in Tampa Bay. Visit Tampa Bay encourages adventurous travelers to unlock sun, fun and culture in Florida's most diverse travel destination. We are a not-for-profit corporation that works with 800 partners to tell the world the story of Tampa Bay. Treasure awaits.
About the Bradenton Area Convention & Visitors Bureau
The Bradenton Area Convention & Visitors Bureau promotes tourism to Bradenton, Anna Maria Island and Longboat Key through domestic and international advertising, public relations and marketing efforts.  The destination is known for its unspoiled beaches, rich history, the easy pace of island life and a downtown energized with arts, culture, discoveries and more.  Get ready to immerse yourself into all the sites,  smells, flavors and surprises that make the Bradenton Area a one-of-a-kind destination.  For more information please visit www.bradentongulfislands.com.
About VISIT FLORIDA
As the Sunshine State's No. 1 industry, tourism was responsible for welcoming 118.8 million visitors in 2017 who spent $112 billion, supporting 1.4 million Florida jobs. According to the Office of Economic and Demographic Research, for every $1 the state invests in VISIT FLORIDA – the official tourism marketing corporation for the State of Florida - $2.15 in tax revenue is generated. VISIT FLORIDA promotes tourism to Florida through sales, advertising, promotions, public relations and visitor services programs.