Visit Tampa Bay Markets Destination's Accessibility and Inclusivity for Travelers with Disabilities
April 13, 2021 by PR@VisitTampaBay.com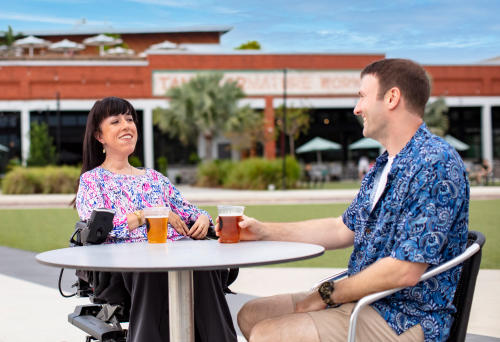 TAMPA, FL (April 13, 2021) – A hospitality leader in diversity and inclusion, Visit Tampa Bay is excited to launch new marketing materials, including new video assets welcoming Florida's Most accessible destination to travelers with disabilities. Following several years of marketing to a diverse portfolio of audiences, including multicultural and LGBTQ+ travelers, the destination marketing organization (DMO) adds accessibility into its marketing mix with a new ambassador, advertising, web content and travel agent training module. 
"Our core mission has always been to inspire all travelers to love Tampa Bay, and this includes travelers with special needs" says Santiago C. Corrada, president and CEO of Visit Tampa Bay. "Our destination is naturally suited for accessibility from the wide pathways of the Tampa Riverwalk and Lettuce Lake Park, but also through the proactivity of some of our major attractions that have created special access points throughout their grounds."
Visit Tampa Bay's accessible travel ambassador, Jamie Santillo, owns Adventures by Jamie, a travel agency focusing on travelers with special needs and mobility-friendly experiences. Santillo partnered with Visit Tampa Bay on web content, including a guide and video on some of her favorite accessible attractions in the destination. She was also featured in the advertising creative which is incorporated into the DMO's :30 second spot, meetings website and digital ads running in travel trade platforms like USAE, Northstar, Meeting Professionals International (MPI) and LinkedIn. 
"As a Tampa Bay resident who utilizes a power wheelchair for mobility, and a special needs certified travel agency owner, I am extremely excited about my partnership with Visit Tampa Bay," says Santillo. "When you are on vacation or simply want to explore your hometown and you have a disability, questions surely arise regarding its accessibility. I look forward to highlighting Tampa Bay's incredible accessibility and helping those with disabilities to enjoy all it has to offer." 
Over the years, Visit Tampa Bay has attracted various target markets into the destination through ongoing partnerships and press trips with international, multicultural and LGBTQ+ markets. The DMO has produced dedicated Spanish-language campaigns, as well as award-winning campaigns in Brazil, Latin America, Germany and the UK. Most recently, its Multicultural Guide won a 2020 PRestige Award for Multicultural Marketing.
To learn more about accessibility in Tampa Bay, visit VisitTampaBay.com/accessible-travel. 
---
ABOUT VISIT TAMPA BAY
The heart of Florida's Gulf Coast beats in Tampa Bay. Visit Tampa Bay encourages adventurous travelers to unlock sun, fun and culture in Florida's most diverse travel destination. As a not-for-profit corporation certified by Destinations International's Destination Marketing Accreditation Program (DMAP), we work with hundreds of partners to tell the world the story of Tampa Bay. Treasure awaits.
About Adventures by Jamie
Founded in April 2019, Adventures by Jamie is your top-rated, special needs certified travel agency! Our goal is to open the doors for those with and without special needs to finally check off those bucket-list travel items and create once-in-a-lifetime memories. Jamie's disability has never stopped her from seeing the world and she wants everyone to know they can explore in ways they never thought possible. Whether you're traveling by air, rail or sea, Jamie and her team are ready to help you plan your next great adventure.