Visit Tampa Bay Live Camera Makes 10News WTSP
May 5, 2016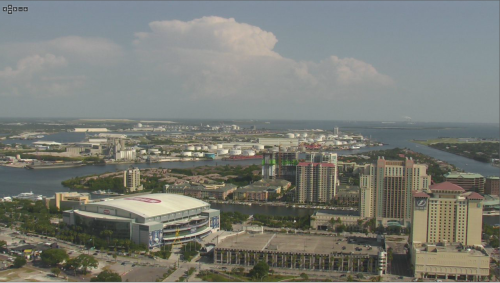 Related Document: Download Document
TAMPA (May 5, 2016) – 10News WTSP, in partnership with Visit Tampa Bay, yesterday began airing the new live feed of downtown Tampa from the SunTrust building – providing great views for weather updates and activating Visit Tampa Bay's brand locally.
 The Visit Tampa Bay camera is installed on top of the company's headquarters on East Jackson Street in the SunTrust building and provides continuous shots of downtown Tampa for the local CBS station.
As they tune in for the weather forecasts at various times during the day, starting with the "10News this Morning" show, viewers will be greeted by 10Weather Meteorologists introducing the camera. Viewers will also be able to see VisitTampabay.com at the top right of the camera shot. In addition, this beautiful shot can be viewed 24 hours a day, 7 days a week on WTSP.com.
"As we continue to successfully promote our beautiful destination all over the world, we believe that it is very important to also inspire our locals and our partners to love Tampa Bay, said Santiago Corrada, president and CEO of Visit Tampa Bay. "The Visit Tampa Bay camera, thanks to this exciting opportunity to partner with 10News, allows us to pay tribute to our city, as well as helps us activate our branding foothold in the heart of downtown."
Elliott Wiser, President and General Manager 10News WTSP, added: "We are very excited to partner with Visit Tampa Bay to showcase to the world exquisite downtown Tampa." 
The Visit Tampa Bay camera is the second recent brand activation for the tourism agency – earlier this year, the Visit Tampa Bay logo was engraved on the stone pillar of the SunTrust building.
Visitors are responding to the brand in record numbers. Visit Tampa Bay and Hillsborough County reported more than $3.3 million in Tourist Development taxes in March – a record for the month that is more than 18 percent higher than the same period in 2015 and the strongest report for the year.