VISIT TAMPA BAY INVITES GAY-CATIONERS TO SHOW THEIR PRIDE IN THE HEART OF FLORIDA'S GULF COAST
Tampa Bay launches the third edition of its popular Tampa Bay Gay Guide
---
Tampa, FL (February 6, 2022) –   Visit Tampa Bay (VTB) has launched the third edition of its well-received Tampa Gay Guide.  As a joint publication with Creative Loafing Tampa Bay and a collaboration with the Tampa Bay LGBTQ+ Chamber, the destination guide encourages adventure with a relaxing vibe to create a vacation that is authentically Tampa Gay.
Tampa Bay's diverse blend of people and cultures is the foundation of its success as a welcoming community and diversity and inclusion are at the heart of Visit Tampa Bay.  From advertising to activations, ambassadors and more, VTB is a tourism industry leader in diversity with Destinations International, US Travel, Diversity Equity and Inclusion sponsor for TTG (UK trade publication) and others.  Understanding it is important for Tampa Bay to create a vibrant economic development for the community by working collaboratively and cultivating a message that celebrates diversity and inclusivity, this guide is another step in showcasing our openness and welcoming spirit.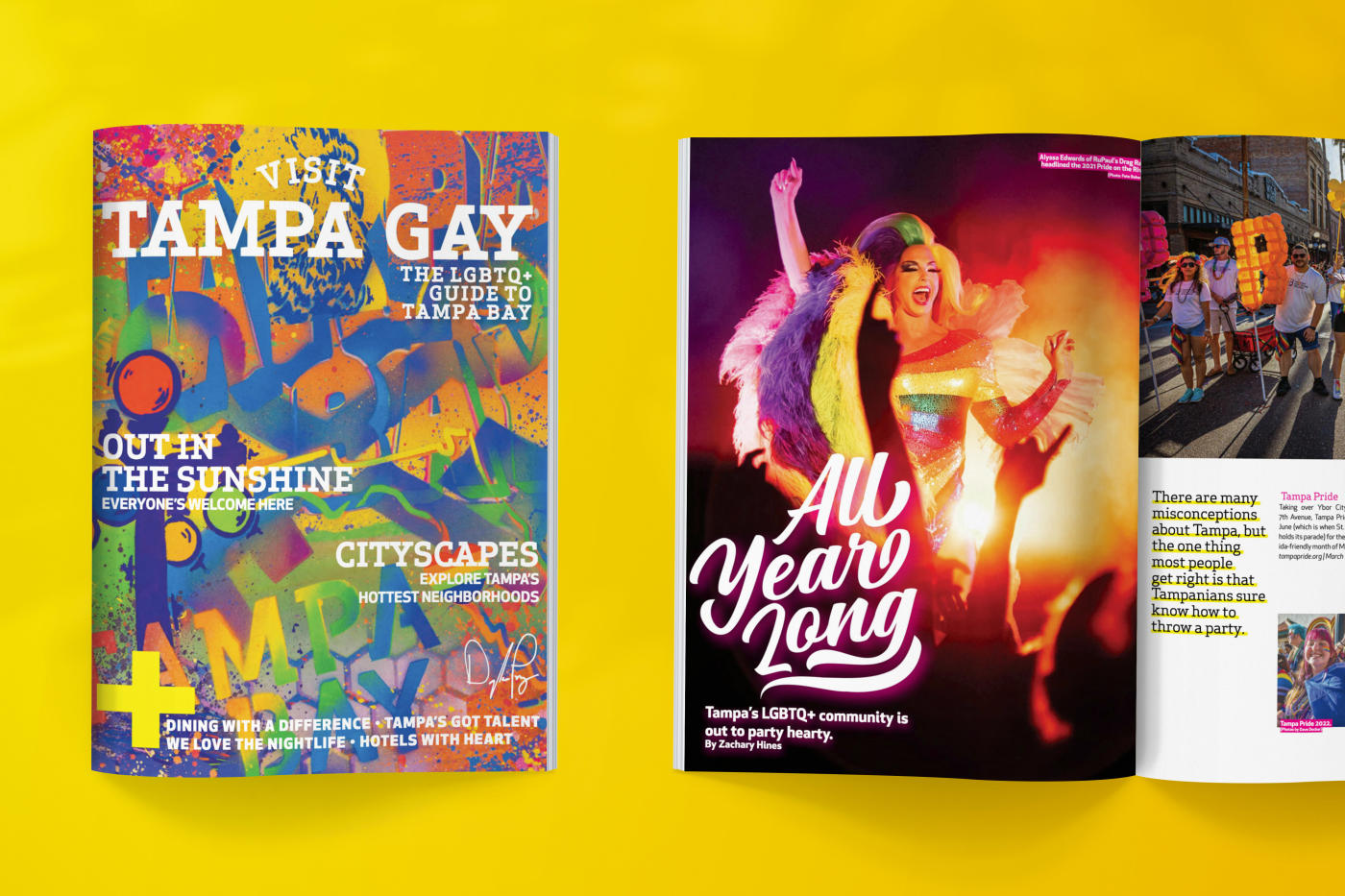 "Tampa Bay prides itself on being an open and welcoming destination for all," says Santiago C. Corrada, President and CEO of Visit Tampa Bay. "From our bold nightlife to stand-out restaurants and world-class attractions, we are proud to have a destination rooted in inclusivity and a vibrant LGBTQ+ population that helped to shape Tampa Bay into what it is today. We pride ourselves on our LGBTQ+ initiatives and are committed to showcasing our diversity."
The new edition of the Tampa Bay Gay Guide divulges a host of LGBTQ+-owned and LGBTQ+-friendly businesses across the many districts within the destination.  Visitors and locals alike are encouraged to show their pride all year long and slay the day away at events such as the Tampa Pride Parade, Pride on the River and the Tampa Bay International Gay & Lesbian Film Festival. 
"Tampa Bay's Gay Guide is a great way to show our LGBTQ+ travelers that we have a wide variety of options for when they come to visit Tampa Bay," says James Howard, Creative Loafing's Publisher. "Our diversity is the key ingredient to the strength of our community, and It's been a pleasure working with the Visit Tampa Bay team to continue to highlight the destination's unique and lively experiences." 
 With a steady influx of LGBTQ+ travelers visiting each year, the first edition of the Tampa Gay Guide was launched in 2019 to showcase Tampa Bay as Florida's most diverse destination. Through cultural storytelling and interviews with key figures such as Tampa Bay's first openly gay mayor, Mayor Jane Castor, the guide provided an in-depth view of Tampa Bay's thriving LGBTQ+ community.
To check out the new Visit Tampa Bay Gay Guide, please visit our website or grab a copy from the Unlock Tampa Bay Visitors Center.
---
ABOUT VISIT TAMPA BAY
The heart of Florida's Gulf Coast beats in Tampa Bay. Visit Tampa Bay encourages adventurous travelers to unlock sun, fun and culture in Florida's most diverse travel destination. As a not-for-profit corporation certified by Destinations International's Destination Marketing Accreditation Program (DMAP), we work with hundreds of partners to tell the world the story of Tampa Bay. Treasure awaits.