Visit Tampa Bay Hits the Road for Summer
April 23, 2019 by PR@VisitTampaBay.com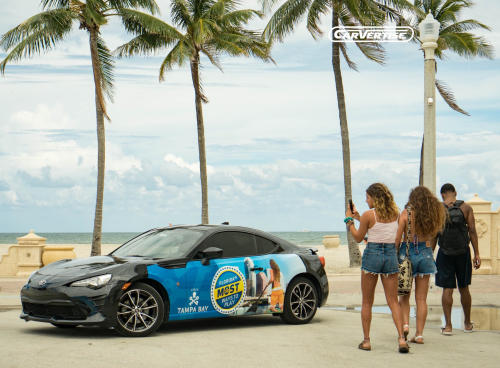 Wrapped Uber and Lyft cars help make in-roads in South Florida and Orlando
TAMPA, FL (April 23, 2019) – Visit Tampa Bay launches its summer in-state marketing campaign this month by hitting the streets of South Florida and Orlando with its largest ever Summer advertising campaign that includes a fleet of highly visible Uber and Lyft vehicles wrapped with scenes of sun and fun in Tampa Bay, Florida's Most dynamic destination.
The rolling messaging, created by Carvertise, is a key component of Visit Tampa Bay's work to bring visitors from across Florida to Hillsborough County from now into summer. The wrapped rides will put Tampa Bay in front of more than 25 million viewers across both markets, according to Clearwater-based FKQ Advertising + Marketing, who designed the in-state campaign.
"Major in-state markets are where the rubber meets the road for Tampa Bay each summer," said Santiago C. Corrada, President and CEO of Visit Tampa Bay. "With exciting new attractions coming online this spring and fantastic dining options such as new roof-top bars and waterfront restaurants, Tampa Bay makes the perfect in-state get-away for families and couples."
A number of Visit Tampa Bay partners have signed on with the campaign. Busch Gardens® Tampa Bay, the Florida Aquarium, ZooTampa at Lowry Park, MOSI (Museum of Science and Industry), and the David J. Straz Jr. Center for the Performing Arts will travel around the state to promote Tampa Bay's unique mix of family fun, animal encounters, and the performing arts.
In addition to Uber and Lyft wraps, the in-state campaign includes:
Major outreach to Spanish-speaking audiences in Miami and Orlando through 30-second steaming audio spots on Pandora.
Increased 15-second spots on GSTV at 87 gas stations across South Florida, Orlando, and Fort Myers.
30-second video spots on Connected TV (Roku, Chromecast, Sling, Apple TV) in South Florida, Orlando, and Fort Myers targeting viewers aged 25-54.
In-studio segments at top-rated morning shows in Miami, Orlando, and Fort Myers.
The award-winning "Florida's Most" campaign continues to build Tampa Bay's reputation as a premier vacation destination. This year's campaign, titled "The Golden Rule," includes big, bold images boxed by Visit Tampa Bay's branded Ybor Gold and features the destination's blue skies, sparkling water, family fun and unique Cuban history. The "Florida's Most" icon has switched from a large, circular badge to a more subdued blue rectangle that lets the imagery take center stage.
"Tampa Bay's blend of culture, history, and family-friendly attractions makes it a great spot for visitors looking for an adventure a short drive from home," Corrada said. "This campaign puts our many treasures front and center in front of potential visitors where they live – on their commute, in their sports venues and on their cable TV stations. We want them to discover all that this beautiful waterfront community offers to guests."
In-state visitors to Hillsborough County helped contribute nearly $6 billion to the local economy and supported nearly 50,000 jobs, according to industry analyst Tourism Economics. The impact of tourism extends far beyond hotel rooms and restaurants to impact everything from grocery stores to gas stations.
#
About Visit Tampa Bay
The hip, urban heart of Florida's Gulf coast beats in Tampa Bay. Between blue skies and sparkling water, discover the nation's greatest thrill rides, more than a century of Cuban history, a mouth-watering food scene, and Florida's hub for craft brewing. Tampa Bay has all you want in a Sunshine State holiday.  Treasure awaits.