Visit Tampa Bay celebrates top tourism advocates
May 16, 2017 by PR@VisitTampaBay.com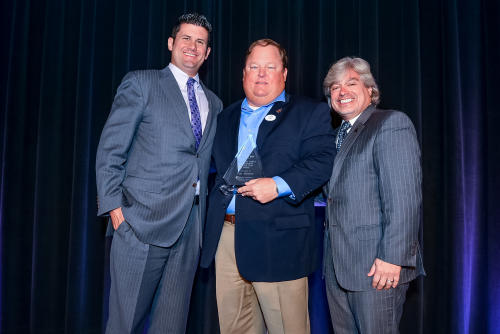 Related Document: Download Document
Pirate Water Taxi owner Troy Manthey named Ambassador of the Year
TAMPA (May 15, 2017) – Visit Tampa Bay honored its top tourism advocates during recent celebrations of National Travel & Tourism Week.
Troy Manthey, owner and operator of Pirate Water Taxi and Yacht Starship Dining Cruises, was named Visit Tampa Bay's 2017 Gonzmart Family Tourism Ambassador of the Year, for his growing contribution to local efforts to drive economic development through tourism. After operating the Yacht Starship in Tampa Bay for more than a decade, Manthey launched the Pirate Water Taxi in 2016. This year, he added a third water taxi to his fleet and began operating an express route to Tampa's Lowry Park Zoo.
"Troy is a terrific example of how an investment in tourism benefits everyone involved," said Santiago Corrada, President and CEO of Visit Tampa Bay. "His drive and vision have inspired other local businesses to make their own investment here, and together they're helping build Tampa Bay's reputation as a great place to visit and to live."
Visit Tampa Bay also honored six individuals or groups as Tourism Champions for their effort to bring meeting and conventions to the community. Together, the projects will bring $3.4 million to the local economy between 2017 and 2019. Honorees included:
Brett Fay, Marilyn Gauthier, Carolyn Langdon and Danny Cooper of Tampa International Airport for the Aircraft Owners and Pilots Association 2017 regional fly-in.
Lloyd Tillman and Aimee Pidgeon of Tampa International Airport for the Florida Airports Council 2018 Annual Conference.
Tampa City Council member Mike Suarez for the Democratic Municipal Officials 2017 Board Retreat.
Florida State Senator Arthenia Joyner for the National Organization of Black Elected Legislative Women 2017 Leadership Retreat.
Lorrie Hero, director of sales at The Florida Aquarium, for the 2018 Regional Aquatics Workshop.
Carla Williams of HART for the Conference of Minority Transportation Officials 2019 National Meeting and Training Conference.
Ashley Brundage, president of Diversity Tampa Bay, for the 2019 National Gay and Lesbian Chamber of Commerce International Business and Leadership Conference
Visit Tampa Bay also honored 11 front-line workers for their efforts to ensure visitors have a memorable experience during their time in the community. The Bern Laxer Award for Excellence went to:
Chelsea Albrecht – Tampa Bay Water Bike Company
Felix Cuello – Westin Tampa Bay
Bethany Fisher – Busch Gardens Tampa Bay
Sheila Haynes – Sheraton Tampa Riverwalk Hotel
Karen Jo Muschiette – Amalie Arena
Dwinell Oullette – Tampa Bay Brew Bus
Gary Ratza – Saddlebrook Resorts
Blanchard Rejouis – Holiday Inn Tampa Westshore
Elizabeth Senyak – Datz
Jasmine Sepulveda – Hilton Garden Inn East Brandon
Alberto Torres – Grand Hyatt Tampa Bay
"Forbes.com recently named Tampa Bay as the most hospitable destination in the U.S.," Corrada said. "We earn accolades like that because of the hard work and professionalism of the front-line staff at our hotels, restaurants, and attractions. They're the ones that make sure every visitor leaves Tampa Bay with a great memory to share with friends and family back home."
Visit Tampa Bay continues its National Travel & Tourism Week celebrations on June 15 with Tourism Gives Back, a food drive to benefit Feeding Tampa Bay. Teams from Visit Tampa Bay's tourism and corporate partners will gather at Amalie Arena to compete at building summer food packets for families and making sculptures from canned food that will be donated to Feeding Tampa Bay. Last year's event generated 30,000 meals for local families.
#
About Visit Tampa Bay
The hip, urban heart of Florida's Gulf coast beats in Tampa Bay. Visit Tampa Bay encourages adventurous travelers to unlock sun, fun and culture in Florida's most diverse travel destination. We are a not-for-profit corporation that works with 800 partners to tell the world the story of Tampa Bay. Treasure awaits.