Visit Tampa Bay Brews Up A New Way to Experience The Destination
May 11, 2018 by PR@VisitTampaBay.com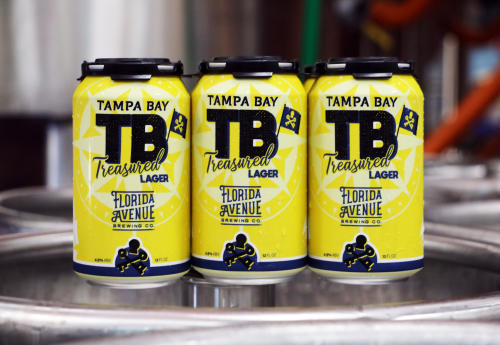 Related Document: Download Document
The sunshine beer for the Southeast's Leading Craft Beer City
TAMPA, FL (May 11, 2018) – In celebration of National Travel & Tourism Week, Florida's hub for craft brewing, Visit Tampa Bay in collaboration with Florida Avenue Brewing is proud to add a new gem to its trove of experiences with the introduction of its first ever beer release -- Treasured Lager. 
Voted the Leading Craft Beer city in the Southeast by readers of USA Today and home to some of the most renowned names in the industry, such as Cigar City, Coppertail and Angry Chair, Visit Tampa Bay has worked closely with the craft brew business for several years building a collaborative partnership.  From industry events, to attending the Great American Beer Festival, hosting the Beer Bloggers Conference and even sampling Tampa beers with journalists in Germany, Visit Tampa Bay has been dedicated to giving potential visitors an immersive experience – one that beer provides a perfect touch point.  
Treasured Lager, a Helles-style lager, is crisp, refreshing and made for drinking under the Florida sun. Drinkers will notice a pronounced malty backbone with toasted grain flavors and a hint of sweetness, perfect for unwinding while on vacation in Tampa Bay. The traditional German-style beer is an homage to Tampa Bay's deep German roots.  In lay terms, it's delicious and refreshing.
Click here to download a video of the Treasured Lager production process
"As a destination that works closely with our partners and one that is always looking for the next differentiator we started working with our craft breweries several years ago and the success since that time has been tremendous," said Chief Marketing Officer Patrick Harrison.  "While many cities know claim to be craft beer destinations, we are one of the original and best, especially in Florida.  That's why it made complete sense to branch out and introduce this collaboration with Florida Avenue.  They are a great partner and it's a delicious beer.  Watch for other additions in the near future".
Expect to find these cans anywhere from trade shows to press events to gift bags. Visit Tampa Bay also plans to sell Treasured Lager, along with many other fantastic local brews, at the Unlock Tampa Bay Visitors Center in the heart of downtown Tampa.
Treasured Lager is the latest stage in Tampa Bay's long relationship with beer and brewing. Florida's first commercial brewery opened in Tampa's Ybor City in 1896. More than a century later, dozens of breweries call Tampa Bay home. Craft beer has become one of the many of reasons why travelers choose Tampa Bay as their next travel destination.
"Florida Avenue beer has been brewed in Seminole Heights since 2010. Since then we've seen tremendous growth locally in the craft beer industry," said Florida Avenue Brewing owner Anthony Derby. "We're thrilled to partner with Visit Tampa Bay to produce their official beer and support the tourism industry in our hometown."
#
About Visit Tampa Bay
The hip, urban heart of Florida's Gulf coast beats in Tampa Bay. Visit Tampa Bay encourages adventurous travelers to unlock sun, fun and culture in Florida's most diverse travel destination. We are a not-for-profit corporation that works with 800 partners to tell the world the story of Tampa Bay. Treasure awaits.
About Florida Avenue Brewing
Florida Avenue Brewing Co. makes beer for the sunshine state. We may not be the oldest Florida brewery, but our team has created quality beers that encompass what it means to be a Floridian. Florida Avenue Brewing fermented in 2010 on North Florida Avenue in the Seminole Heights neighborhood of Tampa, Florida.