Visit Tampa Bay Achieves Industry-Leading Accreditation With Distinction
August 14, 2019 by PR@VisitTampaBay.com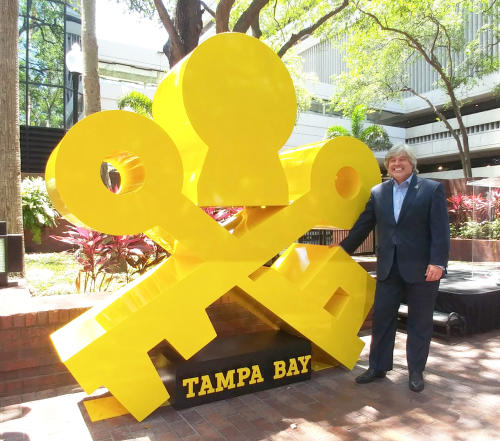 TAMPA (August 14, 2019) – Underlying its commitment to excellence in destination marketing, sales and accountability, Visit Tampa Bay has achieved with distinction the industry-leading Destination Marketing accreditation Program (DMAP) accreditation.
DMAP is an international accreditation program, developed by Destinations International (formerly Destination Marketing Association International), that recognizes destination organizations for their commitment to industry excellence and meeting the industry standards of destination marketing organizations worldwide.
DMAP accreditation requires a destination organization to successfully meet a multitude of industry standards that include governance, finance, management, human resources, sales, communications, destination development and research.
In order to receive accreditation, Visit Tampa Bay underwent an intensive, year-long application process to demonstrate the organization had satisfied the rigorous standards set forth by the professional destination marketing community.
Some benefits of the Destinations International accreditation program include:
Increased credibility with all customers by demonstrating that the DMO has achieved a level of industry excellence.
Provides an added layer of trust and accountability with the community, customers and stakeholders.
Helps to standardize how business is transacted from one destination to the next.
Reassurance of Visit Tampa Bay's commitment to quality programs and services.
DMAP is an independent international accreditation body and a leader in defining quality and performance issues in destination marketing. For additional information on DMAP visit www.destinationmarketing.org.
"We are thrilled receive the DMAP accreditation. Achieving this distinction helps us to communicate Visit Tampa Bay's commitment to providing exceptional programs and services that deliver a quality return on investment," said Santiago C. Corrada, President and CEO of Visit Tampa Bay. "Tampa Bay has a growing and thriving tourism community. We as an organization need to always be striving to grow and improve our standards, as well."
#
About Visit Tampa Bay
The hip, urban heart of Florida's Gulf coast beats in Tampa Bay. Visit Tampa Bay encourages adventurous travelers to unlock our trove of unique treasures. We are a not-for-profit corporation that works with more than 800 partners to tell the world the story of Florida's most diverse destination. Treasure awaits.