Tourism revenue sets new benchmark for May
June 8, 2018 by PR@VisitTampaBay.com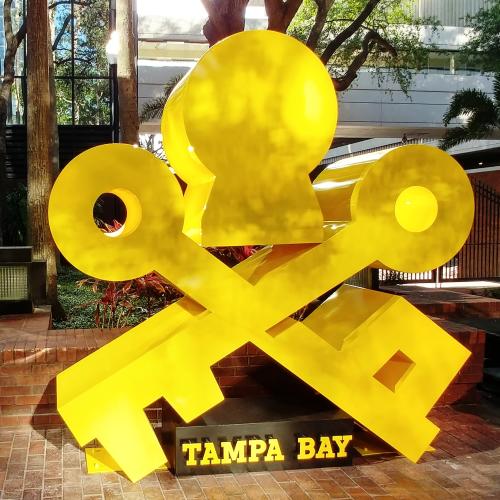 Strong demand for hotel rooms yields 7th record month of FY2018
TAMPA (June 8, 2018) – Visit Tampa Bay reports that Hillsborough County added to its ongoing trend in record-breaking Tourist Development Tax revenues in May, generating more than $3 million – a new benchmark for that month.
The May report, which was based on hotel room nights in April, came in 10.3 percent higher than the same period in 2017.
"Tampa Bay remains on course for another record year," said Santiago C. Corrada, President and CEO of Visit Tampa Bay. "The strong growth in revenue in May and over the last year show how much Hillsborough County continues to rise as an important travel destination for families, meeting planners, and business travelers alike. We continue to achieve these numbers by working together as a community to tell our story."
During April, hotel occupancy averaged 75.7 percent, which Revenue Per Available Room (a key indicator of hotel profitability) growing by more than 10 percent over the previous April, according to industry analyst STR Inc. Hotel revenues for the money were more than $66.5 million. Overall demand for hotel rooms exceeded 500,000 for the first time in April, more than 90 percent of those rooms were for leisure travelers.
Major meetings in April included the annual U.S. Geospatial Intelligence Foundation conference, also known as GEOINT, which brought in 3,800 participants and almost $5 million in economic impact. April also included the National Wood Flooring Association expo, which generated $2.3 million in economic impact, and the Tampa Bay Lightning's run up to the NHL Eastern Conference Championship.
April was the final month of Visit Tampa Bay's out-of-state marketing campaign in major feeder markets of Chicago, New York, Philadelphia, Toronto, and Dallas. For that month, the "Florida's Most" campaign generated more than $59,000 in hotel revenues and more than 350 flight bookings, according to industry analyst ADARA.
Since the current budget year began on Oct. 1, seven of the last eight months have posted new records for TDT, commonly known as the bed tax. The TDT is a 5 percent levy on hotel rooms and other short-term rentals countywide. So far this year, visitors have generated nearly $24 million in TDT revenue – more than the total collections for the entire 2014 budget year.
TDT revenue makes up about 20 percent of overall tourism-related county revenue. The rest comes from dining (27 percent), recreation (25 percent), shopping (16 percent), and transportation (12 percent).
#
About Visit Tampa Bay
The hip, urban heart of Florida's Gulf coast beats in Tampa Bay. Visit Tampa Bay encourages adventurous travelers to unlock sun, fun and culture in Florida's most diverse travel destination. We are a not-for-profit corporation that works with 800 partners to tell the world the story of Tampa Bay. Treasure awaits.