Tour Tampa's underworld with the man who inspired new Cigar City mob movie
August 8, 2016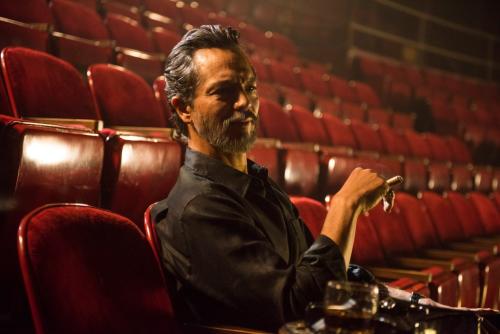 Related Document: Download Document
By Robin Soslow
Special Contrituro
To pinpoint a city's saucy landmarks, ask a secret agent.
That scheme led to a criminally good rendezvous in Tampa, now a hot draw with its new Riverwalk, chef-driven restaurants, craft breweries, quick access to Gulf-coast beaches and fascinating gangster heritage, some of which inspired a new blockbuster true-crime movie.
The Infiltrator stars Bryan Cranston as undercover agent Robert Mazur, a Tampa resident who in the late 1980s helped smash Pablo Escobar's money-laundering operation and bring down the Medellín Cartel, the world's largest illegal drug operation. Filmed around Tampa Bay, the film's settings make for an intriguing tour.
"In sunny Florida, drug traffickers and money launderers were as plentiful as palm trees," said Mazur, who, using the alias Bob Musella, befriended and worked with corrupt figures.
U.S. Customs' "Operation C-Chase," led by Mazur, brought the indictment of some 100 drug lords and bankers who cleaned their dirty money -- and the collapse of the Bank of Credit and Commerce International (BCCI). Its demise began when Mazur, posing as mob-connected Musella, walked into BCCI's Tampa branch and was offered opportunities to launder money through its worldwide branches.
Here's a bit more about Mazur and the film:
The Infiltrator from Bob Mazur on Vimeo.
Just before the film's July premiere at the Tampa Theatre -- opened in 1924 -- Mazur guided me to favorite places tied to The Infiltrator action. Here's what I can reveal:
The Columbia Restaurant: Florida's oldest restaurant fills an entire block in Ybor City, Tampa Bay's historic Latin Quarter. Since 1905, the Gonzmart family has run the restaurant, expanding it from a bar and sandwich shop to 1,700 seats. Six nights a week, there's Flamenco dancing; anytime, there's a sangria blended tableside with hand-selected cabernet and tempranillo, a Spanish grape, and fresh fruit. There's a story to every dish. Here, Mazur wined and dined subjects of his investigation, especially those from Colombia. Says Mazur: "This nightspot speaks to Tampa's rich Latin American heritage. The food is great, the Flamenco dancers fantastic."
Le Méridien Tampa: Two years ago, the 1905 Beaux Arts building housing the U.S. District Courthouse was revived as spectacular boutique lodging. You can stroll the original terrazzo tile floors, dine and drink beneath the courtroom's coffered and crown-molded ceilings, make dinner reservations at a witness stand, and sleep in a judge's chamber. In the 1920s, customs agents worked here to thwart bootleggers. Cases heard included the 1950-51 Kefauver Committee hearings about organized crime.
Gangsters using Tampa as their base included Charlie Wall; a copy of the Kefauver Committee report was left in his Ybor City bedroom during his murder. The Courthouse's Infiltrator connection: It's where the trial of BCCI officers and a top cartel player took place. Order a "Don't Judge Me" bourbon-berry cocktail from Le Méridien's bar.
Mazur recalls: "The stress of long-term undercover was no match for the tension of being prepared to testify every day for 12 weeks, while being questioned by some of the world's most respected defense counsel. I'll never forget anything about this building." Neither will guests of the sensational, like-no-other hotel and its swanky Bizou Brasserie.
Aloft Tampa Downtown: On the new Riverwalk lining the Hillsborough River, this boutique property opened in 2014 in a building that formerly housed BCCI's Tampa branch. The hotel's super-cool WXYZ Bar is popular for local DJ nights and hanging out amid cool art at any hour. Poolside, enjoy the fire pit, chill tunes and beautiful views of the skyline, boats and wildlife on the river, and the new Riverwalk.
The Skyye Bar & Grille: Mazur recalls: "I had 'business lunches' with BCCI officers and money brokers representing members of the Medellín Cartel. My guests were treated to fantastic views because the restaurant revolves 360 degrees atop the Tampa Airport Marriott."
Bern's Steak House: Dine on the sly in this landmark's dark corners and unique private dessert rooms. The clandestine wine cellar is astonishing.
Franklin Exchange: Federal agents arrested people targeted by Mazur's investigation in the garage of this grand neoclassical bank building that's now a downtown event space.
Bayshore Boulevard: Often jogging this tranquil route along Tampa Bay between downtown and the classy iconic Colonnade Restaurant, Mazur and his supervisor developed Operation C-Chase.
Clearwater Beach: "People within the cartel, just like everyone else, enjoy taking their families to beautiful vacation destinations," Mazur says. "As a 'businessman' within the cartel, I entertained 'clients' when they came to the Tampa Bay area. During stays arranged at Clearwater Beach, beyond social time with families used to develop rapport, the deadly business of the drug world was discussed and recorded during meetings."
Tampa Bay History Center: A must-visit venue on Riverwalk exposing intriguing activities of pirates to the city's powerful Cuban, Italian and Anglo underworld gangs.
Take the mafia tour
To dig deeper into Tampa's scandalous history, I joined the newly expanded Mafia Tour led by Scott Deitche, whose organized crime books include Cigar City Mafia: A Complete History of the Tampa Underworld.
The city was the 1950s-1980s home to notorious mobster Santo Trafficante Jr. Illegal lottery-style bolita games and Prohibition-era rum-running rocked Ybor City, distinguished by a mix of Cuban, Spanish and Sicilian culture and easy access to Tampa's port. Ybor City's 1920s bootlegging and gangland crime inspired bestselling author Dennis Lehane to write Live by Night. Ben Affleck's film adaptation will release in 2017.
The Mafia Tour, presented by Cigar City Magazine, runs about 90 minutes on select Saturdays and as private and group tours. Starting at King Corona Cigars Cafe/Bar, the foot tour loops a mile through Ybor City. Stops include the site of a huge mob hit, an old gambling palace, remnants of Tampa's biggest mob bar and some locations shot in The Infiltrator.
Deitche covers stills to smugglers, how criminal casino operators evaded police, crime family holdings in pre-Castro Cuba and under Trafficante's leadership, and the chilling connection between the Tampa mob, CIA plots to kill Fidel Castro and the Kennedy assassination. At Cephas Hot Shop, selling aloe for health for 36 years, Cephas guided us to his colorful courtyard where The Infiltrator voodoo scene was filmed.
"I had the pleasure of taking Dennis Lehane on the mob tour while he was writing Live By Night to give him a feel for Ybor City and historic places where the gangsters hung out," says Deitche. "That added a lot of realism to the book."
Mazur's home? Nope, it's not on the tour.