Taste of Tampa Bay's Cuban history on the menu for Divine Nine summit
June 5, 2017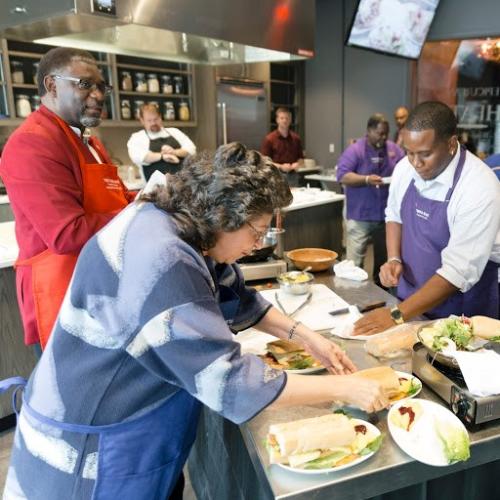 Related Document: Download Document
Tampa Cuban dishes were on the menu when the National Pan-Hellenic Council of Presidents' Divine Nine – the leaders of the country's nine international historically Black Greek-letter fraternities and sororities – held their annual leadership summit for the first time in Tampa Bay June 1-3.
The meeting was hosted by the Epicurean Hotel, a boutique built for food lovers, and included a Tampa Cuban-themed Iron Chef-style cooking contest on Friday evening in the hotel's kitchen theater. Celebrity judges included Hillsborough County Commissioner Les Miller, Visit Tampa Bay President & CEO Santiago Corrada, and Tampa Attorney Carolyn House Stewart, Immediate International past president of Alpha Kappa Alpha Sorority Inc. Tampa Mayor Bob Buckhorn also attended.
The winning team (Called the Presidential) of Mary B. Wright, Zeta Phi Beta Inc.; Tampa native Thomas L. Battles, Kappa Alpha Psi Fraternity Inc.; and Cody Charles, Omega Psi Phi Fraternity, Inc. scored points with the judges for their interpretation of the classic Cuban sandwich, which originated in Tampa Bay in the 1890s. The other teams competing included: Jarrod Benjamin, Phi Beta Sigma Fraternity Inc.; Taylor McCain, Delta Sigma Theta Sorority Inc.; and Jennifer M. Jones, National Pan-Hellenic Council; Jonathan A. Mason, Phi Beta Sigma Fraternity Inc.; Deborah Catchings-Smith, Sigma Gamma Rho Sorority Inc.; and Antonio F. Knox, Omega Psi Phi Fraternity Inc.
Dr. Paulette Walker, Tampa resident and International President of Delta Sigma Theta Sorority Inc., chairs the Divine 9 and brought the meeting to Tampa Bay to show her fellow leaders what the community has to offer. Collectively, the Divine 9 represents around a million members and $62 million in potential meeting and convention business.
#
About Visit Tampa Bay
The hip, urban heart of Florida's Gulf coast beats in Tampa Bay. Visit Tampa Bay encourages adventurous travelers to unlock sun, fun and culture in Florida's most diverse travel destination. We are a not-for-profit company that works with nearly 800 industry and corporate partners to tell the world the story of Tampa Bay. Treasure awaits.