Tampa Bay's surging craft beer scene was center stage at blogger's conference
July 25, 2016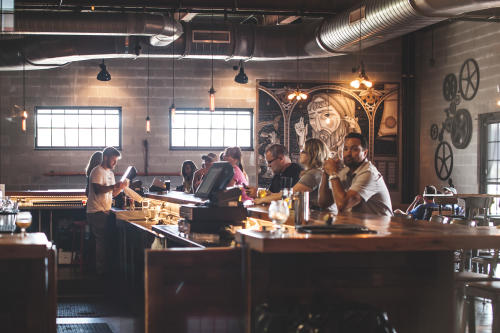 By Les Neuhaus, Times Correspondent
Monday, July 25, 2016 6:00am
Decoherence. The McCracken. Unholy. Xolo. Hydration Station. Sander's Shandy: No, these are not title tracks to a new Grateful Dead album. They are the creative names of locally brewed craft beers that have gained some notice nationally.
Beer lovers across the country recently descended on Tampa to investigate what the hubbub was all about. The annual Beer Bloggers and Writers Conference, held at the Marriott Waterside Hotel and Marina earlier this month, hosted 131 attendees who sampled and wrote about Tampa-area breweries and their suds. But to call them simple bloggers doesn't quite capture what they do.
"Content is king online, and this group is the single most influential source of craft beer content in America," said attendee Mark Knowles — of the Growler Guys, based in Bend, Ore. — when asked what the benefit was to having a beer blogger conference in Tampa.
Knowles described it further as a community that keeps breweries on their toes, making sure independent brew houses are distinguished separately from mega distillers looking to cash in on the hip factor of the craft beer scene through tricky branding. (There is actually an industry term for this ruse — "crafty.")
It's an important point, considering roughly 90 percent of beer made in America comes from just 11 companies, which increasingly have been buying craft beer breweries; Tampa's own Cigar City Brewing Co. was bought by a private equity firm.
National rankings have squarely put Tampa's beer scene in the same category with old-school powerhouses like Portland, Ore., Seattle and Denver, which is why the Big Guava was chosen to be this year's host for the writer conference.
Visit Tampa Bay, the city's tourism agency, lobbied heavily for the event. There are now close to 60 breweries dotting the region around Tampa Bay, with roughly 45 of them calling the Tampa metro area home. Breweries pay careful attention to beer reviews because they covet grass roots, word-of-mouth recommendations, which can spread like wildfire through social media websites and apps like Twitter and Untappd.
That the bay area has emerged as the center of Florida's artisanal beer boom is no surprise to Mark DeNote, an author of two books on craft beer in Florida and the current editor of the website FloridaBeerNews.
"Tampa is absolutely the beating heart and the origin of Florida craft beer, dating back to 1896 when the first brewery began construction," DeNote told the Tampa Bay Times. "The culture of beer bloggers out there can help share the story. You have some national sites like Brewbound that attempt to share the big picture, and some smaller sites like mine that specialize in statewide or regional stories. … Beer writers and bloggers do the industry a favor with free publicity and boosts to media presence."
During the conference attendees were constantly glued to their cellphones, tablets and laptops to keep their followers tuned in to the conference as they toured city breweries, ate local fare and even live blogged a 50-minute power session of beer samplings in the warehouse of Tampa's J.J. Taylor Distributing Florida Inc., which resembled a form of speed dating as 10 hyped-up brewers pitched their beers in five minutes while handing out promotional items at the same time.
But it wasn't just local breweries at the event. MillerCoors was on hand, hosting everyone for a four-course beer lunch at World of Beer. While none of the beers within its portfolio meet the craft definition under the Brewers Association guidelines, company representatives happily entertained the crowd. And since MillerCoors was a sponsor of the conference, no one seemed to complain about the free food, sunglasses, koozies, bottle openers and specialty beer glasses.
Local breweries did the same thing, showering attendees with swag and cold beer. Restaurants got in on the action, as well, educating writers about Florida's best food and beer pairings, with Ulele — an eatery with its own brewery — winning the hearts and minds of the crowd with charbroiled oysters, pork shank, and mac and cheese, and a tour of the brewery by beer master Tim Shackton.
Being given special attention doesn't always mean there won't be criticism, according to attendee and Columbia, S.C.-based blogger Nick McCormac, who runs a website called DrinkBlogRepeat.
"There can be the question of whether someone is being authentic when they're being treated to free food, beer, swag by a given brand or distributor," McCormac said. "It would be naive to think the sponsors and event hosts weren't looking for positive free promotion for their given outings. That's not exclusive to this conference — that's the case in any sponsored event or conference. And to an extent, yes, I do think participants probably felt an obligation to publicly put out a positive word. … I've never been afraid to go against the grain when I truly feel it needs to happen and there are a few pieces on my site that have upset a lot of people."
The conferences began in 2010, with Boulder, Colo., playing host the first time, followed by Portland the year after.
Many of the bloggers said so much of the positive word about Tampa's conference on Twitter (under the hashtag #BBC16) had to do with the fact that local brewers were just plain excited to be recognized after so many years of Florida being dismissed from the national craft beer consciousness, according to another attendee — Carla Lauter, based in Portland, Maine, who runs a popular website called TheBeerBabe.
"Without a doubt, I think Tampa has been the city that has been the most obviously enthusiastic to host us," Lauter, who also helped lead a "Better Beer Writing" seminar at the conference and has more than 19,000 followers on Twitter, said. "Some cities — Asheville and Portland — are accustomed to being in the blogger spotlight and were friendly, but not excited. … Tampa, however, felt like everyone was just waiting for us to arrive and couldn't be happier that we were there. It was a great feeling — that they were clearly proud to show off their shiny new brewing scene and were so supportive of our visit."
Editor's note: Carla Lauter's name has been updated. It had been misspelled in an earlier edition.