Tampa Bay tourism industry pitches in to fight hunger
June 28, 2016 by PR@VisitTampaBay.com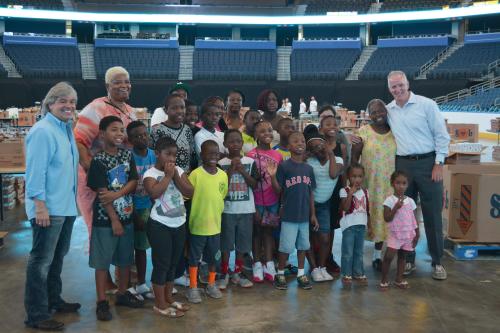 Related Document: Download Document
"Tourism Gives Back" creates 28,000 meals to help families this summer
TAMPA (June 27, 2016) – Thousands of Tampa Bay-area families will have food on their tables this summer thanks to the efforts of Tampa Bay's tourism industry, which rallied on June 24 to support Feeding Tampa Bay by creating food packages containing 28,000 meals.
About 250 representatives from Tampa Bay hotels, attractions and other groups gathered on the floor of Amalie Arena for "Tourism Gives Back," organized by Visit Tampa Bay, the non-profit company that directs Hillsborough County's tourism strategy.
While their supporters cheered them on, 26 teams of five raced the clock and each other to pack food packages to support families that need help with food this summer. About 20 members of Kingdom Kids, a charity that benefits from Feeding Tampa Bay's efforts, also joined the hospitality teams to make food packages.
"For the third year, Tampa Bay's tourism industry has come out in tremendous numbers to support families in our area who need help putting food on the table," said Santiago Corrada, president and CEO of Visit Tampa Bay. "While we had fun competing against each other, we also know that food insecurity is a very serious issue in our community and we are proud to do our part to help solve the problem."
In addition to creating food packages, "Tourism Gives Back" participants also raised more than $30,500 in cash donations – enough money to create more than 300,000 additional meals, according to Feeding Tampa Bay.
As a new event this year, 19 "Tourism Gives Back" teams put their most creative thinking to the task of designing a sculpture built entirely from canned food. More than 4,700 cans went into the creations, which ranged from the Snake King in Busch Gardens Tampa Bay's new Cobra's Curse ride to a model of the Tampa skyline to hundreds of cans assembled to spell out "Marriott."
The winners for "Tourism Gives Back" were:
Fastest Team to Create 200 Food Packages: Hooters
Best Team Spirit: Busch Gardens Tampa Bay
Best Can Sculpture: Epicurean Hotel
Most Money Raised: Hilton Tampa Downtown
*Photos and video B-roll are available upon request.
#
About Visit Tampa Bay
Visit Tampa Bay encourages adventurous travelers to unlock our destination's trove of unique treasures. We are a not-for-profit corporation that works with more than 750 partners to tell the world the story of our home – the hip, urban heart of the Gulf Coast of Florida.