Tampa Bay Tourism Has Biggest March in Its History
May 6, 2019 by PR@VisitTampaBay.com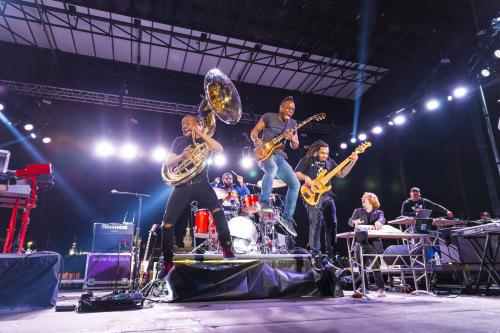 31 days of events bring in more than $4.3 million in tourism revenues
TAMPA (May 7, 2019) –  A month bursting with festivals and major conventions brought Tampa and Hillsborough County the highest amount of tourism revenue in its history.
According to the Hillsborough County Tax Collector's Office, the county received more than $4.3 million in Tourist Development funds from overnight stays during March. That was 5.6 percent above the record for last March, which was the first time in history the county raised more than $4 million in Tourism Development funding.
"Just in time for National Tourism Week, these results are absolutely amazing. They are a perfect example of the power tourism has to build and foster our local economy," said Santiago C. Corrada, President and CEO of Visit Tampa Bay. "With several major festivals and key conventions, March has always been our strongest month for visitors. But this year's numbers show the incredible strength and dynamism of our destination thanks to the hard work and collaboration of our partners across the industry, from hotels and restaurants, to attractions and sports. We all succeed when we work together."
Almost every day in March was packed with activities to draw visitors to Tampa Bay and improve the lives of our residents. It was the pinnacle of Gasparilla Season, with music, art, and film festivals. Tampa Bay Beer Week celebrated Tampa Bay's status as Florida's hub for craft brewing. Florida Thespians Festival, one of the destination's longest-running meetings, brought thousands of high school performers to venues such as The Tampa Convention Center, the David A. Straz Jr. Center for the Performing Arts and Tampa Theatre.
Hotel occupancy for the month averaged 87.5 percent. Revenue Per Available Room (RevPAR), a key indicator of hotel profitability, was up 2.6 percent to $132.69. Overall hotel revenues exceeded $93.8 million for the month, more than 5 percent over the previous March, according to industry analyst STR Inc.
"Hotel revenue is just part of the picture," Corrada said. "Each visitor also spends money in our restaurants, in our stores, and at our attractions. Their contribution to our sales taxes help fund education and transportation. That adds up to nearly 50,000 jobs and $6 billion added to the local bottom line. The impact of a single visitor ripples out to every corner of our community."
Hillsborough County became Florida's ninth High Impact Tourism county in 2018. The Board of County Commissioners is now considering raising the Tourism Development levy to 6 percent, which could generate an additional $7 million to support the county's tourism efforts, including major venues such as Tampa Convention Center, Amalie Arena, and Raymond James Stadium.
#
About Visit Tampa Bay
The hip, urban heart of Florida's Gulf coast beats in Tampa Bay. Visit Tampa Bay works closely with hundreds of industry partners across the region to drive nearly $6 billion a year in economic development through tourism. Nearly 50,000 people in Hillsborough County, support their families and secure their futures through tourism. Treasure awaits.