Tampa Bay Launches LGBT Travel Guide
June 24, 2019 by PR@VisitTampaBay.com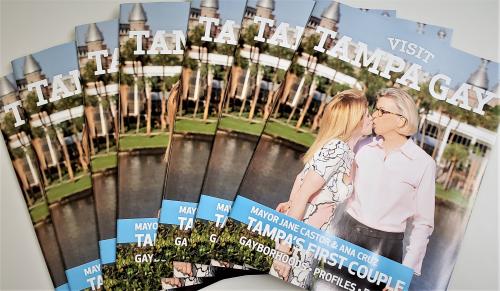 Profiles of Key LGBT Figures, details about best spots to dine, sleep & discover
TAMPA (June 25, 2019) | Recently honored among the top US communities for LGBT travelers, Visit Tampa Bay has launched Visit Tampa Gay, its comprehensive guide for LGBTQ visitors to the hip, urban heart of Florida's west coast.
The guide was launched June 21 at Miami's Wynwood Pride festival and June 22 at Florida's largest Pride in St. Petersburg. It was produced in partnership with Tampa Bay's arts weekly, Creative Loafing, and the Tampa Bay Diversity Chamber. A link to the flipbook version of the guide is here.
The guide provides visitors with an in-depth view of the region's thriving LGBTQ community through interviews with key figures, including Tampa Museum of Art executive director Michael Tomor, Diversity Chamber president & CEO Justice Gennari, and newly elected Tampa Mayor Jane Castor – the city's first LGBTQ mayor. The cover features Castor and her partner Ana Cruz on the Tampa Riverwalk.
"Tampa Bay has a long history of welcoming the full spectrum of residents and visitors," said Santiago C. Corrada, President and CEO of Visit Tampa Bay. "Diversity is our key strength as a community. We are proud to be home to two Pride festivals -- the first Pride festival of the year in Ybor City, the largest Pride festival in Florida in St. Petersburg. We are also home to more than a dozen TAG-approved hotels, and a vibrant LGBTQ community whose members are at the heart of so much that makes Tampa Bay Florida's Most dynamic destination."
The Tampa Bay area hosted the International Gay and Lesbian Travel Association conference in 2017 and will host the National Gay and Lesbian Chamber of Commerce annual conference this August.
According to a recent survey of LGBTQ travelers by LGBTQ market researcher CMI, the LBGTQ community ranks among some of the most active travelers in the U.S., making, on average, more than 6 trips a year for personal, family, or business purposes. The majority prefers urban, scenic, and LGBTQ-friendly destinations.
"Florida has a number of great options for LGBTQ travelers and Tampa Bay is definitely among them," said Creative Loafing Publisher James Howard. "The mix of experiences – from clubs to family activities – makes this community a great choice for travelers looking for unique experiences and a hip, urban vibe."
Along with interviews, the 48-page, magazine-style guide features district-by-district lists of places to eat, stay and have fun – whether visitors are here for Pride, sporting events, or any other reason. More information is available at conquerwithpride.com.
Senior Advice ranked Tampa Bay among the U.S.' top spots for LGBTQ retirees, noting its low cost of living, booming restaurant scene, cultural gems such as the historic Tampa Theatre, and activities such as the Tampa Gay and Lesbian Film Festival and Tampa Pride (coming up March 28, 2020).
Tampa Bay was named one of Yelp's first-ever ranking of the top 20 Most Inclusive destinations in the US this month, thanks to the community's "open to all" philosophy. Tampa Bay scores high on Yelp's "Open to All" campaign measures of diversity and inclusion and by valuing "the importance of nondiscrimination laws and defend[ing] the bedrock principle that when businesses open their doors to the public, they should be open to all."
#
About Visit Tampa Bay
The hip, urban heart of Florida's Gulf coast beats in Tampa Bay. Visit Tampa Bay encourages adventurous travelers to unlock sun, fun and culture in Florida's most diverse travel destination. We are a not-for-profit corporation that works with 800 partners to tell the world the story of Tampa Bay. Treasure awaits.