Tampa Bay economic development leaders join forces
October 16, 2017 by PR@VisitTampaBay.com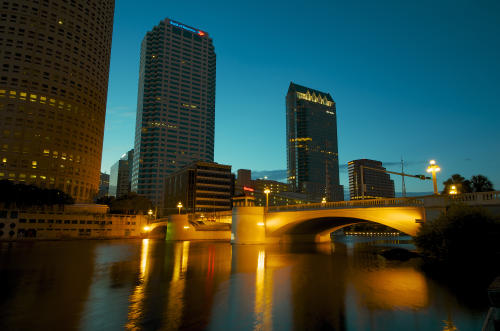 'Make It Tampa Bay' campaign designed to increase corporate business relocations and attract talent ​
Tampa, Fla. – (Oct. 16, 2017) – Leaders of Visit Tampa Bay, the Tourist Development Council of Hillsborough County (TDC), the Hillsborough County Board of County Commissioners, and the Tampa Hillsborough Economic Development Corporation (EDC) today unveiled Make It Tampa Bay, a joint effort to entice more business relocations and talent to Hillsborough County.
The Make It Tampa Bay campaign leverages Visit Tampa Bay's award-winning brand, successful Florida's Most marketing campaign, and established out-of-state marketing channels to showcase Tampa Bay as the ideal community for CEOs, entrepreneurs, and millennials in key industries looking to relocate their businesses. The message: Tampa Bay's an affordable place with a skilled workforce and high quality of life where every day feels like vacation. Paralleling Visit Tampa Bay's current marketing, Make It Tampa Bay extends Visit Tampa Bay's established brand and marketing, creating a holistic, cross-discipline approach to local economic growth that targets business leaders in New York, Philadelphia, Dallas, and Chicago. 
"The Tourism Development Council saw the potential for building on Tampa Bay's growing reputation as a world-class tourism destination to encompass corporate relocations as well," said Santiago Corrada, President and CEO of Visit Tampa Bay. "Through Make It Tampa Bay, our message is clear: If you love visiting Florida's most diverse destination, you're going to love living and doing business here even more. Our messengers are locals who share their personal stories of what it's like to live, work, and build a business in Tampa Bay."
Make It Tampa Bay's website – www.makeittampabay.com – spells out the campaign's goals in three major sections: "Work Here," "Live Here," and "Build A Business." An assortment of personal stories provides a deeper dive into the experiences of local entrepreneurs and professionals who've chosen to live and grow their companies here. Pages are devoted to Tampa Bay's target industries, available jobs, events and things to do, and resident profiles. Special attention was devoted to Hillsborough County's neighborhoods to give potential relocators a sense of which ones would best suit their personality, preferences and budget.
The joint marketing effort grew out of the realization by members of the Tourist Development Council that a unique opportunity existed to build on established visitor-directed messaging to create a unique business brand for growing the community's permanent economic base.  Tourist Development Administrator Ron Barton recognized that all the groups in the partnership were aiming for the same target audience, but for slightly different messaging reasons. "Ultimately, the end game was the same: elevate Tampa and Hillsborough County's reputation as a top national business destination," Barton says. "This joint initiative affords us the perfect opportunity to leverage the power of Visit Tampa Bay's existing marketing platforms – which are already funded and have an excellent track record of success – and pivot its lifestyle themes toward workforce attraction and business recruitment."
Stacy White, Chairman of the Hillsborough County Board of County Commissioners and TDC noted:  "Our chief engines for economic prosperity – tourism and economic development – can join forces to achieve their respective marketing goals and do so more efficiently and cost-effectively."
The project kicked off as the Tampa Hillsborough EDC had begun working closely with StandUp Tampa, its advisory group of millennial entrepreneurs and executives, to discover how best to communicate what our community has to offer for their peer CEOs and professionals. Building on perception research the EDC commissioned in 2016, the EDC and StandUp Tampa had just begun developing the architecture and messaging for a new talent-attraction web site when Barton approached them with the idea for a collaboration.
"A joint initiative with the County and Visit Tampa Bay made perfect sense to us," said Tampa Hillsborough Economic Development Corporation CEO and President Craig J. Richard, CEcD. "Talent is the top priority for companies looking at our market for potential relocation or expansion. The Make it Tampa Bay web site and campaign allows us to showcase the outstanding young entrepreneurs and talent we have in Tampa, and lets them tell their peers across the country why this is the best place to build their future. We envision Make It Tampa Bay becoming a valuable recruitment tool for local companies to use as well."
Attracting new talent – and retaining graduates from the region's 80+ colleges, universities, and technical schools – is one of the most important strategic goals for the Tampa Hillsborough EDC. The Tampa metro area is the top market for job creation in the state of Florida. Most of the jobs created in Tampa Bay are in high-skill, high-wage industries like professional and business services. Tampa Bay also has the highest job demand and the greatest number of science, technology, engineering and math (STEM) job openings in the state – more than 14,000 in this sector alone. Selling job seekers across the country on the Tampa area's abundant job opportunities, affordability, great quality of life and status as a region on the rise is now essential in order to keep our talent pipeline full and the economy growing.
"We are excited to have a powerful platform for telling young entrepreneurs across the country why Tampa Bay is the best market in which to launch and grow a company," Roberto Torres, president of StandUp Tampa and founder of Blind Tiger Café and Black & Denim Apparel, said of Make it Tampa Bay. "This area offers entrepreneurs all the right ingredients for success: lower cost of living and doing business, access to great talent, incredibly supportive local government and business leadership, and a community full of welcoming people who are genuinely eager to help you succeed. People looking for a city they can move to and make an impact need look no further than Tampa. This is the most exciting place in America to come and build a great future for yourself, your family, and your business."
###
Visit Tampa Bay
The hip, urban heart of Florida's Gulf coast beats in Tampa Bay. Visit Tampa Bay encourages adventurous travelers to unlock sun, fun and culture in Florida's most diverse travel destination. We are a not-for-profit corporation that works with 800 partners to tell the world the story of Tampa Bay. Treasure awaits.
Tampa Hillsborough Economic Development Corporation is the lead designated economic development agency for Hillsborough County and the cities of Tampa, Plant City, and Temple Terrace. Established in 2009 as a partnership between the public sector and private corporate investors, the EDC works to develop and sustain a thriving local economy through the attraction, retention and expansion of high wage jobs and capital investment within targeted industry sectors. 

Hillsborough County, Florida is the commercial and industrial heart of Tampa Bay. The fourth largest county in the state of Florida, Hillsborough is home to 1.35 million residents, with thousands more arriving each year. Its strength is drawn from being one of the most advanced economies and having one of the most educated workforces in the state. Hillsborough County and its three municipalities –Tampa, Plant City, and Temple Terrace – offer a competitive business environment and an abundance of regional assets including Port Tampa Bay, Tampa International Airport, and MacDill Air Force Base. County government is focused on creating economic prosperity for residents and businesses throughout the area.