Unlock Tampa Bay in 2018
May 14, 2018 by PR@VisitTampaBay.com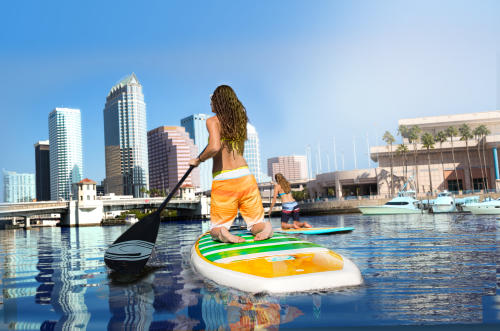 New luxury hotels on the horizon
Downtown Tampa will welcome two new five-star, luxury hotels – the 173-room Tampa EDITION (opening in 2021) and a 519-room JW Marriott Hotel & Resort (opening in 2020). In 2019, a co-branded Home2Suites and Hampton Inn will grace the Channelside District, a development that will prove to be popular for cruise goers. 
Newly opened this year, European visitors will find a familiar name — AC Hotel by Marriott — in the heart of the West Shore District. And the newly flagged Godfrey Hotel & Cabanas stuns with boutique-like features just minutes away from the airport.
Florida's top spot for a pint, whiskey or cocktail
In Florida's hub for craft brewing, great drinks are part of life like sunshine and hand-rolled cigars. Find your favorite at nationally known Cigar City Brewing Co., Coppertail, or Angry Chair. Or let Brew Bus do the driving on a beer-tasting tour across the region.  New in 2018, Rock Brothers Brewing blends beer and music at its Ybor City site.
Discover Tampa Bay's cocktail culture by sampling iconic spots like the all-new CW's Gin Joint and Ciro's Speakeasy (be sure to call ahead for the password). New in 2018, a joint project by Hyde Park's Irish 31 and Florida Cane Distillery have produced Florida's first craft whiskey derived from Florida-grown sugar cane. Mingle with the locals in the intimate confines of Ybor City's Cigar City Cider & Mead where the menu of small-batch specialties changes regularly.
It's a pirate's life for us!
Discover Tampa Bay's link to piracy and the high seas at the Tampa Bay History Center's new in 2018 permanent exhibit highlighting the lives and times of privateers, conquistadors, and treasure seekers in Florida. Explore a replica pirate ship and learn about life below decks in the 18th Century. The museum's new in 2018 cartographic center will be the first of its kind in the Southeast U.S.
Dress the part of a scurvy scalawag each January, when legendary pirate José Gaspar sails into Tampa Bay with cannons blazing. Join Ye Mystic Krewe of Gasparilla for the country's third-largest parade down scenic Bayshore Boulevard. The invasion kicks off Gasparilla Season: 8 weeks of parades, festivals, and sports events.  
Like gems on a string
Day or night, the 2.4-mile (4km) Tampa Riverwalk is the perfect, pedestrian-friendly way to move among downtown's popular hotels, restaurants, museums, and festival parks.
New in 2018 floating docks will give boaters, kayakers, and paddleboards access to the Riverwalk's treasures from the water.
After dark, the Riverwalk becomes a canvas for shifting colors of light, joining downtown's bridges and the Tampa Museum of Art in the nightly display.
Cruise to Cuba & the Caribbean
The charm of Old Havana lies within easy reach of Port Tampa Bay aboard Royal Caribbean or Carnival ships. Before you leave, visit Cuban soil here in Tampa Bay with a stop at historic Ybor City's José Martí Park, owned by the Cuban people in honor of the Apostle of Freedom.
Port Tampa Bay hosts four cruise lines: Carnival, Royal Caribbean, Norwegian America and Holland America. They make Tampa Bay the ideal point of departure to explore the western Gulf of Mexico and Caribbean.
Add a day to your stay to enjoy the destination "Porthole" magazine named its Best Kept Secret.