Mainsail Lodging & Development President Joe Collier named 2018 Tourism Ambassador
May 16, 2018 by PR@VisitTampaBay.com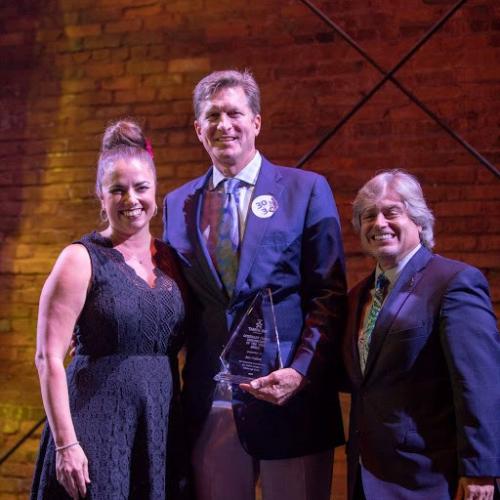 Related Document: Download Document
Record-breaking event celebrates milestone successes in Tampa Bay tourism
TAMPA (May 16, 2018) – Visit Tampa Bay honored Joe Collier, president of Mainsail Lodging & Development as its Gonzmart Family Tourism Ambassador of the Year at the National Tourism luncheon Wednesday at The Gathering at Armature Works.
The award was part of Visit Tampa Bay's sold-out celebration of tourism, which is currently the fastest-growing segment of Hillsborough County's economy. More than 500 people, including industry partners, attended the luncheon that also honored industry workers with the Bern Laxer Award of Excellence, named for the founder of South Tampa's iconic Bern's Steak House, and Visit Tampa Bay's Talk Up Tampa Bay Tourism Champions, who have helped bring millions of dollars in economic development to the destination through meetings and conventions.
Visit Tampa Bay and FADMO, the Florida Association of Destination Management Organizations, honored state Sen. Dana Young of Tampa for her outstanding advocacy on behalf of tourism during this year's Legislative Session.
[Images of the event are available here.]
The luncheon culminated in the Ambassador of the Year Award to Joe Collier.
"Over the last 20 years, Mainsail has grown into a hospitality company known across Florida and beyond for its vision and innovation," said Santiago C. Corrada, President and CEO of Visit Tampa Bay. "From South Tampa's Epicurean Hotel to the Carolinas and British Virgin Islands, Mainsail has made a name for itself by creating one-of-a-kind experiences for its guests amid a sense of community stewardship. Visit Tampa Bay is proud to have Joe and his team as partners promoting tourism here on Florida's Gulf coast."
Mainsail Development Group opened its first lodging, the Mainsail Suites Hotel & Conference Center, in 1999. In 2002, Mainsail began its relationship with Marriott, buying, furnishing, and managing long-term temporary housing under contacts with government, corporate, and leisure clients in Florida, Georgia, and the Carolinas. In 2011, Mainsail began its relationship with Marriott's Autograph Collection, opening the Scrub Island Resort, Spa & Marina in the British Virgin Islands. In 2013, Mainsail added to its Autograph Collection portfolio with the food-themed Epicurean Hotel in South Tampa. In 2017, Mainsail opened the Waterline Marina Resort & Beach Club on Anna Maria Island.
The Bern Laxer Award winners were:
Pamela Calhoun, Hampton Inn & Suites Tampa North
Patti Fossler, Grand Hyatt Tampa Bay
Anna Garcia, Showtime Transportation of Tampa Inc.
Angelise Joseph, Mise en Place Hospitality
David Pacer, Yacht StarShip Dining Cruises
Kalyn Sexton, Tampa Downtown Partnership
Kit Singleton, Straz Center for the Performing Arts
Talk Up Tampa Bay Tourism Champions were:
Attorney Alec Hall – Omega Psi Phi Fraternity – 2020 International Conclave
Joe Lopano – Tampa International Airport – Airport Council International North American 2019 Conference and Exhibition
Craig Richard – Tampa Hillsborough Economic Development Corp. – International Economic Development Council 2020 Leadership Summit
Carl Harness – Hillsborough County – International City/County Management Association 2025 Annual Conference
Tampa Mayor Bob Buckhorn – National League of Cities 2020 City Summit
This year's National Tourism luncheon was sponsored by: Armature Works, The Auto Club  Group, A-V-S-S, Bay Stage Live, Boone's Professional Events, Busch Gardens Tampa Bay, Datz Restaurant Group, Event Show Productions, Over The Top Linens, Port Tampa Bay, Seminole Hard Rock Hotel & Casino, Tampa International Airport, and Tampa Electric, an Emera Company.
#
About Visit Tampa Bay
The hip, urban heart of Florida's Gulf coast beats in Tampa Bay. Visit Tampa Bay encourages adventurous travelers to unlock sun, fun and culture in Florida's most diverse travel destination. We are a not-for-profit corporation that works with 800 partners to tell the world the story of Tampa Bay. Treasure awaits.