Kid Pirates Kick off Gasparilla in Tampa Bay
January 15, 2016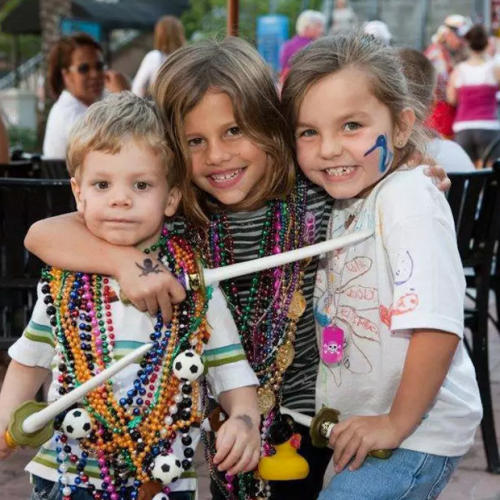 Related Document: Download Document
Tampa Bay's Children Gasparilla Extravaganza is the largest kid pirate parade in the world
TAMPA, January 15, 2016 – Kids come first in Tampa Bay. On Saturday, January 23, hundreds of mini pirates and their parental accomplices invade Bayshore Boulevard, ahead of Tampa Bay's annual pirate party and the third largest parade in the country. The entire day is dedicated to the Children Gasparilla Extravaganza. Say, "Arrgh!"
Highlights include:
1:30 pm. 1,200 pint-sized plunderers, aged 5 and under, and their families, will make their way in the half-mile Gasparilla Preschooler's Stroll. 
3:00 pm. Even down-to-earth bystanders will appreciate the spectacular performance by the United States Special Operations command Parachute team, which will land on Bayshore Boulevard as part of the Gasparilla Air Invasion.
3:30 pm. The main attraction is the Children's Gasparilla Parade, for those 6 and older. In its 69th year, the largest and most impressive of all kid parades anywhere will feature more than 100 entries, including dance displays, spectacular floats and over 40 Krewes.
7:00 pm. Ruffians all around Hillsborough Bay will be treated to The Gasparilla "Piratechnic" Extravaganza. The largest fireworks display of the year is a specially choreographed re-enactment of the mythical battle between the City of Tampa and the pirates of Ye Mystic Krewe of Gasparilla.
By the end of the night the stage will be set for the full-scale invasion that takes place on January 30, when legendary pirate José Gaspar and his band of ruffians will sail the nation's only fully functional pirate ship, the José Gasparilla, to lead the Gasparilla Parade of Pirates -- the U.S.'s third-largest parade -- down scenic Bayshore Boulevard.
Pirate stuff and beyond
Garb matters to the serious pirate, and there is no short supply of Tampa Bay-area vendors willing to plunder parental pocketbooks for the right costume. Beads are a necessity, and in plentiful supply. The Glazer Children's Museum (at 110 West Gasparilla Plaza) is giving them away for free between 11-2 pm, before the children's parade, with admission. The following day, the museum hosts "Pirate Days" programming through January 29. Pirate-appropriate plush toys trend at this time of year, especially the Gasparilla parrot, also available at our Visitor Center & Gift shop, 615 Channelside Drive.
History
Since 1905, Tampa Bay's legendary pirate José Gaspar and his Mystic Krewe of Gasparilla have invaded downtown with cannons booming and cutlasses unsheathed, bent on plunder. On Jan. 29, they'll kick off this year's party with the Pre-Invasion Celebration, complete with music and food, in downtown's Curtis Hixon Waterfront Park. Two days later, on Jan. 30, the tri-masted pirate ship José Gasparilla, joined by a flotilla of pirate wannabes, will sail into town spoiling for some fun.
The Children's Gasparilla Extravaganza and Pirate Festival are just the beginning. The invasion kicks off two solid months of festivals, parades and sports events in Tampa Bay. For more information, check out Gasparilla Season http://www.visittampabay.com/tampa-events/gasparilla-season/