Greybeard Shanghais Tampa's Mayor's Race
February 5, 2019 by PR@VisitTampaBay.com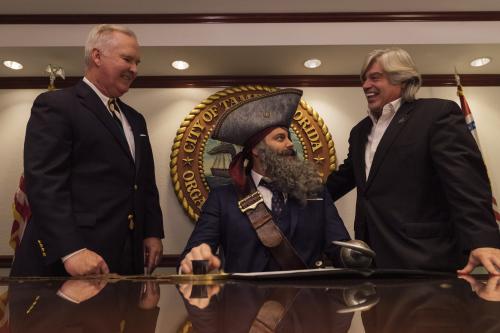 Visit Tampa Bay Business Pirate Promises to Bring a 'Singular Vision' to Tampa
TAMPA (February 4, 2019) | Declaring it time for Tampa to hook more investment through tourism, Visit Tampa Bay's own Kevin T. Greybeard, "The Business Pirate," has tossed his tri-cornered hat into the ring in the race for mayor.
With nearly 50,000 local residents getting their livelihood from tourism, Greybeard brings the kind of singular vision and steely determination needed to map the future of Florida's fastest-growing tourism destination.
"Tourism and pirates are key parts of Tampa's economy," Greybeard said. "I'm running for mayor to represent that daring spirit, raring to stake a claim to the future. It's a well-known fact that only the one with the best vision deserves to sit at the top of the ship."
Greybeard sailed into Tampa Bay on winds of change, helping Visit Tampa Bay chart a new course for the region as Florida's Most dynamic destination. He carries Tampa's message of creativity, inclusiveness and a business-friendly atmosphere to meeting planners and convention attendees the world around, helping to generate $6 billion every year for Tampa's economy – revenue that ripples out into every corner of the community.
"Tourism's about the hoteliers who turn more than 22,600 rooms into homes away from home for visitors and the restaurants, food halls and breweries that are building Tampa's reputation as a must-taste destination for foodies," Greybeard said. "Also, every pirate knows that a well-rested, well-fed crew is less likely to mutiny on you."
Santiago C. Corrada, President and CEO at Visit Tampa Bay said the Greybeard campaign may be tongue-in-cheek, but it shows the real power of tourism in Tampa and Hillsborough County.
"While Greybeard's mayoral campaign is all in good fun, it's a reminder that tourism goes far beyond take-home keepsakes," said Corrada. "The tourism industry – our state's leading economic engine – is truly about the thousands of local residents who make their living from visitors and, therefore, must be taken seriously.  We thank Mayor Buckhorn and his staff for joining us in this message and hope that the public sees both the fun and serious sides of Greybeard's campaign."
The Greybeard for Mayor video can be found here.
Outgoing Mayor Bob Buckhorn has endorsed Greybeard, saying: "We need a man with an iron fist and a singular vision who can cut through the red tape."
The Greybeard for Mayor campaign video and other elements, including a new series of convention sales videos starring the Business Pirate were produced with Zen Arndt Creative, a Tampa Bay company.
"Being part pirate is practically a prerequisite for any aspiring politician," said Zeh Arndt Creative principal, Brian Arndt. "The fact that Mr. Greybeard is also a businessman is clearly a proven bonus. Right?"
#
About Visit Tampa Bay
The hip, urban heart of Florida's Gulf coast beats in Tampa Bay. Visit Tampa Bay encourages adventurous travelers to unlock our trove of unique treasures. We are a not-for-profit corporation that works with more than 800 partners to tell the world the story of Florida's most diverse destination. Treasure awaits.