Fourth Friday Tampa is a Hit with locals and visitors
July 20, 2016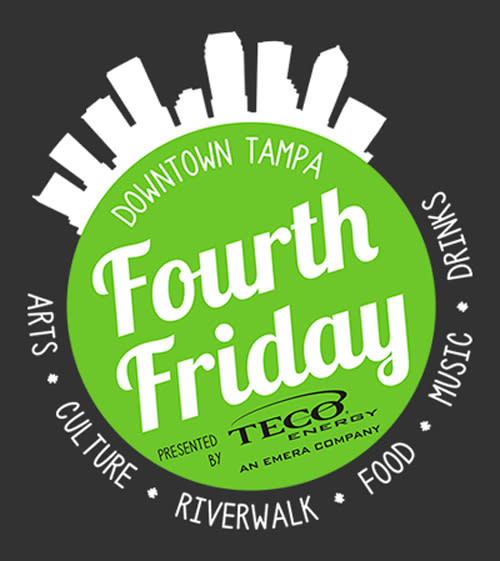 Related Document: Download Document
TAMPA (July, 20, 2016) – Some three dozen cultural venues, bars, craft breweries, and hotels have jumped into the fray with fun new offerings to entice downtown revelers—who have shown up in droves. What began in March as a monthly event to showcase this city's fast growing, rich arts and culture scene, Downtown Tampa Fourth Friday, organized by the Tampa Downtown Partnership, has quickly grown into a veritable festival and celebration of local creativity.
The downtown cultural attractions, including The Tampa Museum of Art, The Glazer's Children's Museum, the Henry B. Plant Museum, The Florida Museum of Photographic Arts and the Tampa Bay History Center offer extended hours, along with free, special deals or programming – redeemable with a Fourth Friday wristband picked up at any of the venues. The celebration continues all along the new Tampa Riverwalk. Crowds often stall at Sono Café's knockout bar and delicious free hors d'oeuvres, but they would be well advised to proceed to The Sheraton Tampa Riverwalk Hotel and Aloft Tampa Downtown for $3 Domestic Beer and $4 Import and Craft Beers. Both hotels have developed unique items for the event. Aloft's "The Riverwalk" cocktail, a crafty mixture of Nolet's Gin and Ginger Beer, has earned its own following.
As crowds of locals and visitors have grown for the event, so have the downtown boundaries – with new venues into Tampa Heights and upper Franklin Street. Guests who come to the tasting room of Hidden Springs Ale Works Brewery, for example, to see the current art show curated by "The Creative Life Project" receive 10% off for the night every Fourth Friday.
"It's great to see how our beautiful downtown has become a gathering place for our community," said Santiago Corrada, President and CEO of Visit Tampa Bay. "Fourth Friday, thanks to the efforts of Downtown Partnership and our hard-working partners, has managed to create an exciting environment that fosters Tampa Bay's dynamic and entrepreneurial culture and the kind of vibe that attracts record visitors to us, the urban heart of Florida's Gulf Coast."
Encouraged by significant increases in attendance, venues have upped their offerings. New to July's Fourth Friday are tours of such landmarks as Le Méridien Hotel and Jobsite Theater. Le Méridien runs 30-minute tours of the former Beaux Arts-style federal courthouse at 5:30 p.m. and 6:30 p.m. – participants will receive a 10 percent discount on their dinner at Bizou Brasserie that evening, as well as access to a wide selection of the bar's signature craft cocktails, all made with local, seasonal ingredients for only $8. Another architectural grande dame, the 1926 movie palace Tampa Theatre is offering Buy 1 Get 1 beers prior to the free 6:30 p.m. half-hour tour before this Friday's 7:30 screening of "Hunt for the Wilderpeople." The Tampa Bay History Center will have the second floor gallery open featuring its Fort Brooke exhibit. Fourth Friday organizers have made getting around a breeze. Transportation includes two complimentary one-way rides on specially designated Fourth Friday Pirate Water Taxi shuttles (wristbands required; restrictions apply), a free hour on the Coastal Bike Share, or a stroll along the scenic Tampa Riverwalk. For more information or an updated calendar of events, please visit http://fourthfridaytampa.com/
 "We are very pleased by the tremendously positive feedback and strong attendance from our participating venues – just four months into the launching of the Fourth Friday program," said Donna Chen, Tampa Downtown Partnership's director of marketing and communications. "This has turned out to be the perfect opportunity for both locals and visitors to experience Downtown Tampa's abundant arts and entertainment scene, with 11 cultural venues and 24 restaurants participating this month."
Many participating Fourth Friday venues say they have noticed a real uptick in visitation since the start of Fourth Friday. The Florida Museum of Photographic Arts, for one, has seen a 500 percent increase in visitors and 4-fold increase in donations, in comparison with regular Fridays. The Henry B. Plant Museum usually says it has 10 times more visitors than usual during Fourth Friday. To support the demand, the Tampa Museum of Art extended operating hours to 10 p.m. And according to the Tampa Theatre, Fourth Friday brings out more than a hundred people during the monthly event, of which at least half are first-time visitors.