SuccessfulMeetings.com: Florida's West Coast Meetings Offerings
September 29, 2016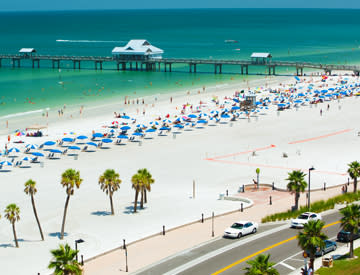 Article from SuccessfulMeetings.com
Written by Leo Jakobson | September 28, 2016
In 2016, Tampa Bay unveiled a new Riverwalk, was the setting of a pair of Hollywood movies, and saw its booming craft brewery scene grow so strong it attracted the Beer Bloggers & Writers Conference to the city in July. That's on top of a growing restaurant scene, and a nearly $1 billion expansion and renovation project wrapping up next year at the Tampa International Airport. 

Record tourism numbers included a citywide convention business that more than quadrupled this summer, with six groups bringing in 72,000 attendees for a $22 million economic impact, compared to $11.5 million in 2015. The City of Tampa Summer Business Program, which makes the 600,000-square-foot Tampa Convention Center overlooking Tampa Bay free for up to three citywides, certainly helped.  

The Tampa Riverwalk connects 16 downtown parks, museums, music venues, and restaurants along 2.4 miles of the Hillsborough River, as well as the Amalie Arena -- home of the NHL's Tampa Bay Lightning -- the Port Tampa Bay cruise terminal, and the Tampa Convention Center. Intended for both locals and tourists, it will be a hub for many of the city's annual festivals and will connect to the cultural heart of the city.

Tampa is the setting of a pair of crime films -- The Infiltrator, starring Bryan Cranston, about a local federal agent who infiltrated the Medellin cartel, and the forthcoming Live by Night, based on a Dennis Lehane novel set in Tampa's Ybor City neighborhood, directed by and starring Ben Affleck. Once the cigar rolling-capital of the world, Ybor City, a National Historic Landmark District, is now Tampa's Latin Quarter and a hub of nightlife and dining.

More than 30 craft breweries and a dozen brewpubs have made Tampa a hub of beer culture in Florida, a role the city has embraced by declaring the first week of the month "Craftober," with a number of beer-themed public events. On the dining side, farm-to-table cuisine is (unsurprisingly) a big trend, but so are collective dining establishments that provide young chefs the opportunity to do something creative without the price tag of a full restaurant. The 8,000-square-foot Hall on Franklin will open in November and the 12,000-square-foot Heights Market will open in 2017 in Armature Works at the Heights, a development in a 1914 trolley barn that will also include several restaurants, a rooftop bar, and two event spaces, 10,150 square feet and 2,640 square feet.