Enjoying Tampa by the glass
September 12, 2016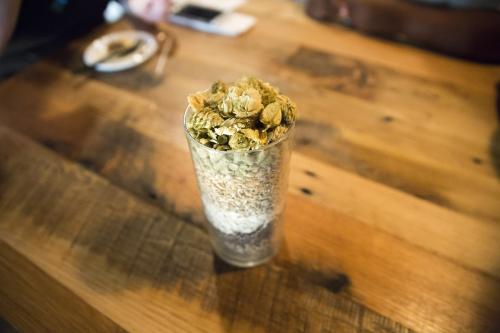 Take a sight-seeing tour brewery by brewery
By Robin Soslow, For the Express-News | September 5, 2016
Romance novelists can't hold a candle to beer scribes. Today, more passion inflames brew-sipping than bodice-ripping. One hotspot inspiring torrents of lusty hop-heady prose is Tampa.
Beer connoisseurs swoon in this Florida Gulf Coast mecca. With 40-plus breweries, it was voted among America's top three beer scenes in USA Today and other recent polls. The Beer Bloggers & Writers Conference took place here in July, drawing tastemakers worldwide. Tampa's other charms include a splendid new 2.4-mile Riverwalk, affordable elegant hotels, airfare sales and excellent chef-driven restaurants.
"Brilliant clarity and expressive florals" … "aged on cacao nibs, Madagascar vanilla beans, ancho chiles" … "a pleasant mineral dryness gives way to a citrusy finish" — the area's brews move enthusiasts to proclaim their love in downright steamy terms. Texans will appreciate Tampa brewers' skills in producing brews perfect for warm-weather refreshment.
"Tampa Bay is the beating heart of Florida's craft beer movement. The city's beer and breweries showcase the drive and passion of a talented group of brewers," says Mark DeNote, author of "The Great Florida Craft Beer Guide."
In Ybor City, Tampa's historic melting pot, a spring inspired the region's first brewery. After establishing cigar factories in what became "the Cigar Capital of the World," Vicente Ybor realized the potential of the spring. Florida Brewing Company, opened in 1897, boomed during the Spanish-American War; troops quenching their thirst included Teddy Roosevelt's Rough Riders. Craft beer, says DeNote, came back around the late 1990s, laying the foundation for Tampa's beer boom.
My tasting tour started at Cigar City Brewery, 10 minutes from downtown, which has won awards for offerings like Tocobaga Red Ale and ranks among the world's top craft breweries. The beers here are "very sessionable," says a Brit named Graham. In England, the pub is central to the community, and Graham observes it's that way in Tampa.
I'm savoring Puppy's Breath porter, its roasted malts redolent of chocolate and coffee. A friend orders chocolatey spicy Decoherence, two buzzes in one with espresso beans from local Buddy Brew coffee roaster.
Cigar City's Florida Cracker is a Belgian-style white ale with unmalted wheat, orange peel and coriander. The name refers to colonial-era "Cracker Cowboys" who used whips to herd cattle in the palmetto prairies of Florida, the nation's oldest cattle-raising state. Chile- and chocolate-accented Hunahpu's Imperial Stout has its own festival in March. Held at a huge park by the new Riverwalk, tickets — which sold out — started at $200. That got you four bottles and samples from other breweries.