April Tourism Revenues Reach New Records
June 12, 2019 by PR@VisitTampaBay.com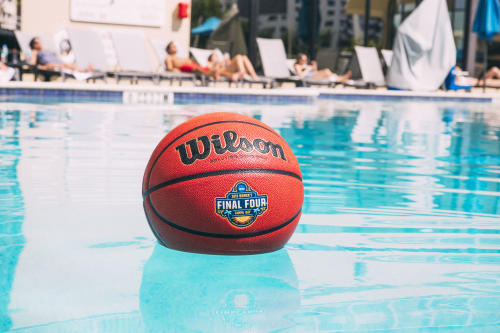 Women's Final Four, T.D. Jakes Ministries drive new record for month
TAMPA (June 12, 2019) – Thousands of women's college basketball fans, conventioneers, and leisure visitors helped boost Tampa Bay's tourism revenue to new heights for April, Visit Tampa Bay is reporting.
According to the Hillsborough County Tax Collector's Office, visitors to the county in April generated nearly $3.3 million in Tourist Development funding based on hotel stays, a 5.8 percent increase over the same month in 2018.
The report was the fourth month in a row of new records in TDT collections. Since the budget year began October 1, five of the last eight months have been new records – all set with modest growth in hotel rooms. Nearly 2,000 new hotel rooms are on the horizon for the destination over the next two years.
Two major events dominated April's event calendar: The NCAA Women's Final Four basketball tournament brought nearly 21,000 basketball fans to downtown for a week in early April, generating nearly $16 million in economic impact. The T.D. Jakes Ministries gathering at the end of April drew more than 9,000 attendees to the Tampa Convention Center and brought nearly $5.6 million into Hillsborough County, according to Visit Tampa Bay estimates.
Hillsborough County commissioners this month approved a 1-cent increase in the county's Tourist Development levy. Hillsborough County earned the right to raise its TDT after it became Florida's ninth High Impact Tourism county in 2018.
"With so much to offer visitors, whether they're leisure travelers or meeting attendees, Hillsborough County is taking its place as a key player in tourism in Florida and the U.S.," said Santiago C. Corrada, president and CEO of Visit Tampa Bay. "Every day, Tampa Bay's tourism industry builds on the growing strength of our brand and our reputation as the hip, urban heart of Florida's west coast as we compete for visitors around the world."
Visit Tampa Bay works closely with Expedia, Marriott International, and other key players in the travel industry to spread the word about all the destination offers travelers.
"But hotel revenue is just part of the picture," Corrada said. "No visitors stays in their hotel room all day. Every room night represents additional money spent in our restaurants, retail stores, attractions, and breweries. That adds up to 50,000 jobs and $6 billion reaching every corner of our community."
#
About Visit Tampa Bay
The hip, urban heart of Florida's Gulf coast beats in Tampa Bay. Visit Tampa Bay encourages adventurous travelers to unlock sun, fun and culture in Florida's most diverse travel destination. We are a not-for-profit corporation that works with 800 partners to tell the world the story of Tampa Bay. Treasure awaits.